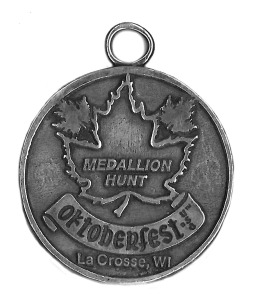 THE OKTOBERFEST MEDALLION HAS BEEN FOUND.
It was located by the Onalaska "9-Cent Crew" under a rock at the bridge on the Bud Hendrickson Trail on Wednesday (9/21) evening. All the 2016 clues and their key meanings are posted below.
---
The 2016 Oktoberfest Medallion Hunt will commence on Monday, September 19, 2016.
One clue will be posted on this page (scroll down) each day at approximately 6 a.m.
The 2016 Oktoberfest Medallion:
is always located within the La Crosse city limits
is never buried in the ground
is always on publicly-accessible property
is accessible 24 hours, BUT posted hours should be observed
fits in the palm of a hand
may be camouflaged
Please be respectful of public and private property and your fellow medallion hunters.
Prizes awaiting the person finding the medallion this year are gift certificates, Oktoberfest merchandise, a cash prize and a miniature replica of the medallion, compliments of Satori Arts.
To claim the prize package, the medallion finder must be wearing a 2016 Oktoberfest USA button at the time they present the medallion at the Oktoberfest office. The back side of the medallion includes a contact name and number to report that it has been found.
Clues and their meanings (PDF files):
2012 Clues and Keys – 2013 Clues and Keys – 2014 Clues and Keys – 2015 Clues and Keys – 2016 Clues and Keys
---
Thank you to our Medallion Hunt sponsor…