The 2017 Torchlight Parade will be held at 7 p.m. on Thursday, September 28, 2017 – the opening day of the 57th celebration of Oktoberfest. The parade is the "pride of the northside" and features illuminated entries as well as decorated homes along the parade route. The parade starts at the intersection of Kane and Gillette Streets, proceeds west on Gillette and then south on Caledonia Street to St. James Street.
2017 Torchlight Parade Award Categories
Best Lighted Unit Overall
Best Illuminated Float
Best Illuminated Marching Unit
Best Illuminated Critter Unit
---
The Maple Leaf Parade is one of the Midwest most spectacular events with an estimated 100,000 attendees lining the two-mile parade route. The parade begins at 10 a.m. on Saturday, September 30th, 2017 1 at the corner of Clinton Street and Copeland Avenue. The parade continues south on Copeland Avenue along Copeland Park and into the north side of downtown La Crosse. It makes the bend at the Southside Oktoberfest Grounds and continues south on Second Street to King Street.
If you are attending either parade please be mindful of City ordinances that address setting chairs or other personal property out curbside prior to either parade. Personal property should not be in the boulevard or on city property prior to midnight before the Maple Leaf Parade.
2017 Maple Leaf Parade Awards
Mrs. Oktoberfest Award (Education) – Myrick Park (#111)
Miss La Crosse/Oktoberfest Award (Theme Music) – Apple Annie's (#87)
Festmaster Award (Visiting Royalty) – Cranberry Fest (#80)
Burgermeister Award (Service Clubs) – Clog Jam (#98)
President's Award (Commercial Units) – Pearl Street Ice Cream (#107)
Director's Award (Board's Choice) – The Center (#133)
Parade Committee Award (Overall Theme) – Coulee Region Frost (#62)
Class 1 Bands
Holmen
Onalaska
West Salem
Class 2 Bands
Spring Grove
Westby
Aquinas
2017 Maple Lead Parade Route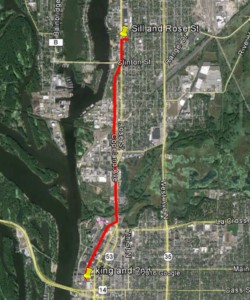 Avoid I-90 Mile Post 3 Area
Due to on-going construction, expect traffic congestion and delays when using Interstate 90 Mile Post #3 Exit (Hwy 53 South/Rose Street) during Oktoberfest.   Avoid this area, especially during the times before, during and after the Torchlight and Maple Leaf Parades.
For alternate routes into La Crosse from I-90, use Exit 4 (Hwy 53 North/Hwy 157) or Exit 5 (Hwy 16).     Another alternate route to La Crosse will be to use Hwy 14-61 via La Crescent to downtown La Crosse, then north to parade lineups via West Avenue/Lang Drive/George Street.
Torchlight Parade Lineup:  Access to North Street from George Street.
Maple Leaf Parade Lineup:   Access to Clinton Street or Gillette Street from George Street.
Use CAUTION; GO SLOW and WATCH OUT for pedestrians!