Commemorative Button Design Revealed
2019 Oktoberfest Commemorative Button Designer: Mary Schill
The 2019 Oktoberfest Commemorative Button was unveiled at the 6th annual Forks and Corks fundraiser on Thursday, March 14 at the La Crosse Center.
Mary Schill has a talent for design. That design talent has made her an Oktoberfest Button Design winner 4 times. In 2001, 2002, 2005 and 2019.
Mary won various other design competitions since graduating from UW-La Crosse in 1991, but she says winning the fest button design is one of her favorites.
"It is an honor designing for the contest and contributing to the event that gives back so much to the community" said Schell. " Each year's button is unique and it is great to see how each winning designer interprets the theme."
This year she submitted 2 designs each with a different feel. The one that was selected, based on the theme "fest with das beste" brought back memories of being with friends at the fest grounds at night. The music, celebration and fun under the dark blue night sky. The map of Wisconsin is shadowing the moon coming up, the dancers and autumn leaves dance about enjoying the celebration as only La Crosse does best!
Mary owns Forte Design LLC which is a graphic design-product branding and photography studio.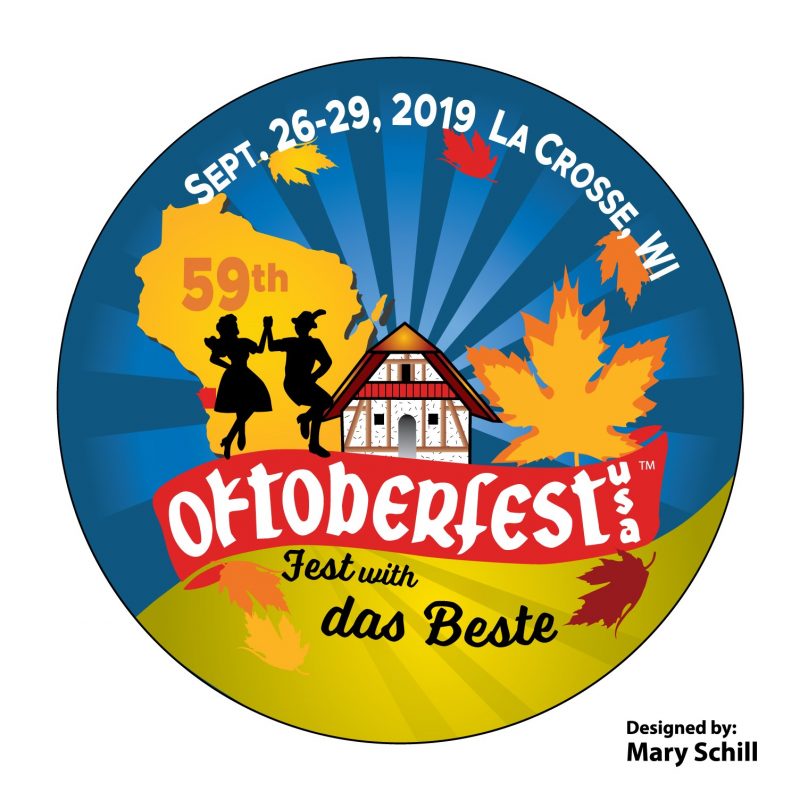 2019 Oktoberfest USA Button
---
Read about the 2018 winning design and its creator, Kyle Breunig
Read about the 2017 winning design and its creator, David Riel
Read about the 2016 winning design and its creator, Kim Vaughter (PDF)
Read about the 2015 winning design and its creator, Ann Garity (PDF)
Read about the 2014 winning design and its creator, Alex Pichette (PDF)