Nominations Open for 2018 Festmaster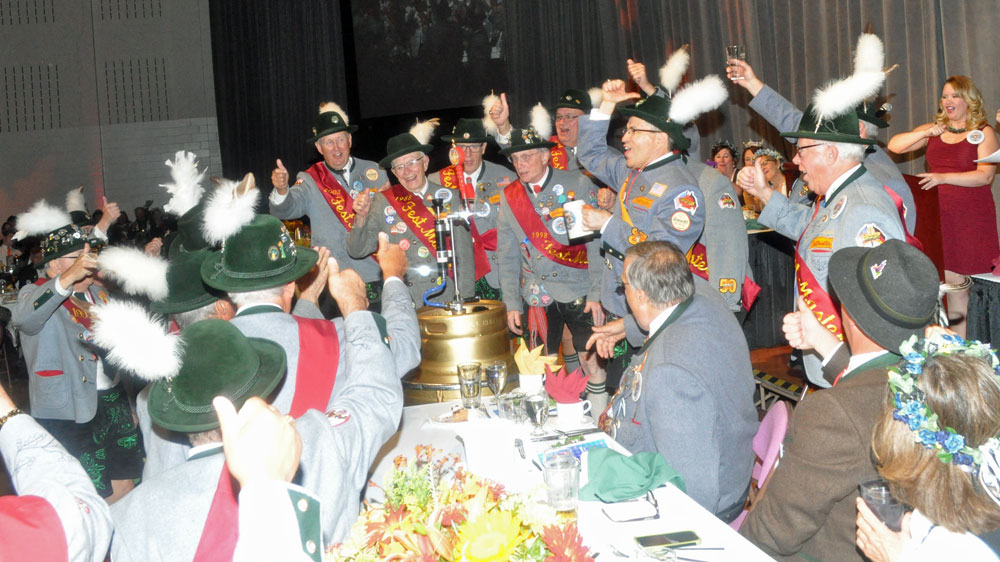 It just seemed like yesterday that Brian Rude was rolled out as the Oktoberfest Festmaster. However, selection (and training) is a lengthy process so the past Festmasters (trustees) are now taking nominations for the "next man in" in the long line of those charged with leading the annual fall festival. Deadline for nominations is January 9, 2018. See the information in this page to submit your nomination.
2018 Oktoberfest Theme and Button Design Contest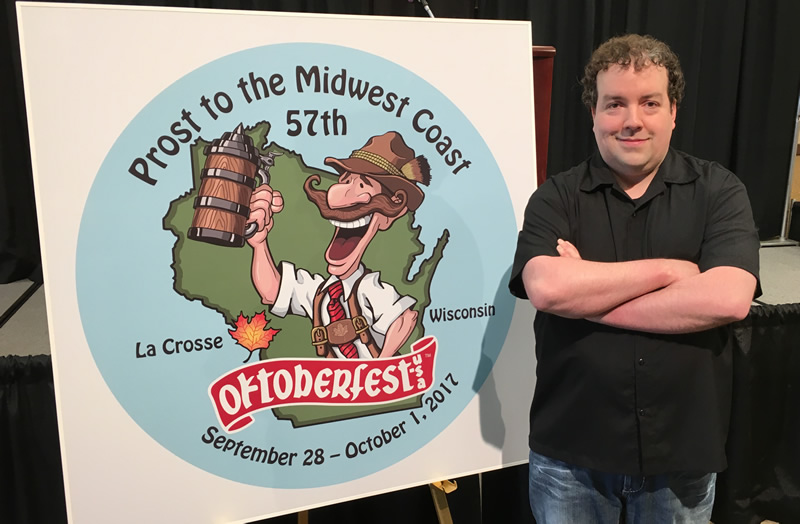 "Polkas, Preztels and Prost" will be seen far and wide as the official theme for the 58th edition of La Crosse's annual fall celebration.
With the new theme selected, the contest to design the 2018 Oktoberfest Button is now open and will run through Wednesday, January 24, 2018. Complete rules on the contest are available here.
Each year the contest draws an estimated 60 or more entries. The winner is selected by the La Crosse Festivals, Inc. Board of Directors and will be unveiled on March 8, 2018 at the Fifth Annual Forks and Corks fundraiser for the Gemütlichkeit Foundation.
Over the years the buttons have become collector's items and the designs have become part of the history and lore of Oktoberfest.
Oktoberfest 2018 will be held Thursday to Sunday, September 27 to September 30.
(Pictured above is 2017 button designer Dave Riel.)
Lynn Gundlach named Mrs. Oktoberfest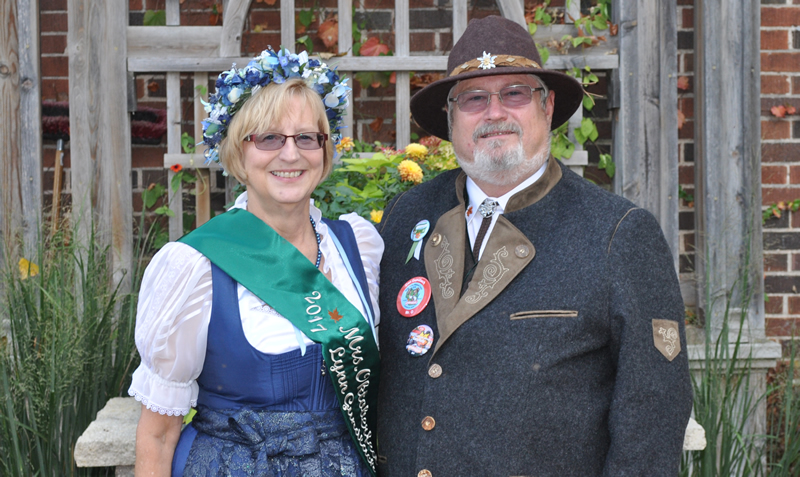 Lynn Gundlach, an active member of the Oktoberfest organization since 1999, was named 2017 Mrs. Oktoberfest at UW-La Crosse on Wednesday night.
Rudy and Colgan named 2017 Parade Marshals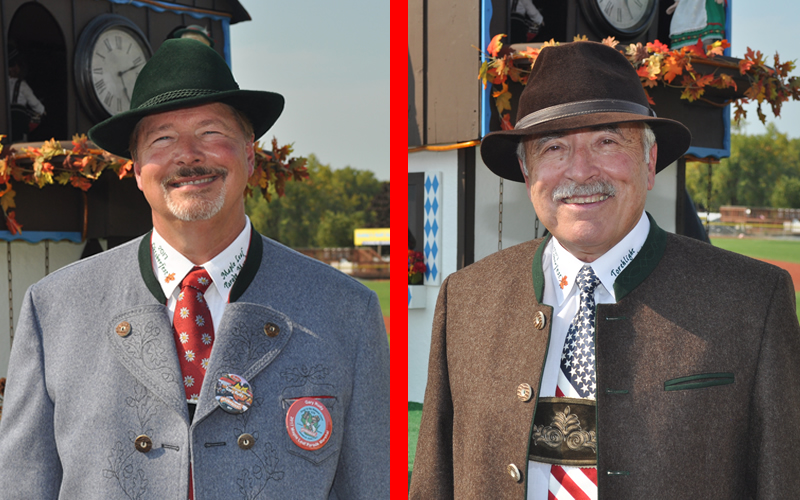 Two long-time and highly-recognized La Crosse businessmen have been selected as parade marshals for Oktoberfest 2017. (more…)
Keaton Hall named 2017 Special Fester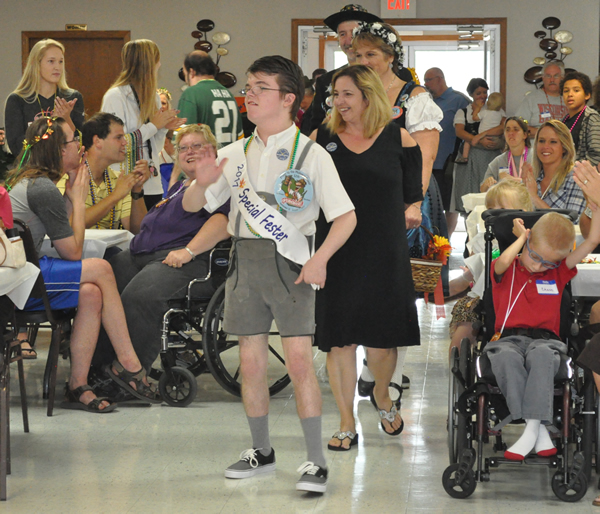 Keaton Hall was named the 2017 Oktoberfest Special Fester at the "Tanz fur Alle" (Dance for All) at All Star Banquet Hall on Sunday, September 10.
Read more about Keaton and his selection as the 2017 Special Fester.
Madeline Kumm selected 2017 Miss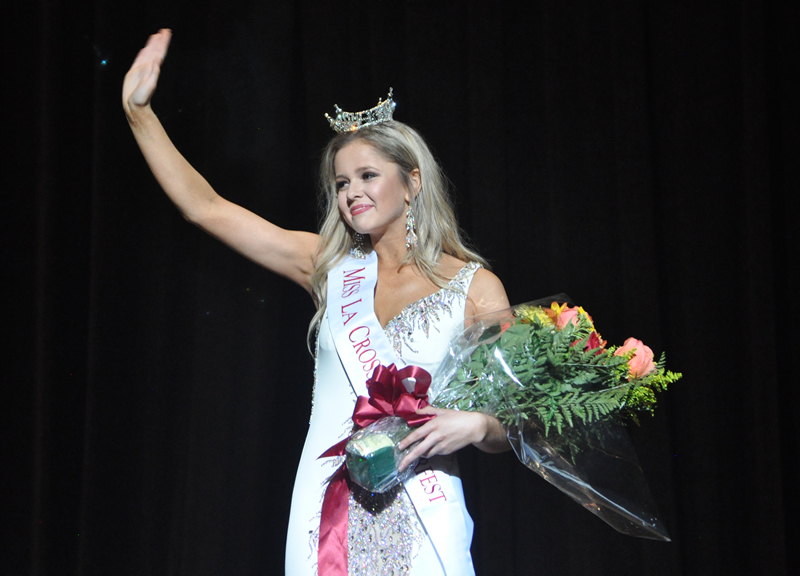 Madeline Kumm was selected Miss La Crosse/Oktoberfest 2017 from a field of six contestants at the pageant held Saturday, September 9 at the La Crosse Center. Kumm is a student at UW – La Crosse and the daughter of David and Patti Kumm. Read more about the pageant & results.
Brian Rude named 2017 Festmaster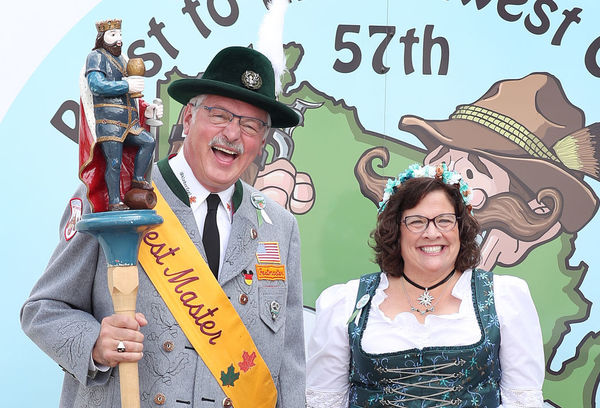 Brian and Karen Rude will reign as Festmaster and Frau of the 57th Oktoberfest celebration starting Thursday, September 28, 2017. The couple were announced at the Festmaster Ball on Saturday, August 26 at the La Crosse Center.
Gemütlichkeit Foundation awards scholarships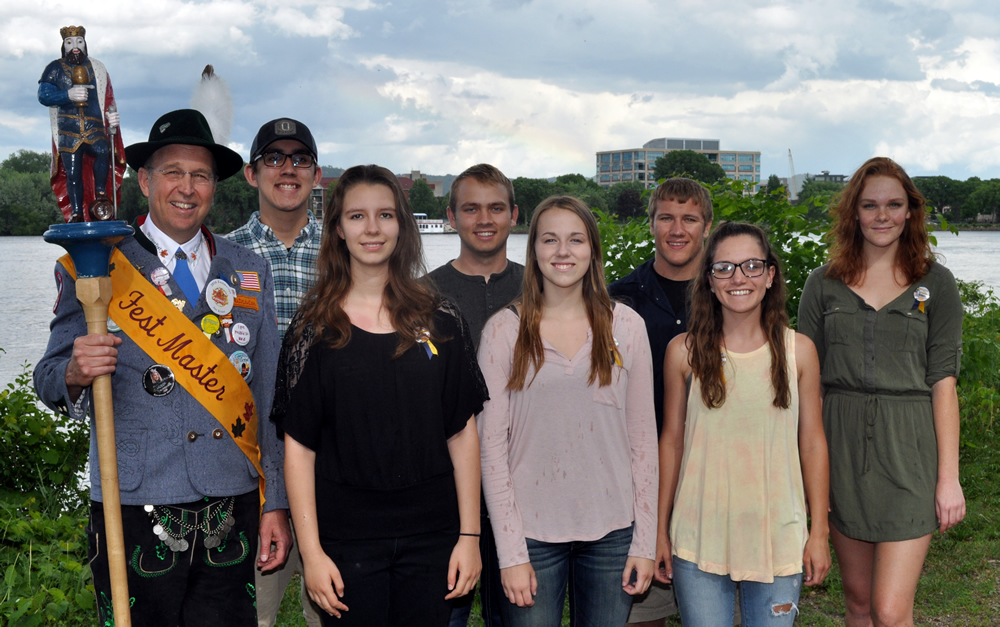 The Gemütlichkeit Foundation, the charitable arm of La Crosse Festivals, Inc., awarded $1000 scholarships to deserving seniors from nine Coulee Region high schools.
Pictured with 2016 Festmaster Joe Kruse are the 2017 scholarship winners:
Front row (l to r): Kristen Spencer – La Crosse Aquinas; Jenna McNamara – Onalaska Luther; Alexa Hosch – Onalaska
Back row (l to r): Seth Swenson – La Crosse Central; Zachary Ihle – West Salem; Alex Matz – Bangor; Jenna Dunnum – La Crescent
Not pictured: Jack Hinton – La Crosse Logan; Jenna Clements – Holmen
Oktoberfest Family at Rotary Lights
Around 50 members of the Oktoberfest family turned out to work Rotary Lights on Sunday, December 21. Cars were backed up on Second Street all the way to the Southside Fest Grounds until almost 9 p.m. Prior to that night the Oktoberfest Family held a "food drive smack down" where each group competed to bring in the most food by weight. The Festmaster's and Frau's took top honors. More than 1000 pounds of food items were collected and donated to Rotary Lights. (photo credit to Festmaster Scott Horne).