The Torchlight Parade
Presented by   

Thursday, September 29, 2022 | Starts at 7 pm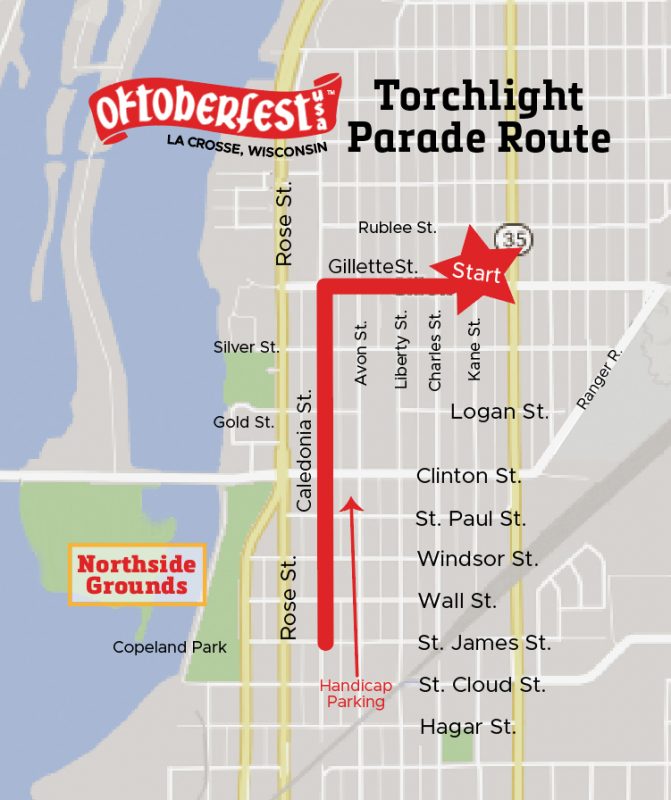 2022 Torchlight Parade Lineup
La Crosse Police Department
City of La Crosse Fire Department
American Legion Post 417 – French Island
Gundersen Tri-State Ambulance
Vietnam Veterans of America
Oktoberfest 2022 Torchlight Parade Marshal
City of La Crosse Mayor Reynolds
Warriors Performing Arts
Kwik Trip
Oktoberfest 2022 Royal Family
Oktoberfest 2022 Special Fester
Oktoberfest Trustees
Oktoberfest Past Mrs. Oktoberfests
Oktoberfest 2022 Maple Leaf Parade Marshal
Oktoberfest Past Parade Marshals
Oktoberfest 2021 Royal Family
Festmaster Ted Dewald & Frau Marlene Dewald
Oktoberfest 2022 President
Logan High School Marching Band – "The Pride of the North Side"
Coulee Region Mardi Gras
Logan Middle School Music Department
Lincoln Middle School Band
Rod's Ride On Powersports
Westby Snowflake Royalty
Arcadia High School Marching Band
Festival Foods
Amanda's Academy of Dance
Red Hawk Vanguard Marching Band of Gale-Ettrick-Trempealeau
WKBT
First Lutheran School
Northstar Early Learning Center
La Crescent-Hokah 8th Grade Marching Lancers
Verve a Credit Union
Downtown Main Street
La Crosse Police Department
Apothik Food Truck
Sparta High School Marching Band
Sparta Butterfest Royalty
Inland Packaging
West Salem Middle School Marching Panthers
CSL Plasma
Longfellow Middle School Band
Great River Orthodontics
La Crescent Apple Annies
Miss Onalaska
Onalaska High School Marching Hilltoppers
La Crosse Regional Airport
Tomah High School Marching Timberwolves
RE/MAX RESULTS
Tornado Youth Hockey
Aquinas High School Blu-Golds
University of Wisconsin La Crosse Football Team
La Crosse Riverfest Commodores & 1st Mates
Holmen Middle School Marching Band
Miss Black River Falls
Luther High School Marching Knights
Greater La Crosse Area Shamrock Club/Irish Fest
Trempealeau Lions Catfish Days Royalty
Team Niki Paisley (@properties La Crosse)
Immanuel Lutheran Church & School
River Bank
2022 Saint Paul Winter Carnival Royal Family
Skyline Fireworks, LLC
Miss Jackson County
Jump Start Adventure Park
Blue Northern Distributing
Nexstar Broadcasting WLAX/WEUX
Dahl Automotive
Go Riteway Transportation
Board Store Home Improvements
Rotary Lights
La Crosse Area Underwater Resc
WXOW
Rotary Club of La Crosse – After Hours
Lorenz Wrestling
La Crosse Skyrockers
La Crosse Police Department
The Maple Leaf Parade
Presented by

Saturday, October 1, 2022 | Starts at 10 am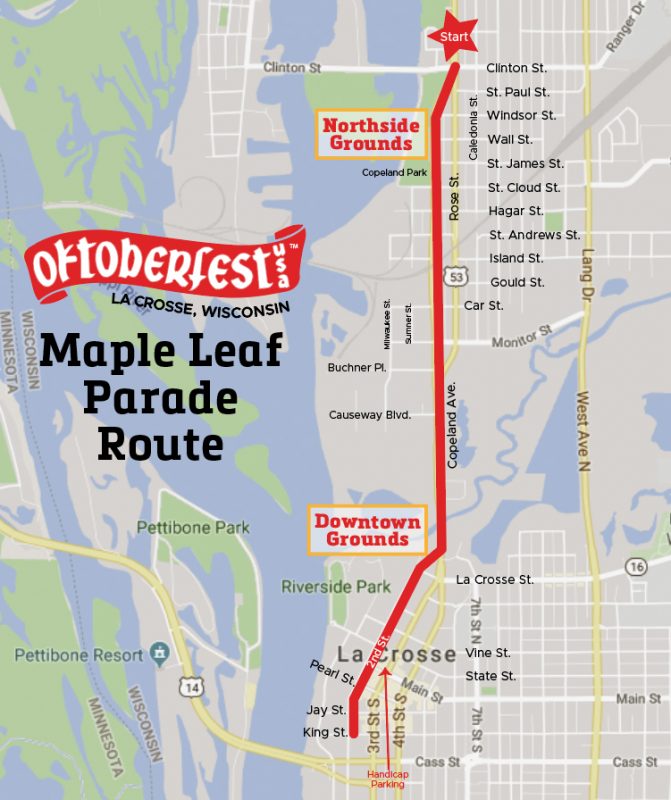 2022 Maple Leaf  Parade Lineup
La Crosse Police Department
City of La Crosse Fire Department
Vietnam Veterans of America
Wisconsin LAO Veterans of America, Inc.
Gundersen Tri-State Ambulance
City of La Crosse Mayor Reynolds with his International Committee with La Crosse's Sister City Committees
UW-La Crosse Screaming Eagles Marching Band
UW-La Crosse Vanguards
UW-La Crosse International Education & Engagement
Oktoberfest 2022  Maple leaf Parade Marshal
Oktoberfest 2022 Royal Family
Oktoberfest 2022 Special Fester
Oktoberfest Trustees
Oktoberfest Past Mrs. Oktoberfests
Oktoberfest 2022 Torchlight Parade Marshal
Oktoberfest Past Parade Marshals
Oktoberfest 2021 Royal Family
Festmaster Ted Dewald & Frau Marlene Dewald
Oktoberfest 2022 President
UW-La Crosse Alumni Band
Saint Paul Winter Carnival 2022 Royal Family
BATTLESHIP WISCONSIN DIVISION, USNSCC
Central High School Riverhawk Marching Band
Coulee Region Mardi Gras
Festival Foods
Logan High School – The Pride of the North Side
Aquatennial Ambassador Organization
Worldwide Global International Inc.
West Salem High School Marching Panthers
Gillette Pepsi of La Crosse
Westby Syttende Mai Royalty
Westby Marching Norse
Westby Snowflake Royalty
OneTrust Real Estate
La Crescent-Hokah High School Marching Lancers
Downtown Mainstreet
Rod's Ride On Powersports
Melrose-Mindoro High School Mustang Band
WXOW-TV 19
USOA Mrs. Iowa 2023
Onalaska High School Marching Hilltoppers
Miss Onalaska
Great River Harley-Davidson
Holmen High School Marching Vikings
Harter's Quick Clean-Up
Olson Solar Energy LLC
Canadian Pacific Railway
La Crosse Police Department
Black  River Falls High School Marching Tigers
Miss Black River Falls
VARC, Inc.
Aquinas High School Blu-Golds
Strive Medicare
Misty's Dance Unlimited
LaCrosse Paddling Club/Mississippi Sisters
Go Riteway Transportation
La Crosse County Republican Party
Gerrard-Hoeschler, Realtors
LaCrosse Riverfest Commodores & 1st Mastes
Hose Guys LLC
Tri-State  Accordion Club
La Crosse Regional Airport
Mondovi Lions Club Royalty Float
Dahl Automotive
Interstate Roofing
Greater La Crosse Area Shamrock Club/Irishfest
Blue Northern distributing
The Pearl Ice Cream Parlor & Confectionery
La Crosse Skyrockers
Tables by Tracy
Trane Technologies
La Crosse County Voiture 830
La Crescent Apple Annies
River Valley Remodelers
Miss Blair
The Muse Theater
Kwik Trip Inc.
US Navy
Jump Start Adventure Park
WKBT
Miss Jackson County
Monroe County Agricultural Society
Hemp+
Titan Machinery
The Board Store Home Improvements, Inc.
Democratic Party of Wisconsin
Sparta Butterfest Royalty
Bob Johnson
S&S Cycle
Express Employment Professionals
Burn Boot Camp
Ettrick Lions Club
La Crosse Syphony Orchestra
Reyes Coca-Cola Bottling
Driven to Clean
Blue Stars Drum & Bugle Alumni & All Stars Corps
La Crosse Police Department
---
Congratulations to the 2022 Torchlight Award Winners!
Best Lighted Overall Unit: Greater La Crosse Area Shamrock Club/Irishfest
Best Illuminated Float: Sparta Butterfest
Best Illuminated Marching Unit: West Salem Middle School
Best Illuminated Critter Unit: La Crosse Dive Unit
Congratulations to the 2022 Maple Leaf Award Winners! Maple Leaf Parade Awards sponsored by Kwik Trip
Mrs. Oktoberfest Award for Education: US Navy
Miss La Crosse/Oktoberfest Award for Theme Music: The Board Store Home Improvements, Inc.
Festmaster Award for Visiting Royalty & Festivals: Miss Jackson County
Burgermeister Award for Service Clubs: Tri-State  Accordion Club
President's Award for Commercial Units: Great River Harley-Davidson
Directors' Award for Board's Choice: Canadian Pacific Railway
Parade Committee Award for Overall Theme: The Pearl Ice Cream Parlor & Confectionery
Parade Marshals' Award for Community Spirit: Greater La Crosse Area Shamrock Club/Irishfest