Mrs. Oktoberfest, Darryle Clott's Letter To The Editor On How Oktoberfest Makes Our Community Stronger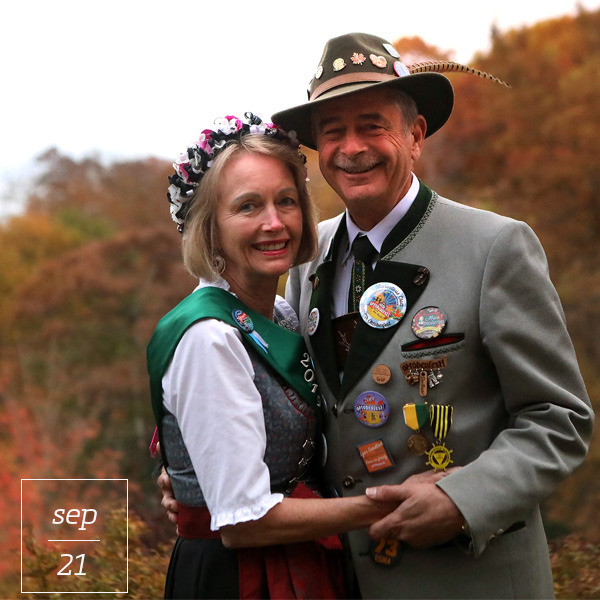 Our beloved 2019 Mrs. Oktoberfest, Darryle Clott shares her letter to the editor of the La Crosse Tribune on how Oktoberfest makes our community stronger. And with this week being what would have been the week of Oktoberfest, we thought this would be a perfect time to share this and how Fest touches so many lives and hearts within our incredible La Crosse community.
"I have loved Oktoberfest since coming to La Crosse State, now UW-L, as a freshman in 1962 when Oktoberfest was only two years old, and I have experienced 57 of 59 fests. I have enjoyed them as a college student marching in the Maple leaf Parade with the Marching Chiefs as a pom pon girl and enjoying visits to the fest grounds and the beer tents.
As I outgrew my college fun fest times, I became a parade spectator and enjoyed the camaraderie of locals and having family and friends flock to La Crosse for the fest with only an occasional visit to the tents. When I became a young mother, my interests switched to taking Hans and Aimee to the carnival to enjoy the rides and watch the parades. I had a three-year stint as a grenadier and really began to see the work of hundreds of volunteers behind the scenes. Throughout the years as my interests changed, I found there is something for people of all ages and interests to enjoy at the fest.
Ten years ago, I returned to the Maple leaf parade with the Alumni Pom Pons marching with the UW-L Alumni Band. Every time I marched down the parade route, I felt like I was 20 years old again. It was a family affair as my husband Marv was a Pom Daddy marching alongside the poms in case any frisky festgoers caused problems which, by the way, they never did.
Flash forward to the present. I now have the honor of being Mrs. Oktoberfest 2019 helping our community to celebrate "Fest with das Beste". All those years ago when I was a grenadier, I was in awe of the Royal Fest Families, never daring to dream that one day I would be part of one. Throughout the short time since becoming Mrs. O, it is impossible to truly put into words the respect I have for the thousands of unpaid volunteers it takes to plan and orchestrate Oktoberfest. It is over in a week, but it takes a year of preparation and tens of thousands of hours.
Our Royal Family consists of festmaster Terry Cowgill and frau Shelly, my husband and me Mr. & Mrs. Oktoberfest, Miss La Crosse Oktoberfest Jordenne Butler, our Special Fester Danielle Lass, Torchlight Parade Marshall Scott Skogan and his wife Debby and Maple leaf Parade Marshal Joe Heim and his wife Pat. Twenty-three grenadier couples, led by Generals Justin and Katie Drury, escort the royal family to all fest events and to the 22 parades and other occasions they attend throughout the year. They are excellent ambassadors for our community and the only payment grenadiers receive is gratitude from the Royal Family.
The grenadiers and the Royal Family are the people the public sees. Unseen are those who work behind the scenes to make the fest run seamlessly. Seven hundred volunteers from 80 non-profit volunteer organizations get paid to work at the fest, and $84,451.00 was given to these organization by the fest last week. These non-profits re-invest their share in charities in the community. A Board of Directors, Trustees made up of past festmasters, the past Mrs. Oktoberfests and the past parade marshals all work tirelessly to continue the proud traditions that began in 1960.
Fest has a significant positive impact on our community with an influx of approximately 50,000 visitors. Riding the Royal Family Float surrounded by singing, dancing grenadiers interacting with children along the route at the Torchlight Parade was pure magic. Riding the float in the Maple Leaf Parade with 100,000 people in attendance was a mountain-top experience.
Often all the public hears about are stories about beer drinking, and granted that takes place, but that is a minor part of the fest. For example, during fest week our Royal Family took part in two activities most people do not even know about. We went to the La Crosse Public Library to award prizes for the Photo Contest. I was amazed at the quality of photos submitted by people from teens to elders in their 80's. We went back to the library a different day to judge the needlework contest. Again, the contest is entered by people of all ages. I could not believe the works of art that residents spend untold hours creating, and I came away with a whole new respect for those artists.
The Royal Family had a splendid time during fest week as we spent anywhere from eight to ten hours a day attending a myriad of functions. An especially heartwarming visit was made to the Northside Carnival which that afternoon was reserved for children with special needs. As great as fest week was, by far the greatest part of the fest happened the following week when we visited schools and rest homes. This was truly "the giving back" part for us. Seeing the excitement by students when our polka band, for the past 26 years led by Crazy George, leads us out onto the floor is something I wish everyone could experience.
As wonderful as those visits were, the best of all takes place at rest homes where we take the fest to those who can no longer attend but have vivid memories of festing when they were young. We heard stories from residents about how they wait all year for the visit by the Royal Family. Once our polka band strikes up, we engage the residents in dances, wheelchairs and all. Seeing faces lit with joy is our reward. We always paid a special salute to veterans present and there were tears all around.
George Bernard Shaw in his book Man and Superman wrote these words which I love and strongly relate to, "I am of the opinion that my life belongs to the community and as long as I live, it is my privilege to do for it whatever I can. I want to be thoroughly used up when I die, for the harder I work, the more I live."
I hope to use Shaw's words this coming year as I serve as a representative for the La Crosse area and the Oktoberfest Royal Family in my role as Mrs. Oktoberfest."
Darryle Clott