2023 Miss La Crosse Oktoberfest – Emma Garrison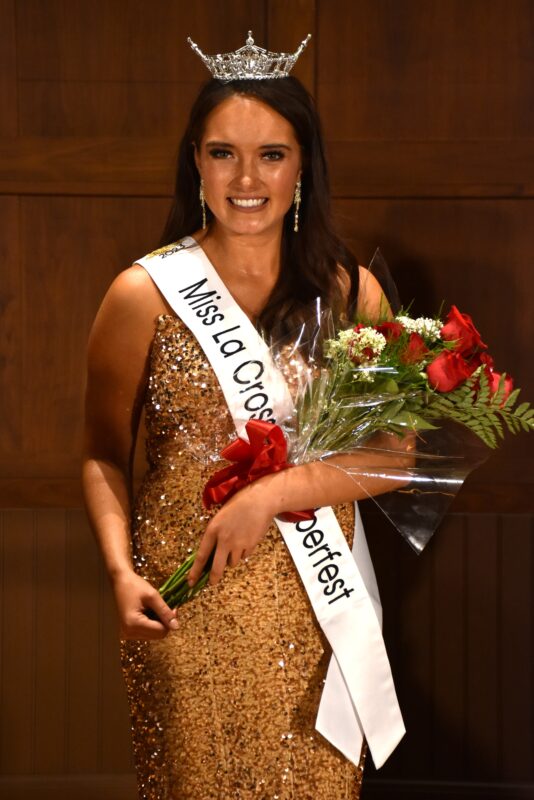 Article of Brad Quarberg
If they gave a crown for persistence, Emma Garrison would get it. Instead, she became the 2023 Miss La Crosse Oktoberfest.
Because of her determination, the 2022 UW-La Crosse graduate has won the title — the fourth time she ran for the crown. Garrison received the honor during the scholarship program at the Capella Performing Arts Center Saturday, Sept. 9.
The 23-year-old persisted through 16 competitions during the past four years to finally land a Miss America Organization title that will allow her to compete for the crown of Miss Wisconsin next June. It's a goal she's had for a long time.
When Garrison was in middle school of her hometown, Waunakee, Miss Capital City came into her class.
"I thought she was the coolest person ever," recalls Garrison.
That title holder's sister who eventually competed in the Miss Teen program became one of Garrison's best friends. Once Garrison turned 18, she started competing for Miss La Crosse Oktoberfest.
That has paid off for Garrison both financially and personally. In the 16 competitions in the Miss America program, she's earned $13,000 in scholarships. Among her titles: first runner-up for Miss La Crosse Oktoberfest in 2022, first runner-up for Miss Onalaska 2022 and second runner-up for Miss Madison in 2022. She also held the 2023 Americas Ideal Miss Wisconsin title.
Along with the runner-up titles, Garrison received the Citizenship Award and Community Service Award during the 2022 Miss La Crosse Oktoberfest competition, Spirit of Miss America award Miss Onalaska 2022, as well as the Spirit of Miss America during the 2019 Miss La Crosse Oktoberfest program.
During the most recent Miss La Crosse Oktoberfest competition, Garrison also won overall interview, overall on-stage question, overall evening gown, and the Delbert & Linda Shafer Volunteer Memorial Scholarship. Garrison is excited to represent the area she has come to love and wants to start her professional career.
"I am most looking forward to Oktoberfest and being a part of the royal family," she says. "I am so excited to be part of this community, travel to schools and to represent La Crosse at Miss Wisconsin."
For her talent during the competition, Garrison turned to her viola to play "John Ryan's Polka," a song from the movie "Titanic" that she also played in Ireland with her high school folk band. She has played viola since she was in grade 4.
"I wanted to quit right away, but my mom made me keep with it," she explains. "I eventually loved it once I was introduced to folk music. I've played for around 11 years."
Garrison beat cancer when she was 17, an experience that helped her begin whole-body health. Then at 20, she was diagnosed with attention deficit hyperactivity disorder (ADHD). It made her realize the lack of education or support for students with the disorder. Often females are misdiagnosed with anxiety and never given the proper treatment, she says. The experience helped form her professional goals.
"With experience in education, psychology and parent training I plan to use my skills to create digital resources with education around the signs of ADHD, different treatment options, and where to seek support in the community," she says.
Garrison thanks all who have helped her achieve her goal of becoming Miss La Crosse/Oktoberfest. Her next goals include passing her Board Certified Behavior Analyst (BCBA) license exam and making La Crosse proud at the Miss Wisconsin Scholarship program.
She credits her strong faith in helping her along this journey, and encourages others to not fear failure, but to embrace it because through failure is where true character is built.
"To anyone who has a dream that was placed in their hearts, it's there for a reason," she says. "Never give up hope. You were made to shine."
The Emma Garrison file
Hometown is Waunakee, Wisconsin
Graduated with a bachelor's in psychology, UW-La Crosse, UWL 2022; currently a graduate student studying Applied Behavioral Analysis online through Purdue Global.
Currently works as a Behavior Assistant at Chileda.
Social impact initiative: "Miss Misunderstood: Succeeding with ADHD."
Three interesting facts: youngest sister is 18 years younger than her; owns a rescue dog named Poppy; allergic to chocolate.
The Miss La Crosse Oktoberfest Scholarship Program is an official preliminary to both the Miss Wisconsin and Miss America Organizations. Miss La Crosse Oktoberfest serves as an ambassador for the La Crosse community as a part of the Oktoberfest Royal Family. She also performs countless hours of volunteer work promoting her personal platform, the national platform of American Heart Association, and competes for the honor of serving as Miss Wisconsin. This is an organization focused on community service, heritage, and empowering young women to achieve their personal, academic, and professional goals.
The Miss La Crosse Oktoberfest Scholarship Program awards thousands of dollars in cash and in-kind scholarships plus many gifts and benefits every year. Miss La Crosse Oktoberfest also travels to many festivals and appearances each year with the Oktoberfest Royal Family.
Please follow Emma's journey on the Miss La Crosse Oktoberfest Scholarship Program page on Facebook page for news and updates.
Eligibility
In order to be eligible to become Miss La Crosse Oktoberfest, you must:
be a young woman between the ages of 17 – 28
be 18 years of age by July 31st of Miss Wisconsin competition and no older than 28 by December 31st of Miss America competition
be a high school graduate at the time of the Miss Wisconsin competition
live, work, or go to school in La Crosse County
never have been married or pregnant
All interested candidates should email [email protected] for more information.
Former Titleholders
Year of Reign
Miss La Crosse/Oktoberfest
2022
Zoe de Boer
2021
Maddie Adickes
2019-2020
Jordenne Butler
2018
Elle Mark (Miss Minnesota 2021)
2017
Madeline Kumm
2016
Mattie Mae Krause
2015
Zoe Roou
2014
Audra Fuchsel
2013
Christa Brehm
2012
Tianna Vanderhei (Miss Wisconsin 2018)
2011
Kate Gorman (Miss Wisconsin 2012)
Ellen Poeschel
2010
Elizabeth Kramer
2009
Raeanna Johnson (Miss Wisconsin 2011, Miss Wisconsin 2014)
2008
Katie Ekern
2007
Mandy Nogle
2006
Kristina Smaby (Miss Wisconsin 2009)
2005
Beth Bruzek
2004
Maggie Lee
2003
Katie Mumaw
2002
Mandy Kupietz
2001
Abby Ryan
2000
Erin Schockmel
1999
Alyssa Bruemmer
1998
Kristina Kruse
1997
Polly Steffes
1996
Misty Averill
1995
Abigail Meisch
1994
Gwen Overhouse
1993
Samara McAllister
1992
Dawn Holmes (September - December)
Kam-Lin Kaio (January - September)
1991
Jodi Bakken
1990
Heather Horton
1989
Patti Hunt
1988
Liz McConahay
1987
Stephanie Strever
1986
Annette Huppert
1985
Kim Torgerud
1984
Rhonda Bentley
1983
Barb Mullallly (Miss Wisconsin)
Brenda Holthaus
1982
Karen Schreier
1981
Gail Soller (Miss Wisconsin)
Theresa Olson
1980
Amy Schatzke
1979
Jill Glendenning
1978
Mary Nelson
1977
Wendy Jo Abell*
1976
Sue Ofstedahl
1975
Debby Nerby
1974
Jackie French
1973
Sandra Marx
1972
Linda Deitte
1971
Kathy Kennedy
1970
Rita Deniger
1969
Marie Beaman
1968
Kristie Gates
1967
Marilyn Brahmsteadt (Miss Wisconsin)
Fran Noyce
1966
Kathy Hickey
1965
Pat Krueger
1964
Nancy Zinn
1963
Mary Kay Knudson*
1962
Marilyn Otto
1961
Marlene Schultz
Diane Morgan
*Fondly Remembered
Miss La Crosse Oktoberfest