2019 Special Fester – Danielle Lass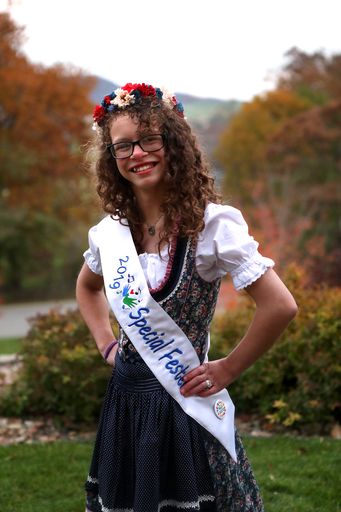 Danielle Lass is 12 years old and a 7th grader at Onalaska Middle School. She is the daughter of Rob and Stephanie Lass. She has three older brothers that she adores. Alec is 23, Sam is 21, and CJ is 17. Danielle enjoys supporting them in their various activities and in turn, they are very supportive of her. Danielle enjoys all types of music but especially K Pop. Going to concerts is one of her favorite activities.
Danielle was diagnosed with Williams Syndrome at 3 months. It is a genetic disorder that affects 1 in 10,000. Williams Syndrome is characterized by medical issues and cognitive delays. Danielle is very social and outgoing. She loves interacting with people and is very excited to be this year's Special Fester.
Former Special Festers
| Year | Special Fester |
| --- | --- |
| 2018 | Mackenzie Peterson |
| 2017 | Keaton Hall |
| 2016 | Gunner Skroch |
| 2015 | Brianne Cooper |
| 2014 | Makayla Olson |
| 2013 | Conner Ellis |
| 2012 | Erik O'Brien |
| 2011 | Sydney Fitzpatrick |
| 2010 | Jonah Cowgill |
| 2009 | Brevin Terpstra |
| 2008 | Alysha Klatt |
| 2007 | Danny Alderman |
| 2006 | Emily Limbach |
| 2005 | Mitch Kaiser |
| 2004 | Cassie Strand |
| 2003 | Keith Stachowitz |
| 2002 | Andrew Fruit |
| 2001 | Teri Gerlach* |
| 2000 | Katie Kane |
| 1999 | Jareau Ammann |
| 1998 | Thea Aspenson |
| 1997 | Molly Mulrennan |
| 1996 | Devon Sprain |
| 1995 | Patrick Molzahn |
| 1994 | Ashley Adams |
| 1993 | Amanda Hundt* |
| 1992 | Brad Swinghammer |
| 1991 | Jamie Williams |
| 1990 | Jill Bakalars |
| 1989 | Miranda Roberts |
* Fondly Remembered
Special Fester Nomination
Nominations are now being accepted for the 2019 Special Fester. Download, complete and submit the Special Fester Nomination form or complete the form online. Deadline for nominations is May 7, 2019.  Completed applications can be returned to the Oktoberfest office:
PO Box 1716
La Crosse, WI 54602