The History Of Oktoberfest's Torchlight & Maple Leaf Parade Marshals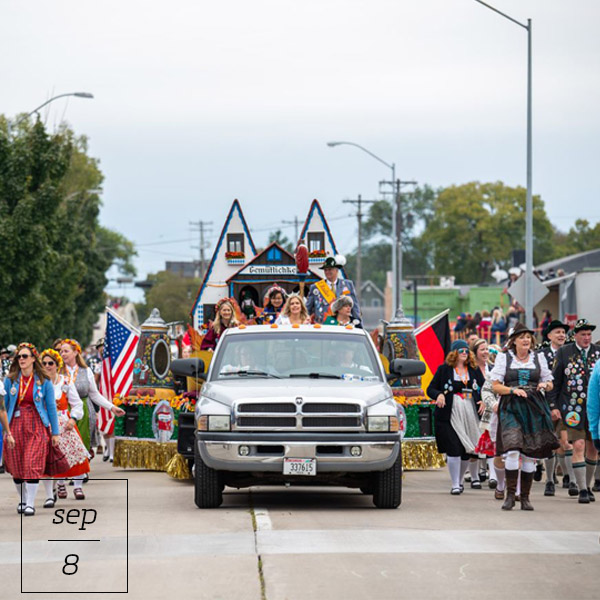 Our Royal Family Torchlight & Maple Leaf Parade Marshals embody the spirit of Oktoberfest and lead our parades that Fest-goers line the streets each year to anxiously see. The Maple Leaf Parade kicked off Oktoberfest's first year in 1961, while the Torchlight Parade was first held in 1971.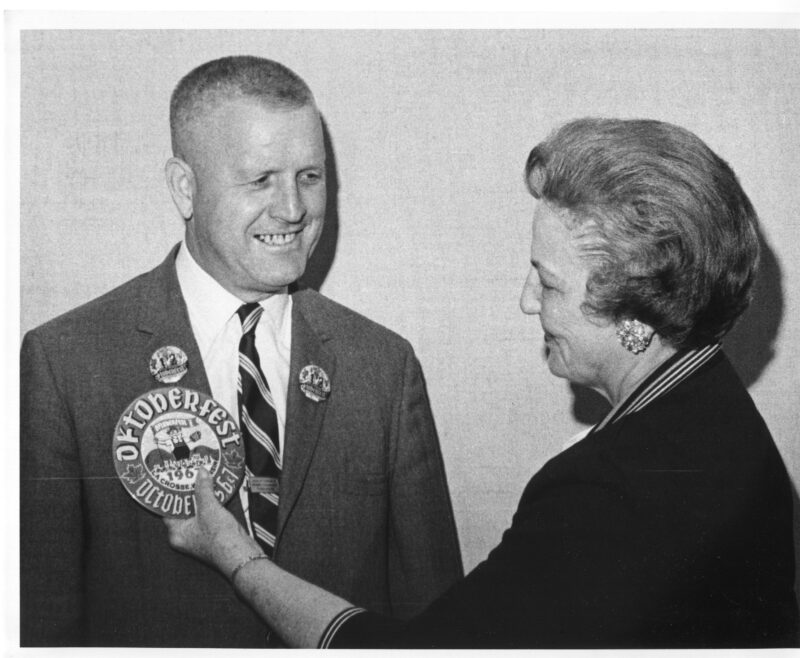 Pictured above is 1961 Parade Marshal Esther Domke awarding a special button to 1969 Maple Leaf Parade Marshal Kootch Carroll.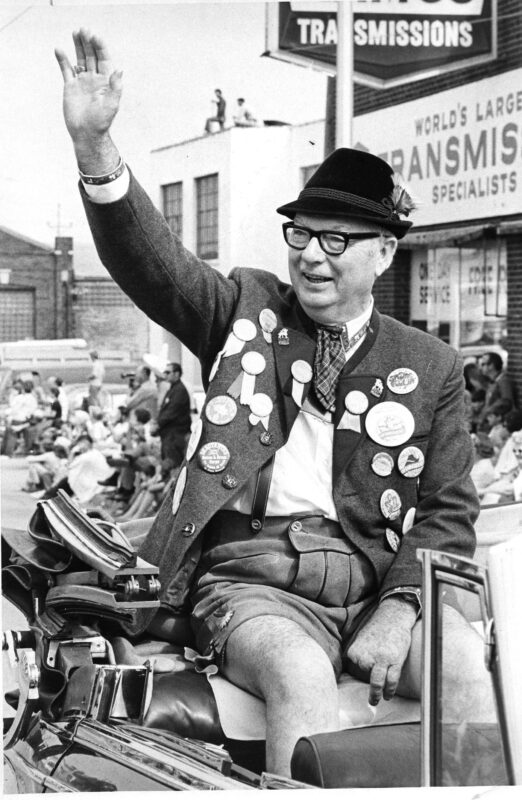 Pictured above is Marshal Ed Quillin in the 1971 Maple Leaf Parade
La Crosse Festivals Inc. (d/b/a Oktoberfest USA) accepts nominations for Parade Marshals through February for the current calendar year.
A nominee should be a person who:
• has contributed positively to the good of the community through leadership and outstanding accomplishments
• is someone of good character that is well-respected
• is a resident for at least 10 years within a 20-mile radius of La Crosse
• is actively involved and well-known in the La Crosse community
• is well-known, well-liked, friendly, and outgoing
• has the time to devote to Oktoberfest activities
All entries must be received no later than the third Monday of March, annually. to be considered for the current year. The new Parade Marshals are announced at the Kick-Off Party in September each year.
Eligible nominations shall remain active for three years from the date of the original nomination.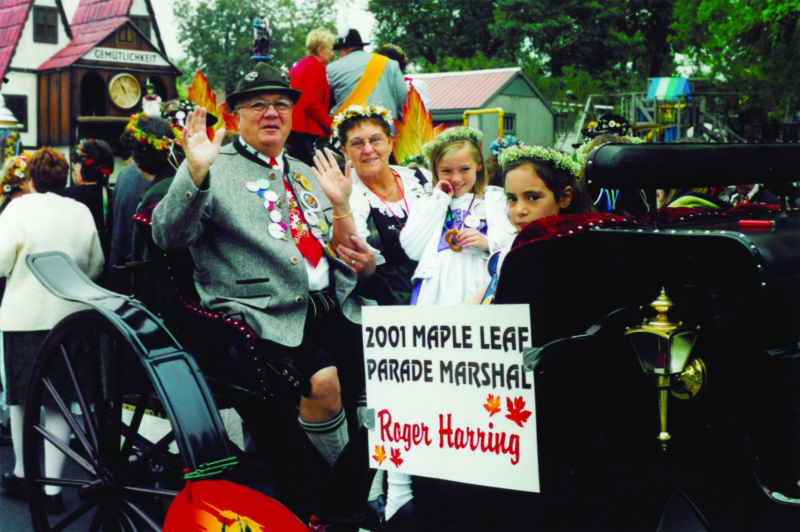 Pictured above is 2001 Maple Leaf Parade Marshal Roger Harring, his frau, Mary, and granddaughters, Allysa & Michaela.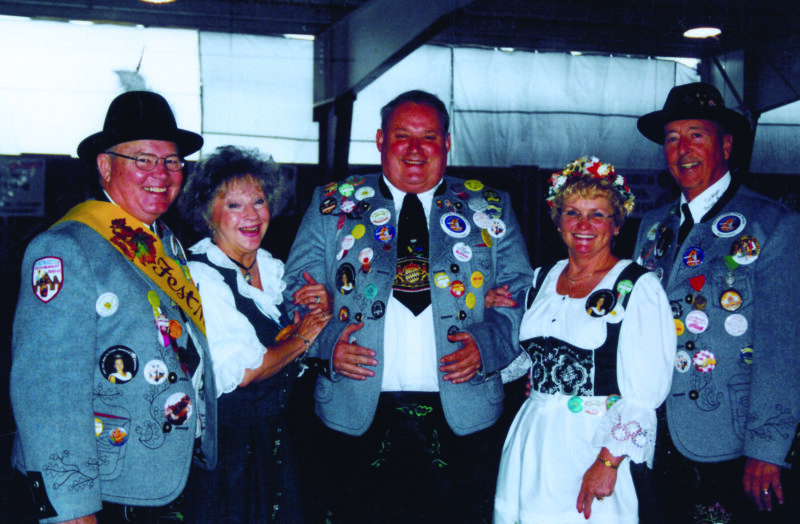 Pictured above are 2000 Torchlight Parade Marshals Dave Loomis, Sharon & Bud Loomis with Festmaster Lyle Quillin & frau, Sandy.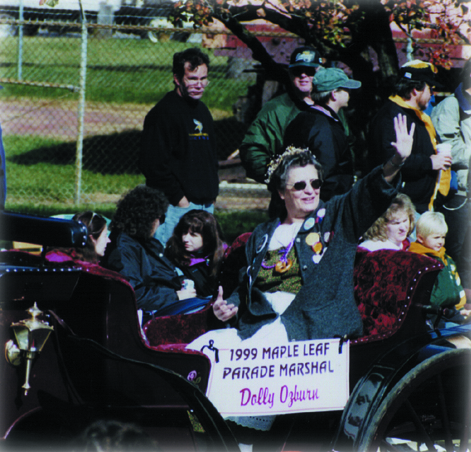 Pictured above is 1999 Maple Leaf Parade Marshal Dolly Ozburn.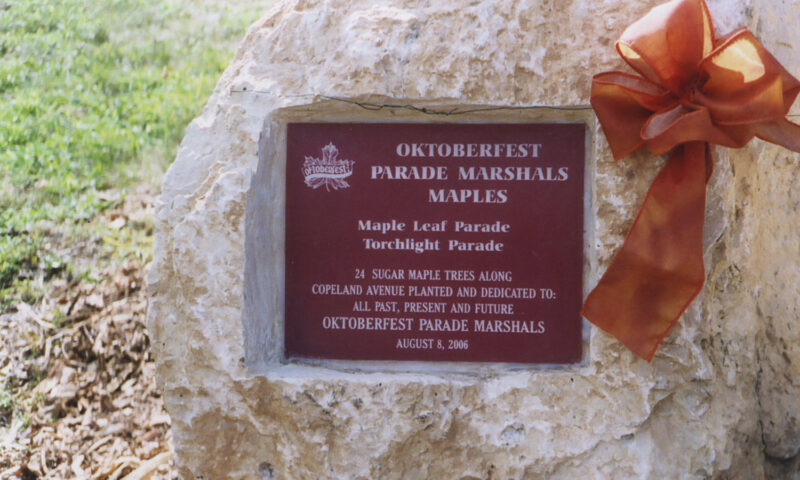 Parade Marshals give an "Ein Prosit" at the dedication of a marker in Copeland Park in 2006. They planted and dedicated 24 sugar maple trees along Copeland Avenue in honor of all past, present, and future Oktoberfest Parade Marshals.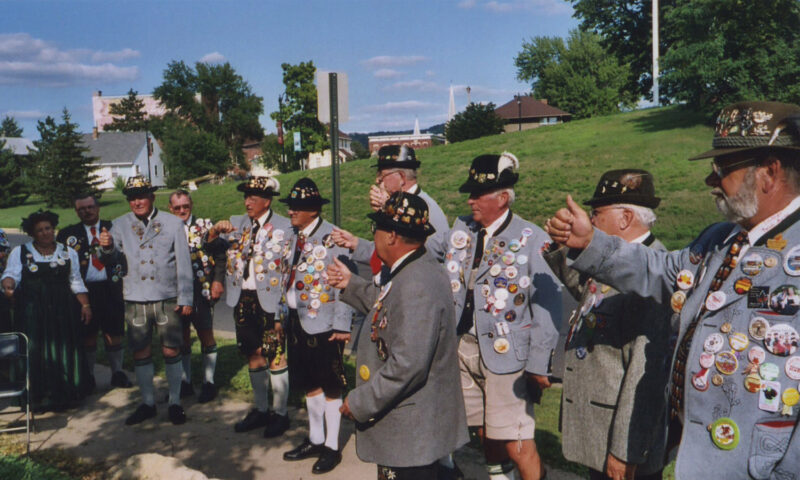 Meet Joe Heim, our 2019 Maple Leaf Parade Marshal here!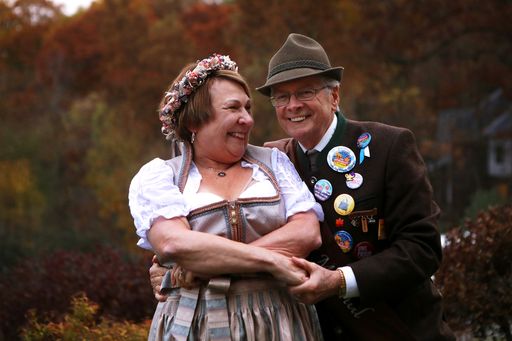 Meet Scott Skogen, our 2019 Torchlight Parade Marshal here who is front and center of our kick-off parade.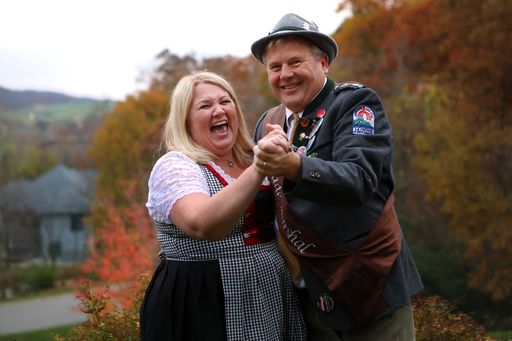 The Maple Leaf Parade takes place the Saturday during Oktoberfest weekend at 10 am with the route below.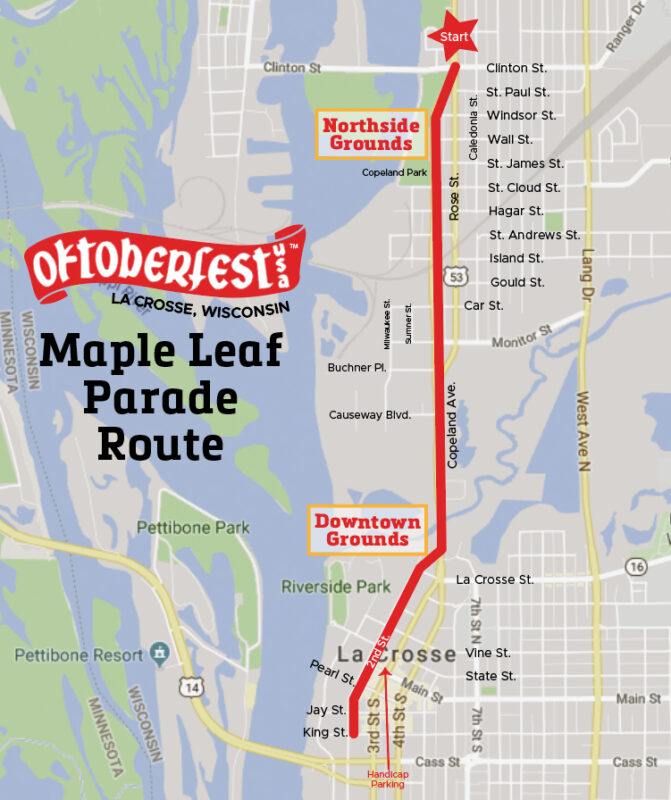 The Torchlight Parade kicks off Oktoberfest on Thursday evening at 7 pm with the route below.