The Story Of Oktoberfest's Traditional Lederhosen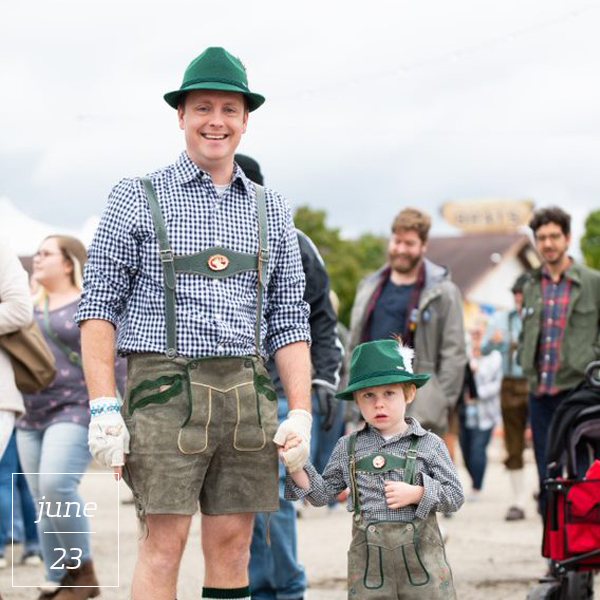 When you think Oktoberfest, you may envision beer and pretzels, but most of all, the traditional fashion of the men's lederhosen. Lederhosen are short or knee-length breeches made of leather. Traditional lederhosen are hand made of tanned deer leather which makes the pants soft and light but very tearproof. All variations usually consist of two side pockets, one hip pocket, one knife pocket, and a codpiece (drop front). An Oktoberfest lederhosen costume consists of the following:
Leather trousers in brown, dark green or black leather breeches, commonly short or knee-length but also as long ones called Bundhosen or Kniebundhosen, braided or embroidered
Suspenders in "V" or "H" style
White or light checkered shirt, usually in red, blue or green
Socks, usually in cream, grey or hunter green in knee-length, ankle-length or Loferl-style
Shoes "Haferlschuh" or "Haferl" in black or brown
Formerly, lederhosen were worn for pheasant work among men of the Alpine and surrounding regions, including Bavaria, Austria, the Allgäu, Switzerland, the autonomous Italian region of Trentino-Alto Adige/Südtirol (formerly part of Austria-Hungary) and Alpine area of today's Slovenia.
La Couturière Parisienne, however, claims that lederhosen was originally not exclusively a Bavarian garment but was worn all over Europe, especially by riders, hunters, and other people involved in outdoor activities. The flap (drop front) may have been a unique Bavarian invention. The drop-front style became so popular in the 18th century that it was known in France as à la bavaroise, "in the Bavarian style."
The popularity of lederhosen in Bavaria dropped sharply in the 19th century. They began to be considered as uncultured peasants' clothing that was not fitting for modern city-dwellers. However, in the 1880s a resurgence set in, and several clubs were founded in Munich and other large cities devoted to preserving Bavarian culture with the lederhosen fashion. King Ludwig II was also a great fan of traditional costumes. His acceptance of lederhosen made it so popular that today Oktoberfest is not complete without it. Oktoberfest lederhosen represents the continued celebration, preservation, and pride of the Bavarian culture.