Traditional Oktoberfest Fashions Of The Woman's Dirndl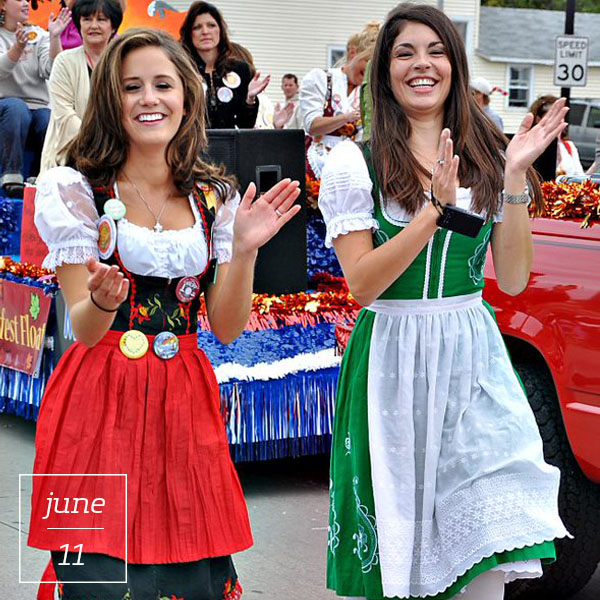 You may have seen or heard of a dirndl, but what is it exactly and how did it come to be the traditional Oktoberfest fashion worn by women? A dirndl is the name of a woman's dress traditionally worn in southern Germany, Austria, Liechtenstein, Switzerland, and Alpine regions of Italy. The dirndl is a folk costume (in German – Tracht), and today is generally regarded as a traditional dress for women and girls in the Alps. It developed during the 19th century, originally worn by Alpine peasants as work clothes while they cleaned, worked on farms and in fields.
Today the term "dirndl" refers to a dress with a tight bodice, featuring an often deep rectangular or round neckline, a wide high-waisted skirt (whose length changes with prevailing fashions), and an apron. Styles and designs vary, from simple to high-end.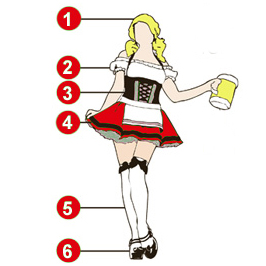 Crown braids are the traditional hairstyle worn.
The blouse accentuates the style of the dirndl; different styles include delicately hand-embroidered pieces, blouses with extravagant ruffles and lace, or simple ones with straight sleeves. It is short in length, reaching to just below the bust. Most blouses are white; typical materials are cambric, linen, or lace. Short puff sleeves are most popular, although narrow sleeves (short or long) are also common. The neckline may be high, V-shaped, balconette, or heart-shaped.
The bodice (in German – Mieder or Leiberl) is sewn onto the skirt, although before the 1930s the two were separate. Both are made from colored or printed material, usually cotton, linen, velvet, or silk. The bodice is typically made in a single piece, with the join in the front center, secured by lacing, buttons, or a hook-and-eye closure or a zip.
The dirndl skirt is wide and folds in to accentuate at the waist, making any woman look beautiful in a dirndl. It was originally ankle-length but in more modern designs, is mid-length accented with an apron.
Stockings are worn and typically white in color and knee-length.
Traditional German-style shoes and comfortable ones, we might suggest to wear during Fest if you plan to be on your feet all day!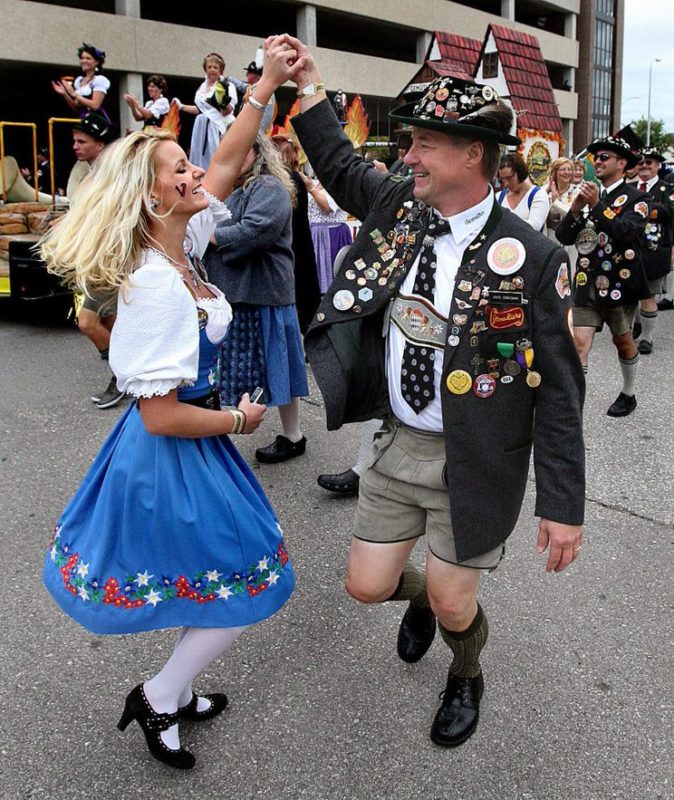 In the late 1800s, around 1870, the dirndl became widely popular among the upper echelons of society.  Suddenly, the simple dresses made of practical fabrics were transformed into very stylish, colorful dresses often made of silk, satin, and other expensive fabrics.
Germans, Austrian, Swiss, and Scandinavian people migrated to North America in the 19th century. Across the US then and today, people celebrate their folklore heritage at community events and festivals wearing the dirndl as we do at Oktoberfest in La Crosse. See more traditional Oktoberfest fashions here.