The History Of The Honorable Festmaster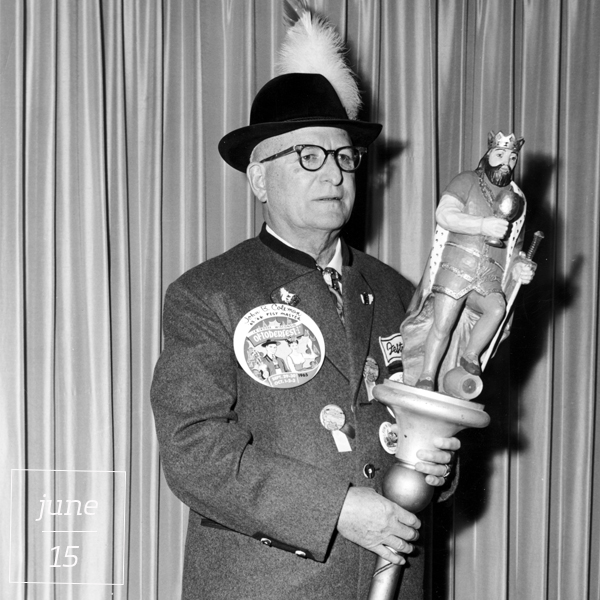 The selection and history of Oktoberfest's Festmaster is one of the oldest and most cherished Fest traditions. The selection process and naming of the new Festmaster is very secret and the mystery only adds to the fun!
The Festmaster heads the Oktoberfest Royal Family and is chosen annually by the Board of Trustees. Once selected, the Board of Trustees Chairman, along with the past year's Festmaster, mentors the new Festmaster, bringing him up to speed on his duties, expectations, and appearances. The new Festmaster & Frau are announced at the Festmaster's Ball, held yearly in September.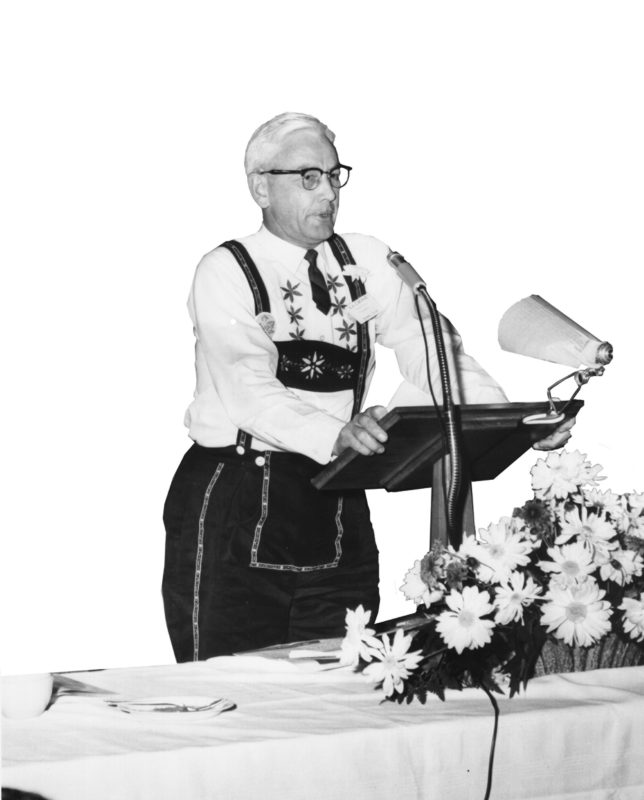 1962 Festmaster Don Rice pictured above
The first Festmaster was Don Rice in 1962 at the second Oktoberfest. The first four festmasters were chosen by Bob Abbott, president of the board of directors of Oktoberfest. Bob Abbott chose these members that were part of a golfing foursome; Don Rice, Ray Ping, Roy Kumm & John Coleman; who had first proposed the idea of a festival to lift the spirits of La Crosse residents during a time when so many had lost their manufacturing jobs.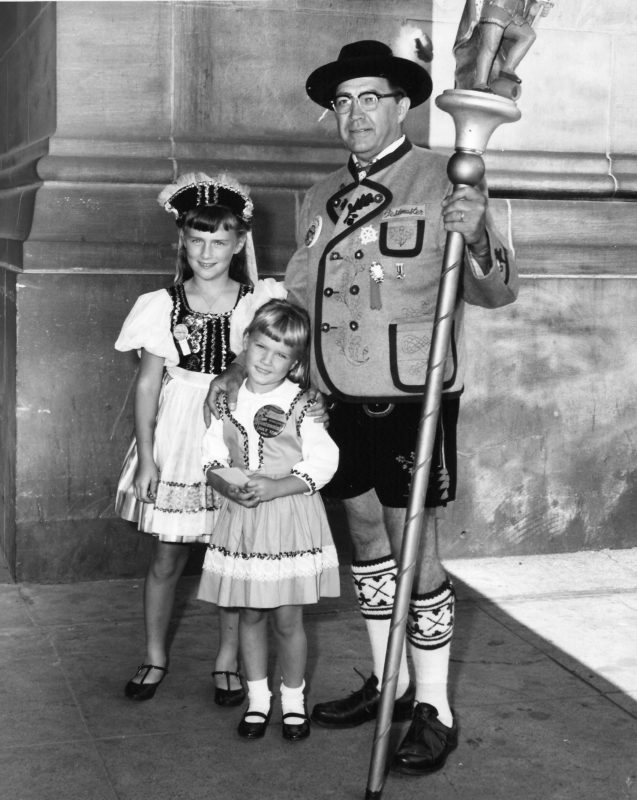 1964 Festmaster Roy Kumm with his granddaughters, Kristine, left, and Sandra, right, pictured above
In 1968 when Oktoberfest left the Chamber of Commerce and incorporated into its own La Crosse Festivals, the public was encouraged to submit nominations for Festmaster. Professional success, community volunteer involvement, personal ethics, family, age, and the availability to meet the year-long obligations of the honor were qualities needed. All entries are then reviewed and voted on by the Board of Trustees, who consist of all the former festmasters.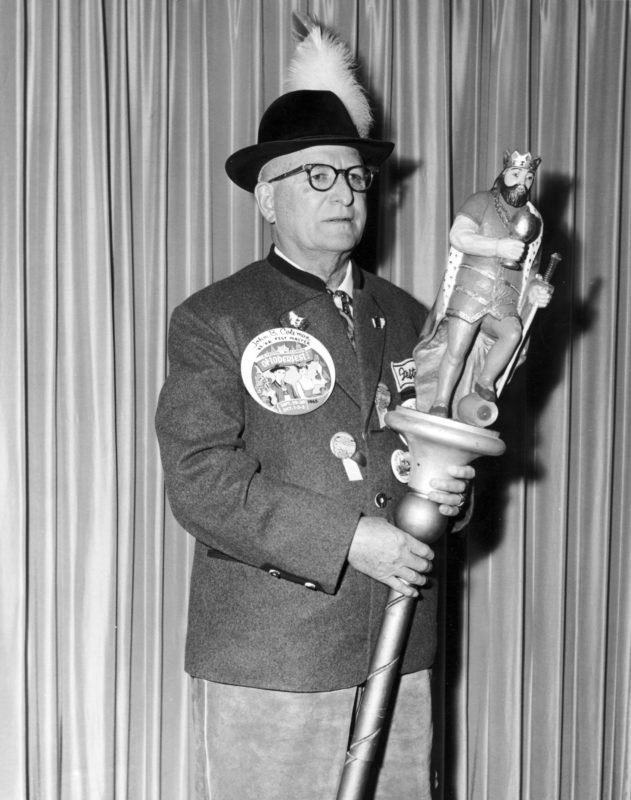 1965 Festmaster John Coleman pictured above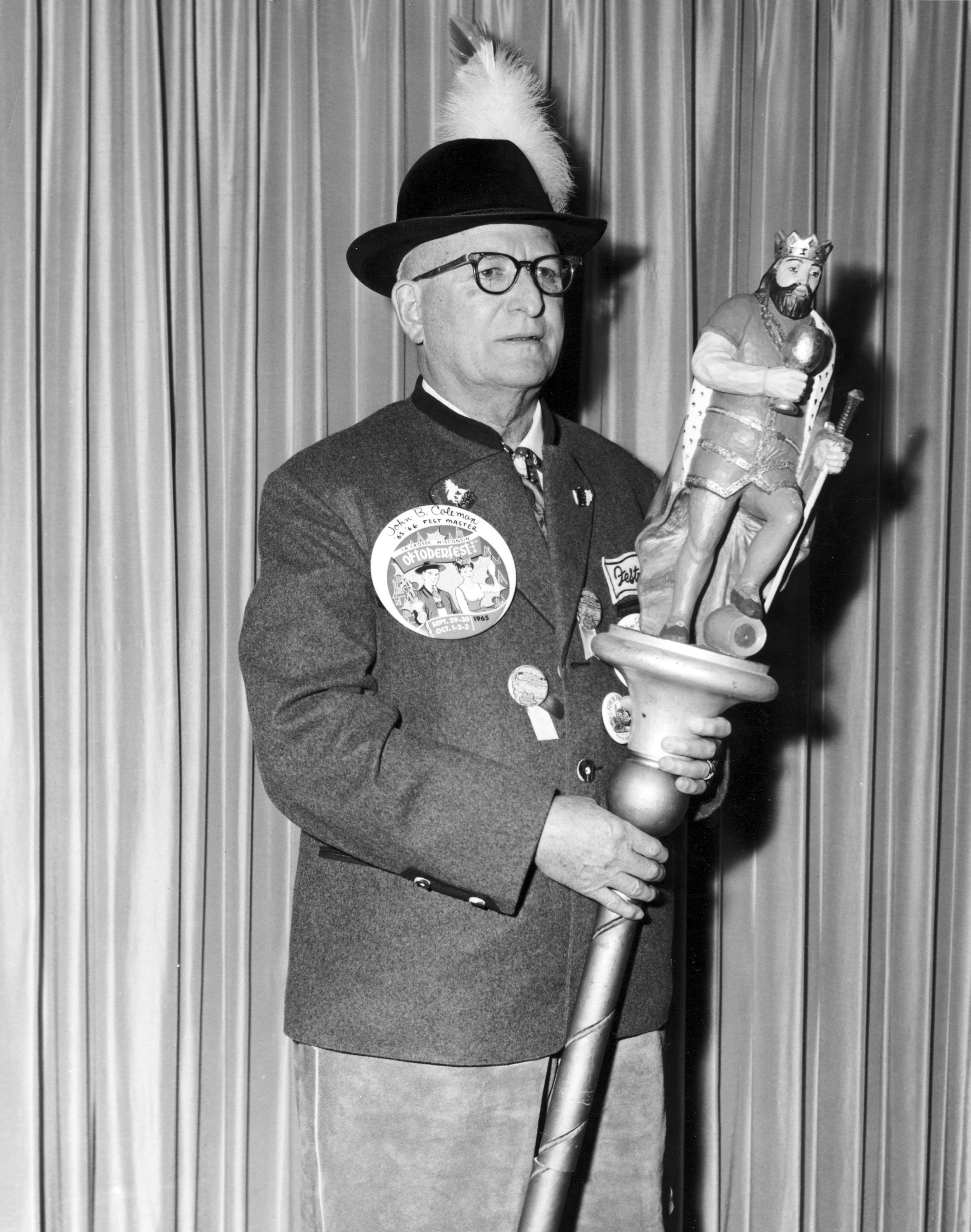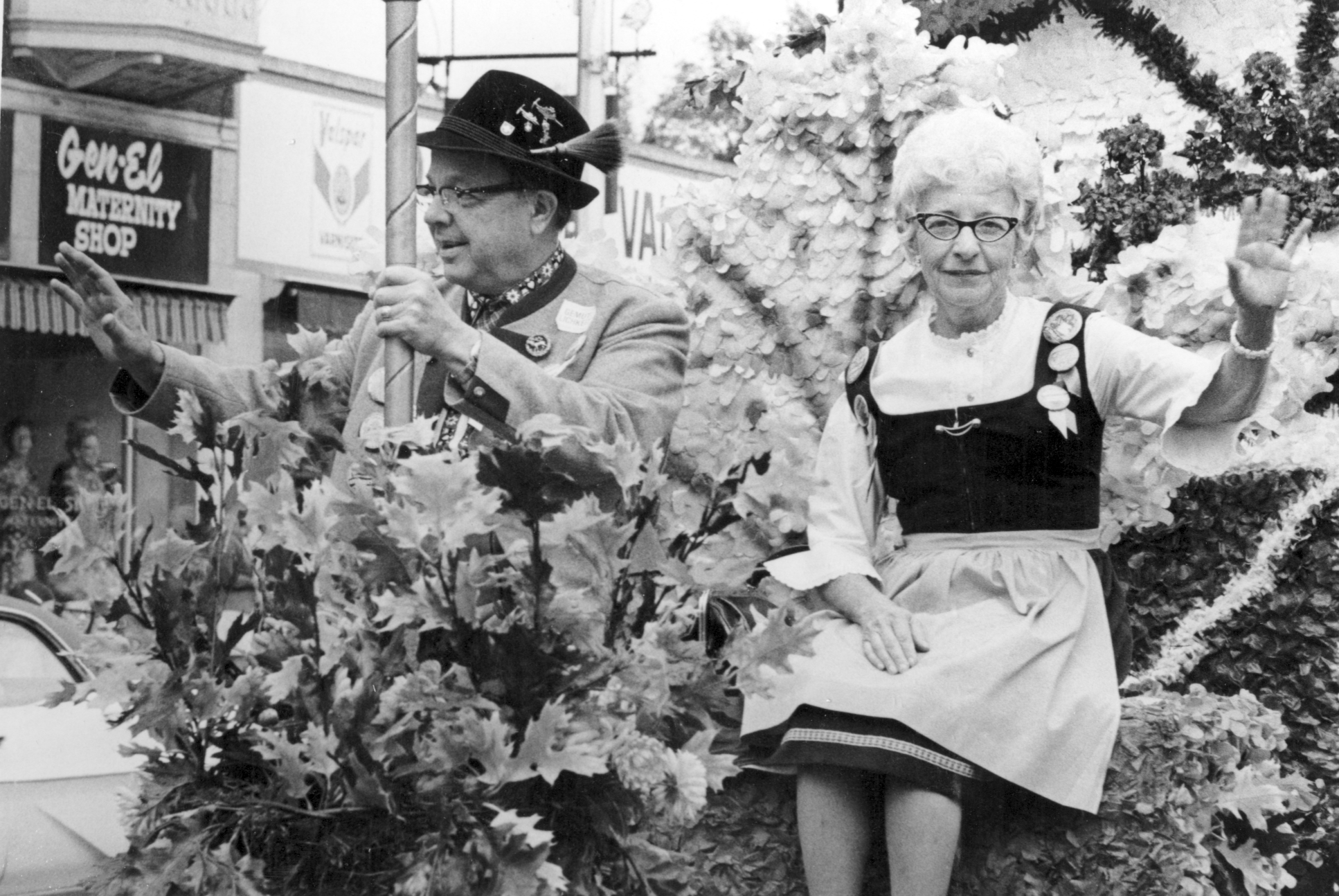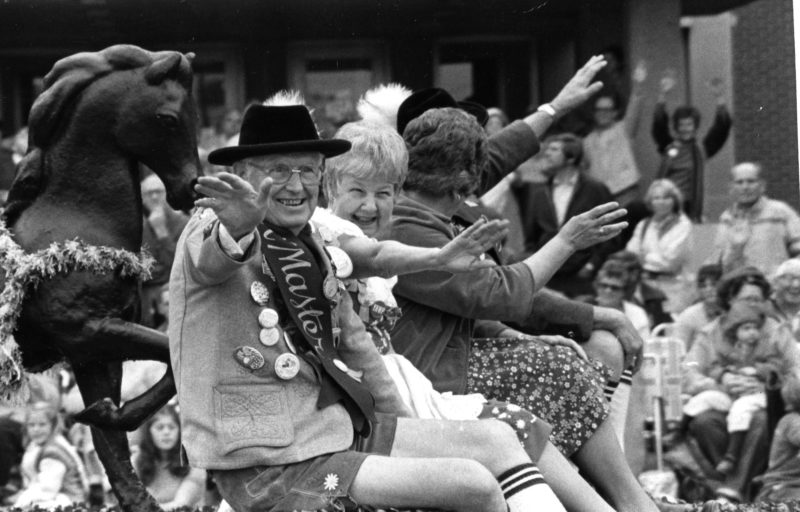 1970 Festmaster Cully Prinz and his wife Stubby in the Maple Leaf Parade
The search and nominations for the new Festmaster begin shortly after Oktoberfest is over. Entries must be submitted by January, at which point, a three-month selection process begins. The list is narrowed to 10 and then to 5. The final five are listed in order of preference by each trustee and ballots are sent to the current trustee president. He and the immediate past Festmaster open and count the votes. They are the only two who know the identity of the newly chosen man whose code name is "Herman." Herman is contacted in late March to accept this honor.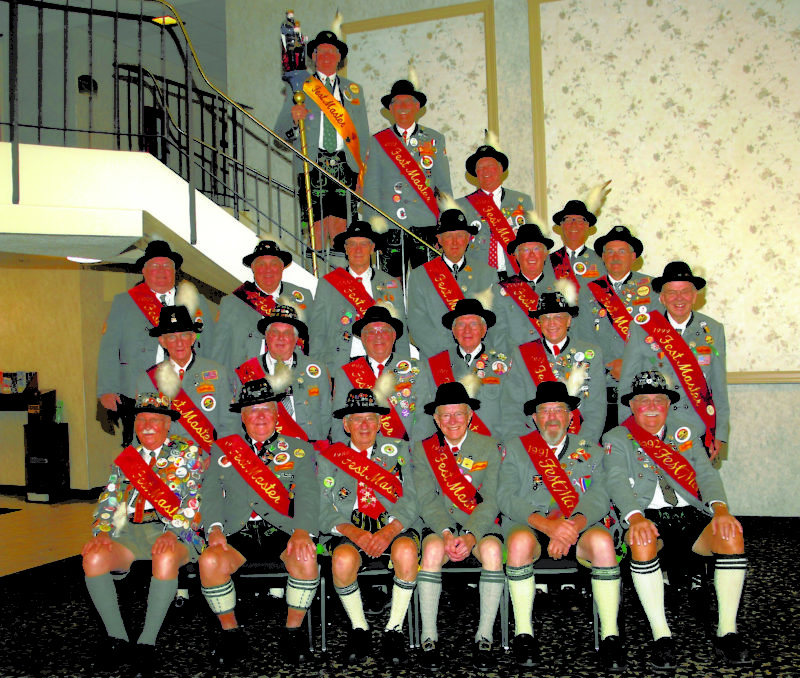 The Festmasters in 2009 pictured above
To be chosen as Festmaster is considered to be one of the highest honors for any man in the La Crosse area. The new Festmaster & his wife known as the Frau, are announced in September at the Festmaster's Ball, the most regal and special evening in La Crosse with over 1,000 attendees who dress in their festive suits and gowns. This event is open to the public with advanced reservations. Meet Terry & Michelle Cowgill, (pictured below) our 2019 Oktoberfest Festmaster & Frau here.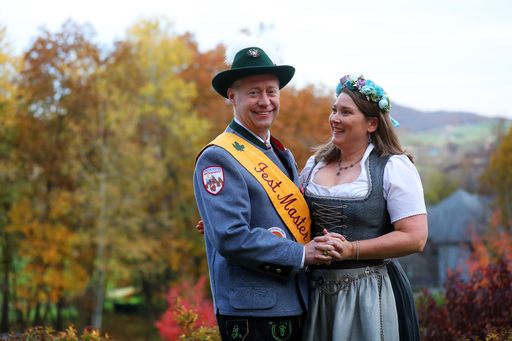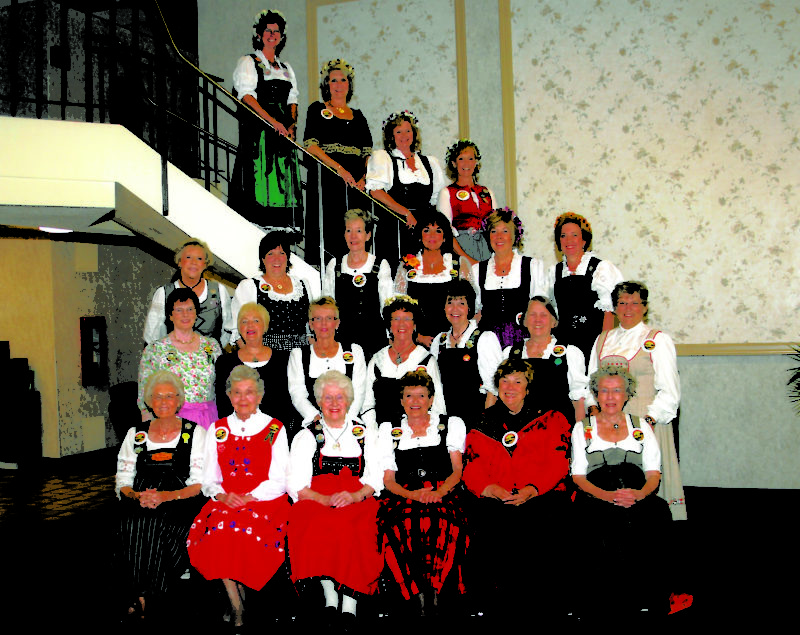 The Fraus in 2009 pictured above