The History & Role Of Our Oktoberfest Grenadiers
Our festive Grenadiers, also known officially as the Grenadier Corps are the most visible and spirited group of the Oktoberfest Royal Family. They consist of up to 25 married couples who escort the Royal Family to parades and events throughout the year. They are the bringers of fun, dancers to polka, clappers, and marchers of many parades. The Grenadier Corps was formed in 1971 with the primary purpose to enhance the pageantry and support the functions of Oktoberfest USA.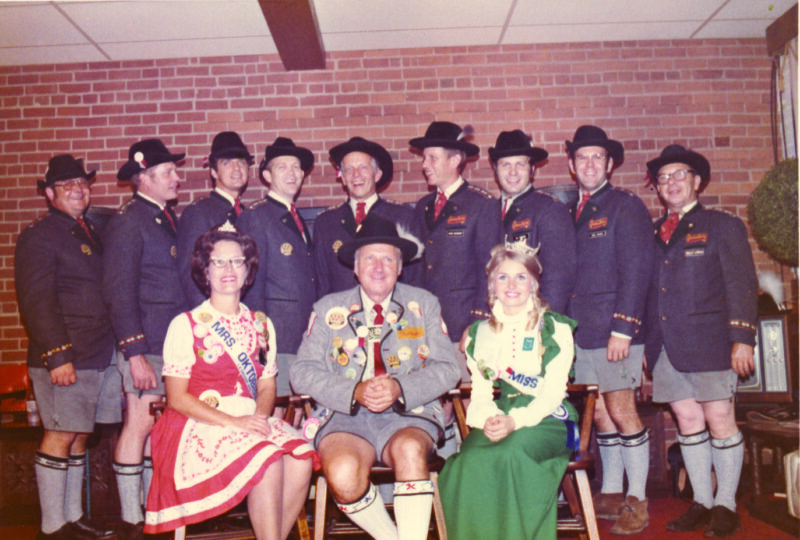 Pictured above are the Grenadier men with 1971 Mrs. Oktoberfest Betty Stoll, seated left, 1972 Festmaster Walt Hammond, and Miss La Crosse Oktoberfest Linda Deitte. Standing from left, back row: Burt Nelson, Mike Core (1972 General), Bob Burns, Clyde Benjamin, Jack Custer, Fritz Schubert, Al Poser, Karl Paasch, and Wally Lorenz. 
The need for the Grenadier Corps was first discussed by Jerry Miller, Bob Mullally; then President of the Oktoberfest Board of Directors; and Jack Custer on a train trip to the St. Paul Winter Carnival. They indicated it took so much time and effort to organize people, appearances at events and prepare the float for the many area parades during the summer. On April 21, 1971 , the proposed duties, organization, uniform, etc. for the group to be known as the Fesmasters' Grenadiers were proposed and approved by the board. The name Grenadier first originated with the French army in the 1700s  and also among the British Grenadier Guards who help guard the Buckingham Palace in London.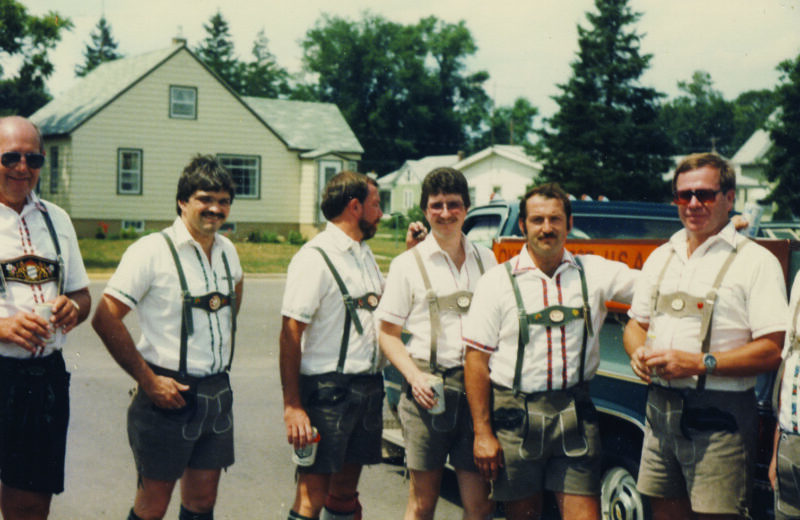 Pictured above from left: Festmaster Bernie Degen, Grenadiers Art Fahey, John McConaughey, Mark Kerrigan, Pete Stinson, and Al Poser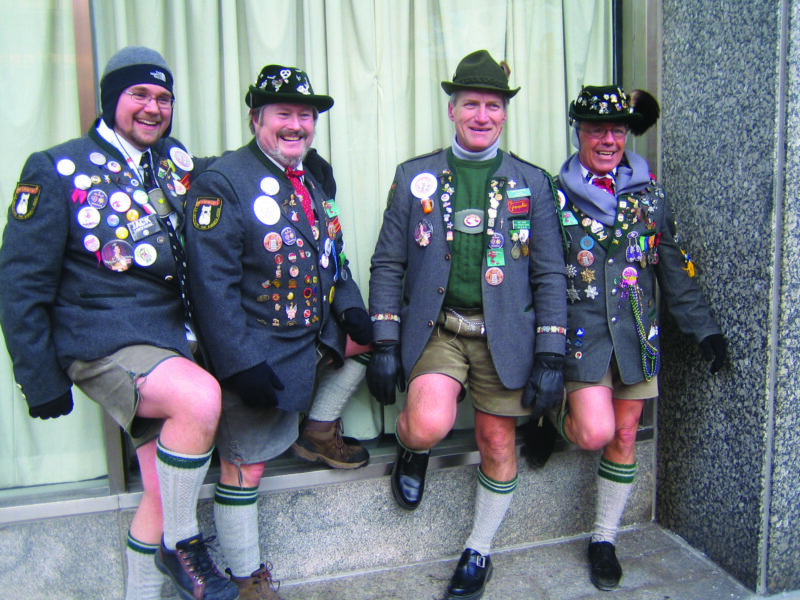 The cold weather at St. Paul Winter Carnival doesn't stop the Grenadiers from wearing their shorts. From left: Keith Ryan, Dan Gundlach, Artie Schock, and Robert Richardson. 
Each year, a Grenadier general is elected by members of the Grenadier Corps and can be identified by the gold chord on his uniform shoulder. Meet our current Grenadier Generals, Justin & Katie Drury pictured below.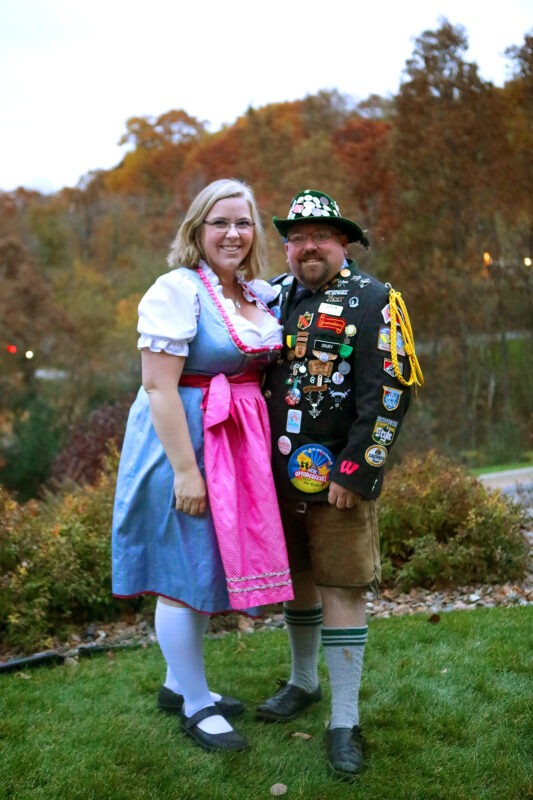 The Oktoberfest Grenadier Corps is always interested in fabulous couples to fill their roster by submitting an application found here. Couples must be married and willing to commit to at least three years. Their election to the Corps is then voted upon by the current members and then presented to the Board of Trustees for final acceptance. Approved couples are required to attend at least nine parades from a total schedule of 16-25 parades annually. The Grenadiers are incredibly generous volunteers of their time, effort, and money. They are involved not only with Oktoberfest events but also numerous community charities and causes.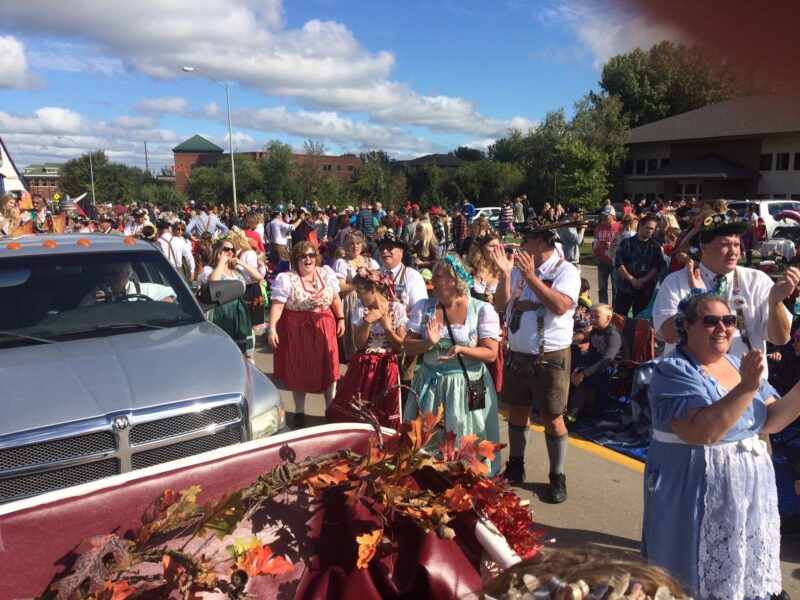 The Grenadiers thrive on fun, family, and friendships and are always there to extend a helping hand where and when needed. The Grenadiers have an unwritten vow: "Once a Grenadier, always a Grenadier." Below is the current roster that makes up Oktoberfest USA Grenadier Corps:
Adam & Stephanie Stevens
Bernie & Susan Lucey
Bill & Danielle Baxter
Brian & Karena Amundson
Chad & Angi Tamke
Christopher & Susan Hoghaug
Christopher & Stacie Stauffer
Dave & Laura Noelke
Eran and Alexis Marsh
James & Melissa Matile
James Richgels & Katie Wilhelm
Jed & Michelle Johnson
Jeff & Amanda Jackson
Jeff & Terri Hankey
Justin & Katie Drury
Marc & Kathy Snodgrass
Marty & Jane Frank
Matt & Jacqueline Hernandez
Reegan & Nick Jensen-Shafer
Tom & Denise Smith
Travis & Mandi Horstman
Vince & Kristie Ristow
Wade & Julie Rudloph