Craft Beer Night At Oktoberfest Brings Community Of Brew Lovers Together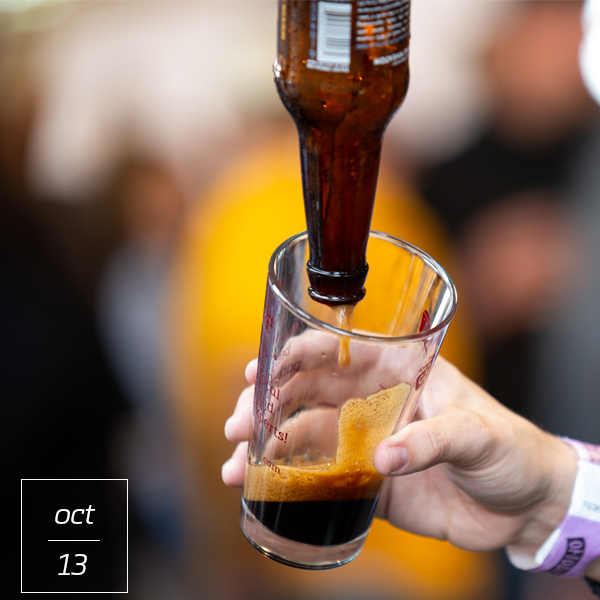 The craft beer industry has been booming for over a decade making up about 20 percent of the country's beer sales according to The Brewers Association. That same group also says Wisconsin craft brewers rank 10th in the country for beer production – which may not come as a huge surprise being known as THEE beer and cheese state!
In 2008, right as craft beer took off, Oktoberfest was looking for an event that would appeal to a Thursday night crowd. This is when the first annual Craft Beer Night came to fruition and took place. Over the years, it's gained in popularity and draws in about 600 attendees, becoming a signature event at Oktoberfest USA. It brings over 40 craft breweries together to share samples of the best beer they have to offer to a community of beer lovers who also get to know the brewers themselves. General admission to Oktoberfest's Craft Beer Night begins at 5:30 pm, with VIP admission that begins at 4:30 pm on the Downtown Oktoberfest grounds near the LTC, Inc Garden Stage.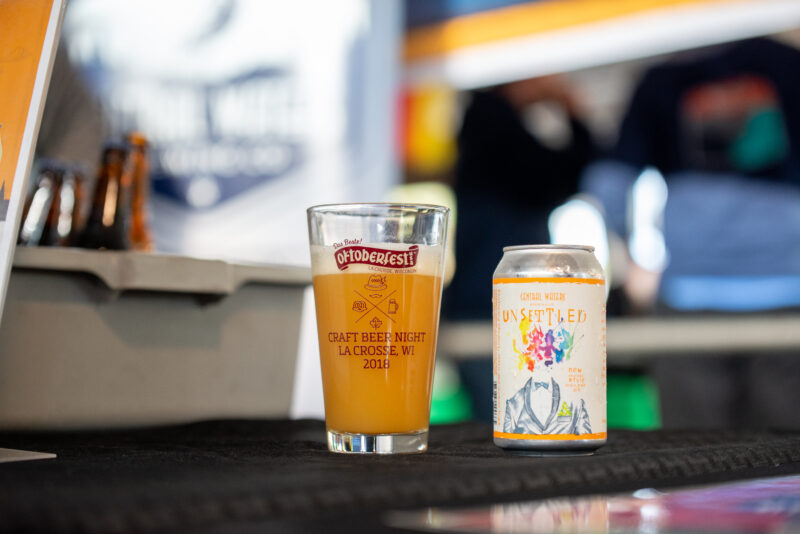 Beer lovers receive a specialty souvenir glass provided by Inland, who also produces labels that go on many of the beers offered at Craft Beer Night.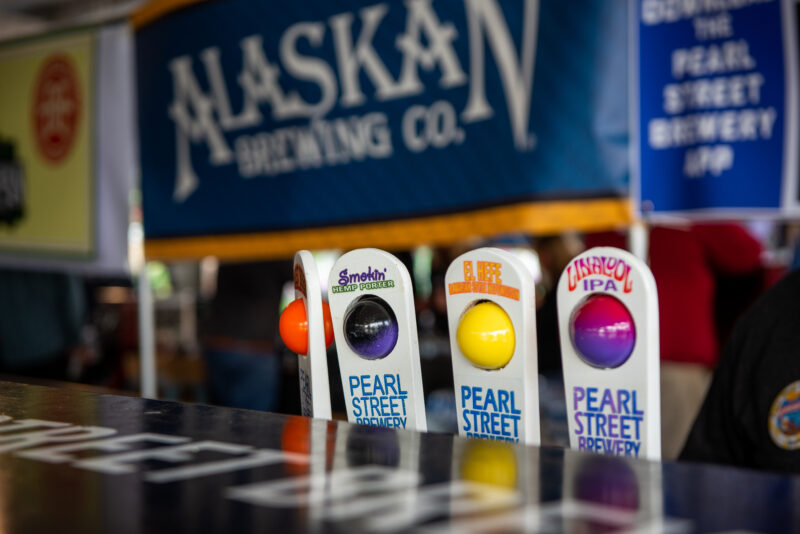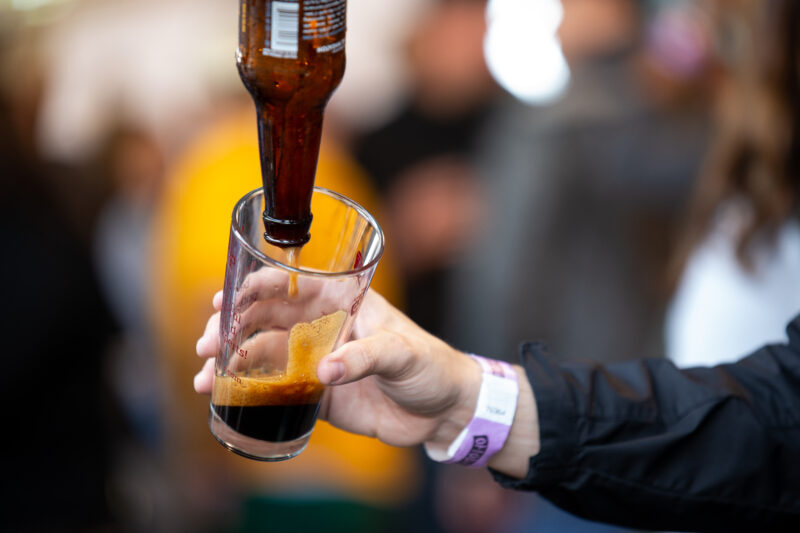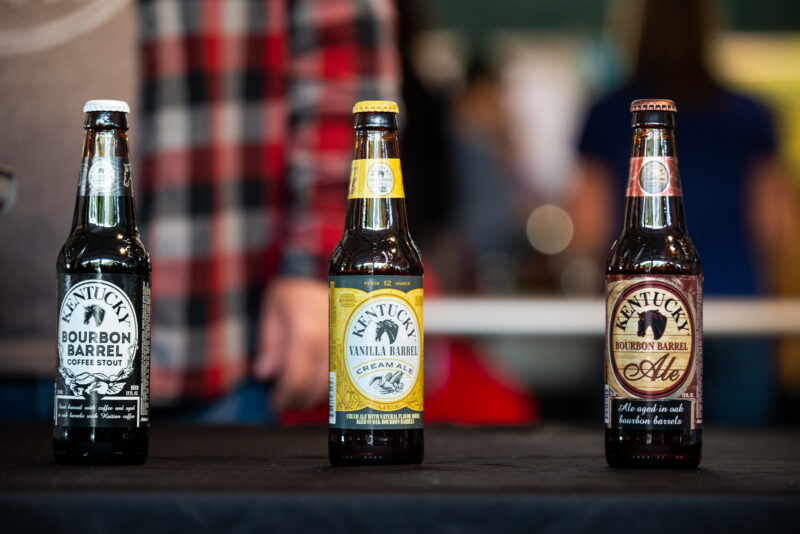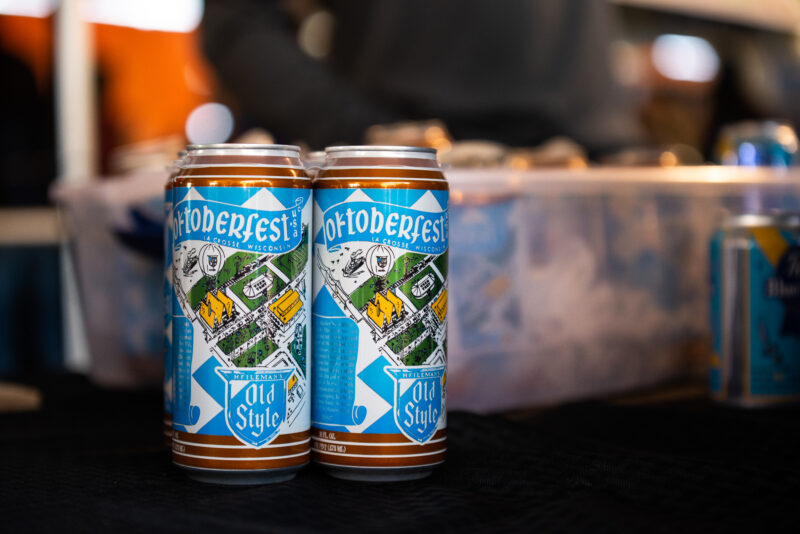 In 2019, the Sam Adams VIP lounge was added for those who purchased a VIP admission ticket access to enjoy tables, chairs, TV to show the Thursday night football game, food (pizza provided by Big Al's), water provided by Gillette Pepsi La Crosse, private bathrooms, easy access to all the beers, specialty beers from Sam Adams, giant Jenga, and bags.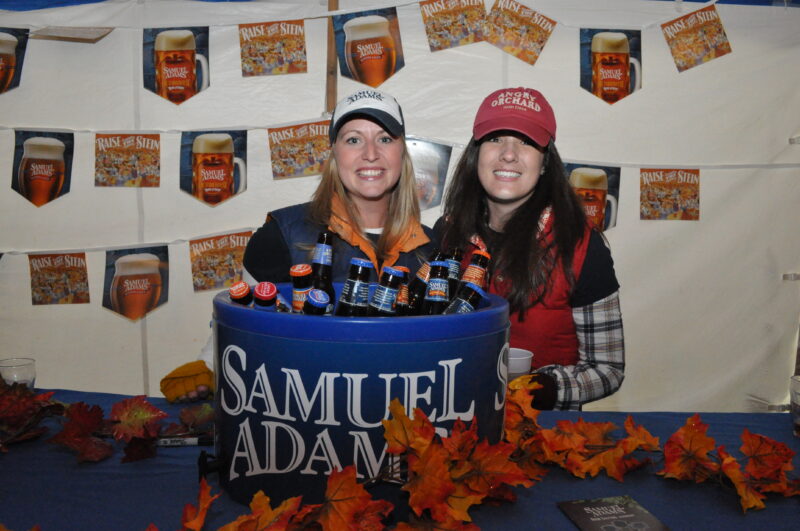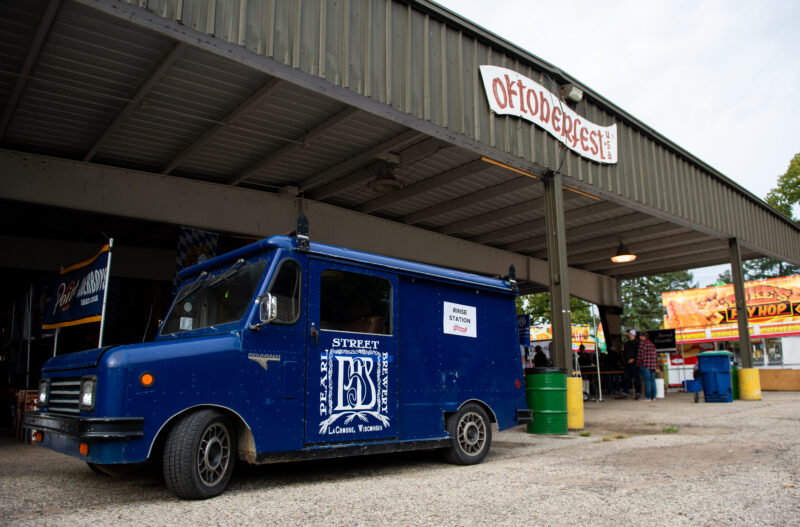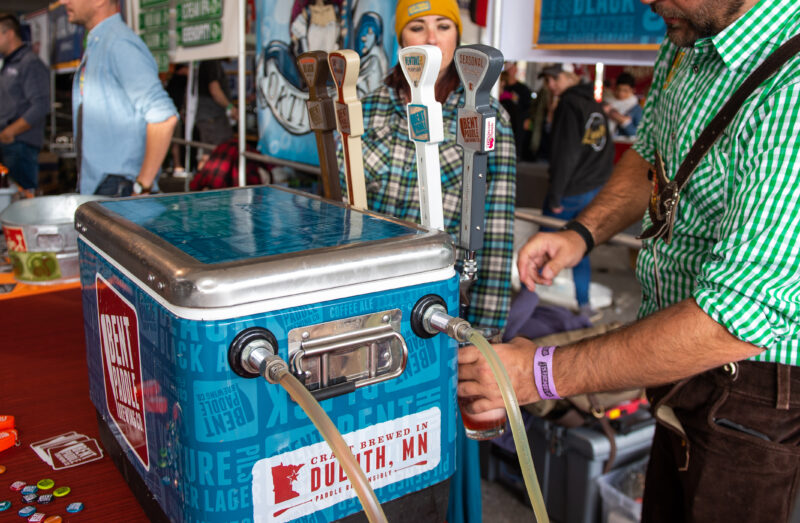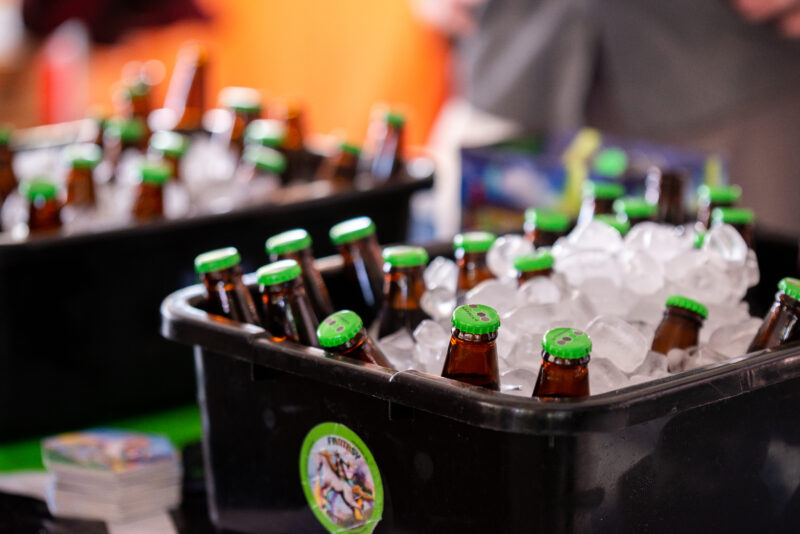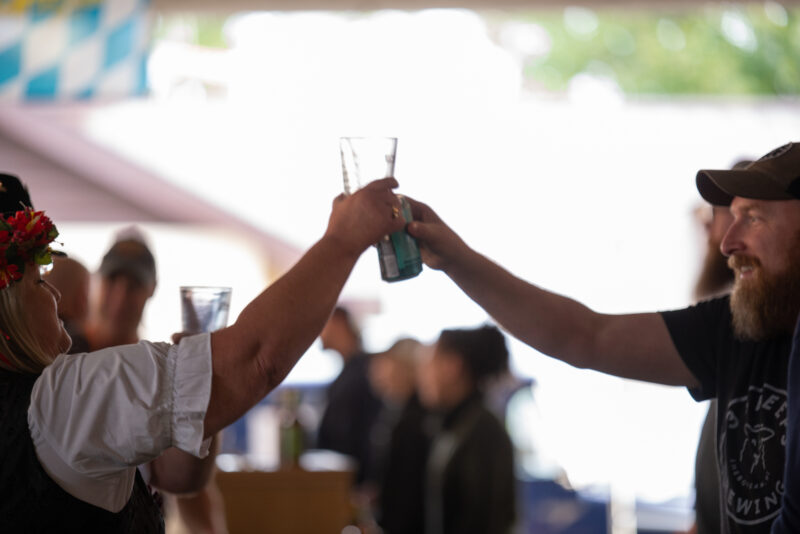 Each year, a Craft Beer Night ticket release party occurs to kick off the Oktoberfest season with discounts on General Admission, VIP tickets, and more. Last year, it was held at Big Al's in Downtown La Crosse on August 15th, partnering with 95.7 The Rock.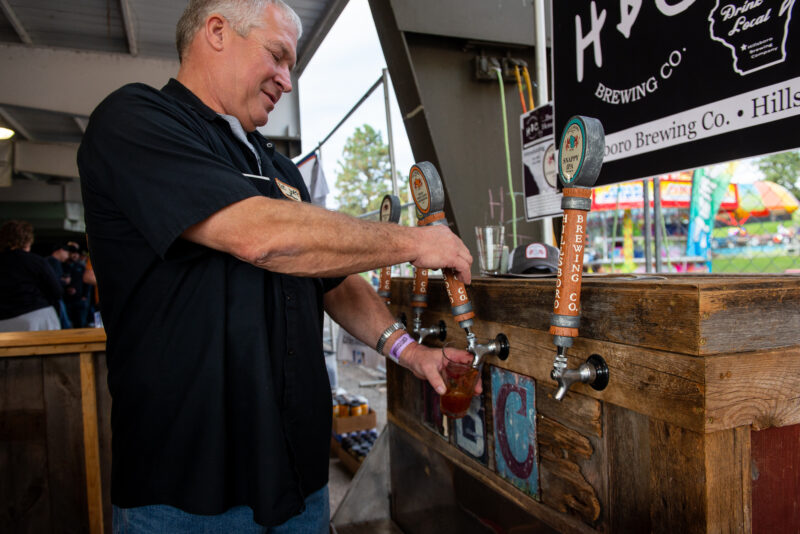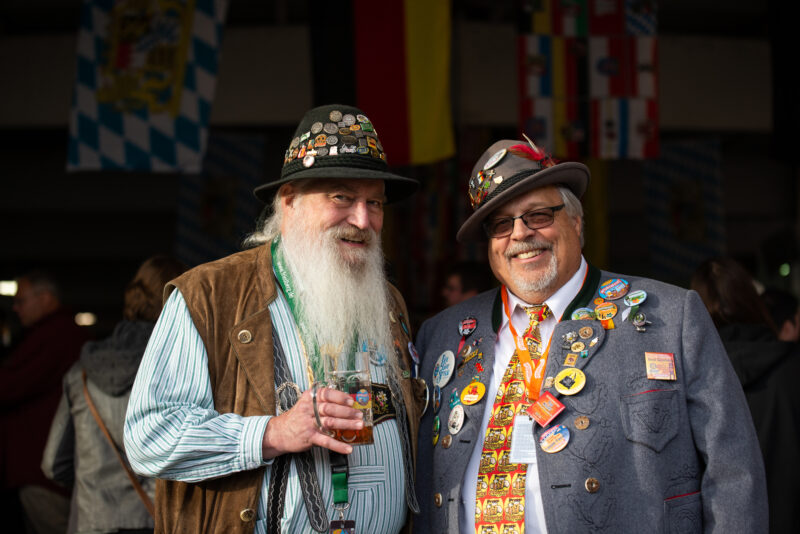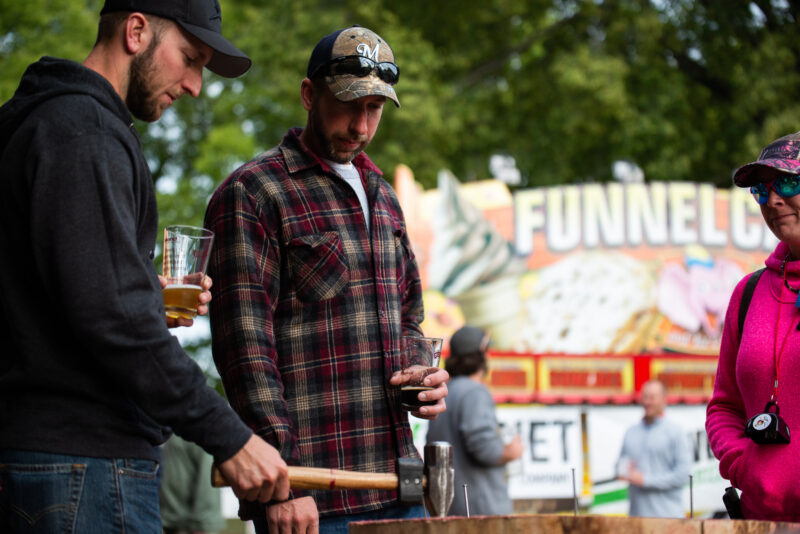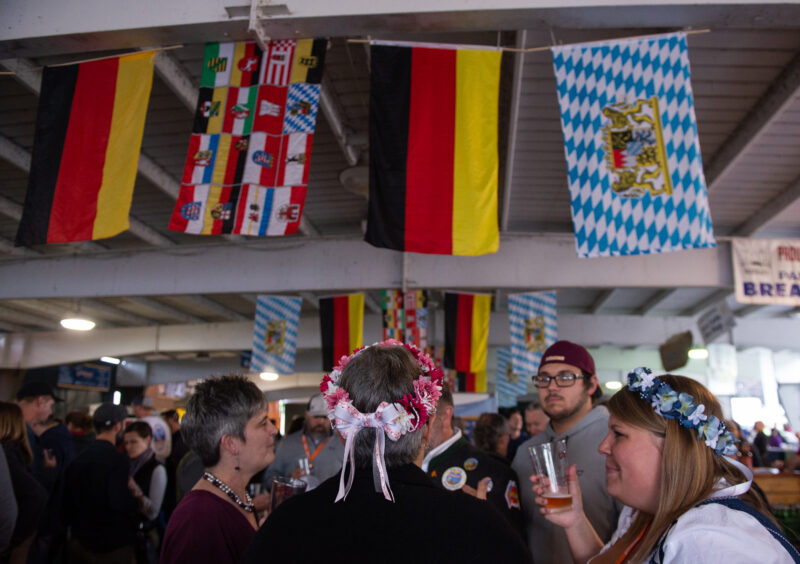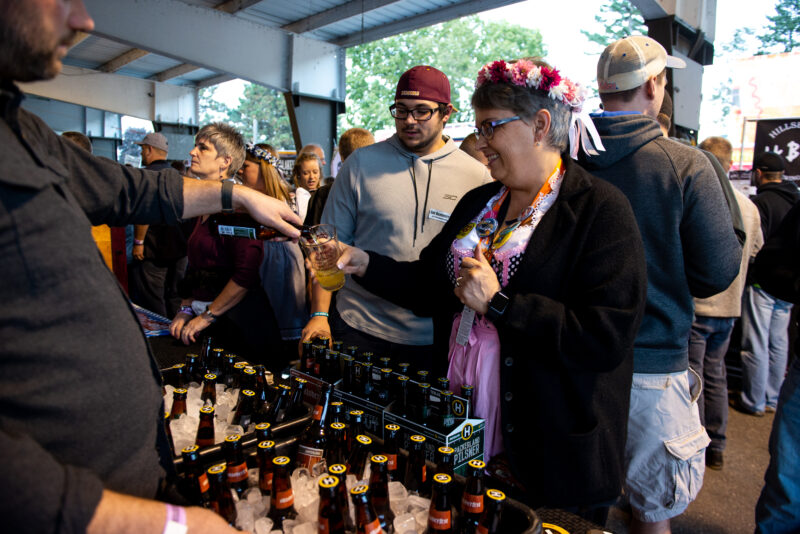 A special thank you to our 2019 Craft Beer Night Sponsors: Altra Federal Credit Union, Festival Foods, Inland, Brickl Bros, and media sponsor – Midwest Family Broadcasting of La Crosse. Check back in 2021 for tickets to go on sale for Oktoberfest's Craft Beer Night here!
Beautiful Scenery On This Weekend's Fall Motorrad All To Support Local Schools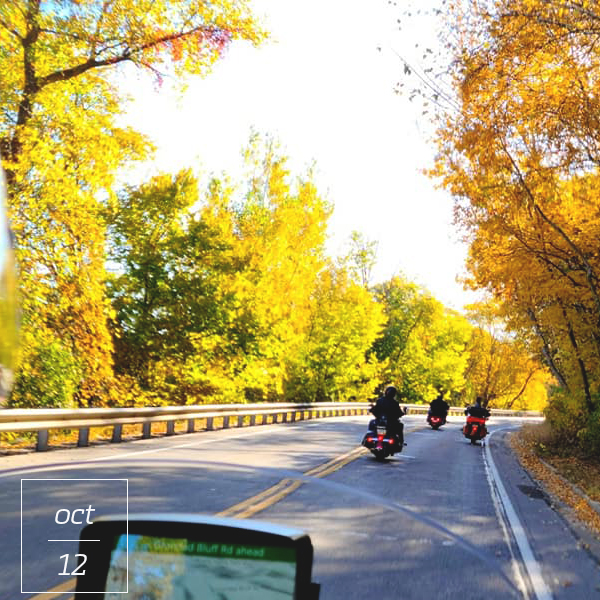 This past weekend could have not been more perfect weather for Oktoberfest's annual Motorrad, a scenic tour on some of the best, little-known, paved roads in the Coulee Region while taking in the peak Fall colors. While Oktoberfest was canceled this year due to COVID-19, the Motorrad was one event everyone could safely partake in to help spread Gemütlichkeit, the feeling of comfort/coziness, on two wheels. Registration and donations all went to for a great cause to provide a $1000 scholarship to nine area high schools, awarded yearly through the Gemütlichkeit Foundation. Thank you to everyone who participated and helped make a difference in our community! Take a peek below from this year's Motorrad.
Dachshund Dash Race And Viener Vogue Bring Dog-Friendly Festing To Oktoberfest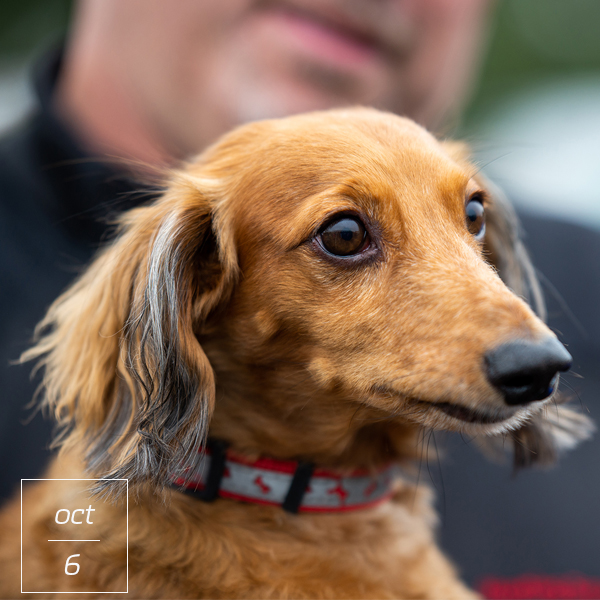 Calling all dog lovers! Reminiscing back on when Fest-goers had the opportunity to bring their fur-children to Oktoberfest 2019's "Barks & Brews" held on Sunday for some dog-friendly festing. There were a number of activities throughout the day, including the release of the Dachshunds for the Dachshund Dash and watching as they strut their stuff on the Oktoberfest USA runway in Viener Vogue! Presented by Pet Me Scratch Me and a family favorite at Oktoberfest USA, see the recap below.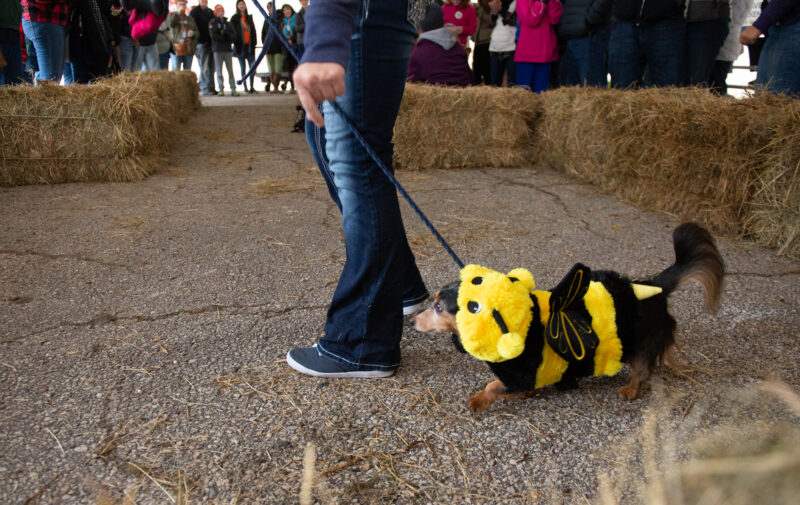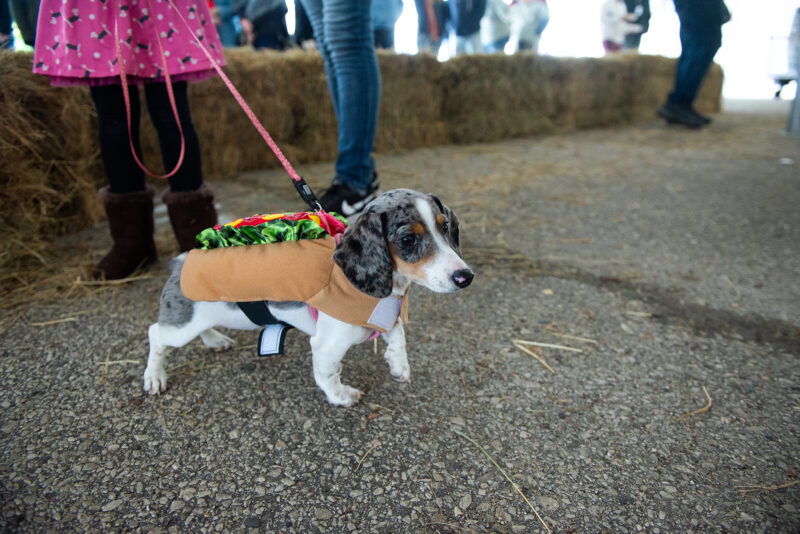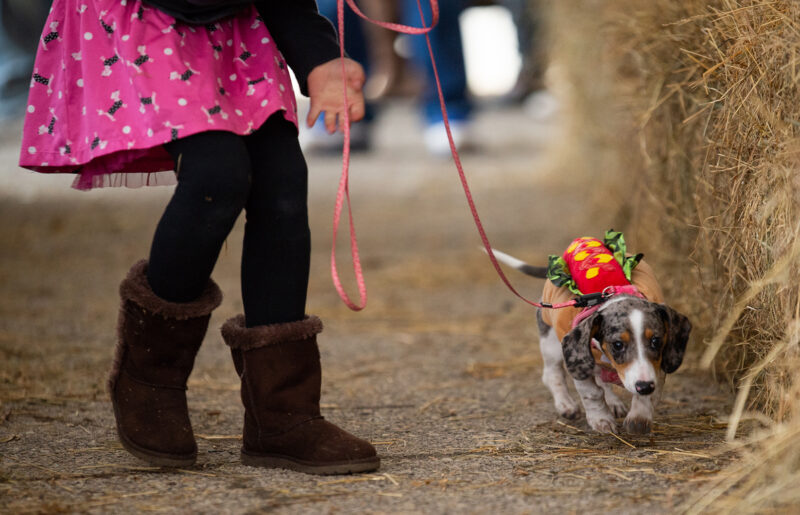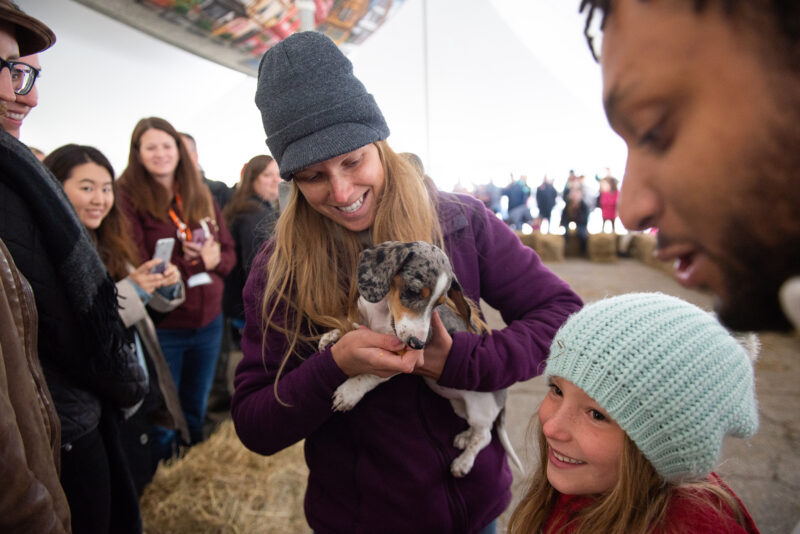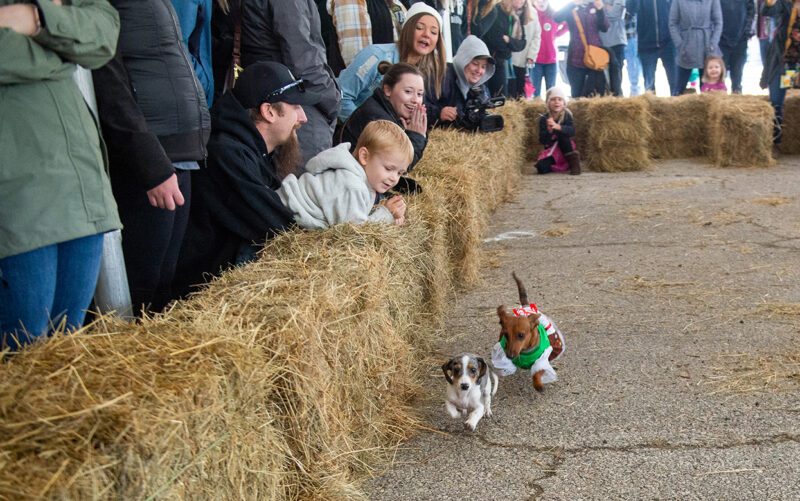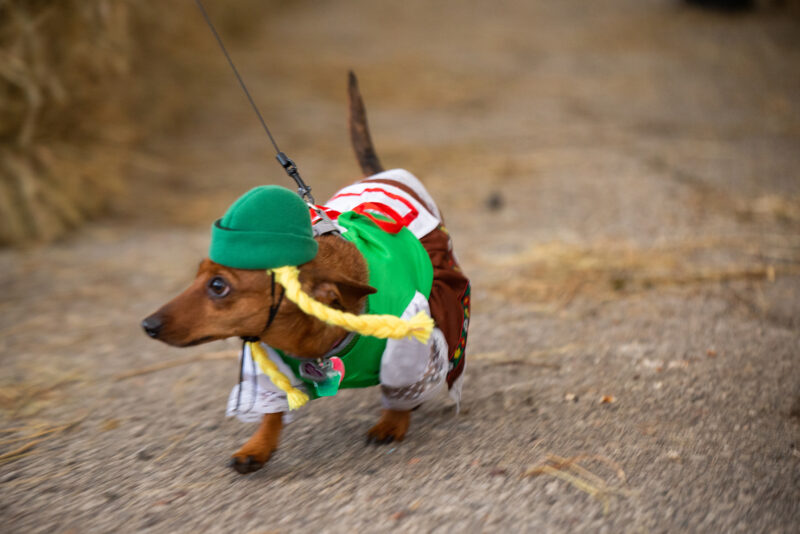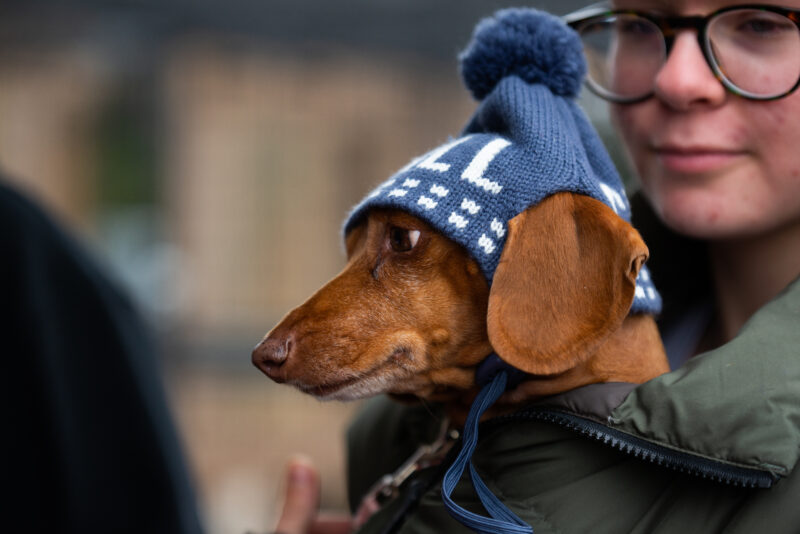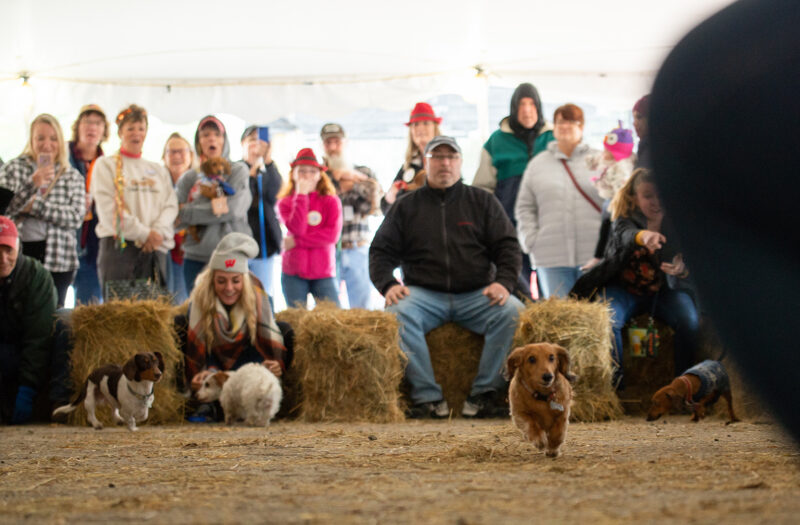 Check back in Spring 2021 for online registration for the Dachshund Dash here!
The History & Role Of Our Oktoberfest Grenadiers
Our festive Grenadiers, also known officially as the Grenadier Corps are the most visible and spirited group of the Oktoberfest Royal Family. They consist of up to 25 married couples who escort the Royal Family to parades and events throughout the year. They are the bringers of fun, dancers to polka, clappers, and marchers of many parades. The Grenadier Corps was formed in 1971 with the primary purpose to enhance the pageantry and support the functions of Oktoberfest USA.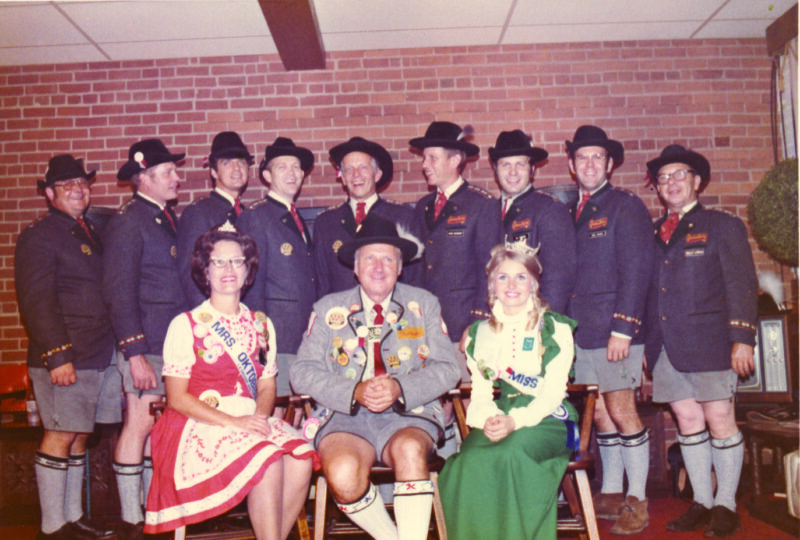 Pictured above are the Grenadier men with 1971 Mrs. Oktoberfest Betty Stoll, seated left, 1972 Festmaster Walt Hammond, and Miss La Crosse Oktoberfest Linda Deitte. Standing from left, back row: Burt Nelson, Mike Core (1972 General), Bob Burns, Clyde Benjamin, Jack Custer, Fritz Schubert, Al Poser, Karl Paasch, and Wally Lorenz. 
The need for the Grenadier Corps was first discussed by Jerry Miller, Bob Mullally; then President of the Oktoberfest Board of Directors; and Jack Custer on a train trip to the St. Paul Winter Carnival. They indicated it took so much time and effort to organize people, appearances at events and prepare the float for the many area parades during the summer. On April 21, 1971 , the proposed duties, organization, uniform, etc. for the group to be known as the Fesmasters' Grenadiers were proposed and approved by the board. The name Grenadier first originated with the French army in the 1700s  and also among the British Grenadier Guards who help guard the Buckingham Palace in London.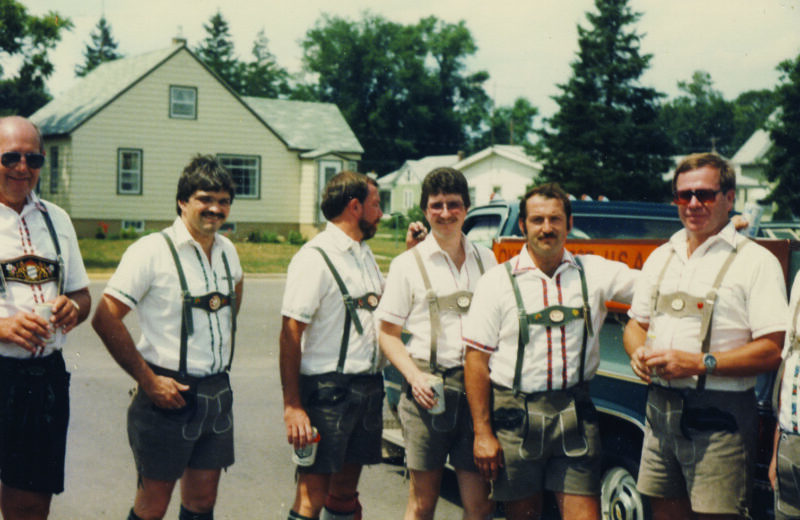 Pictured above from left: Festmaster Bernie Degen, Grenadiers Art Fahey, John McConaughey, Mark Kerrigan, Pete Stinson, and Al Poser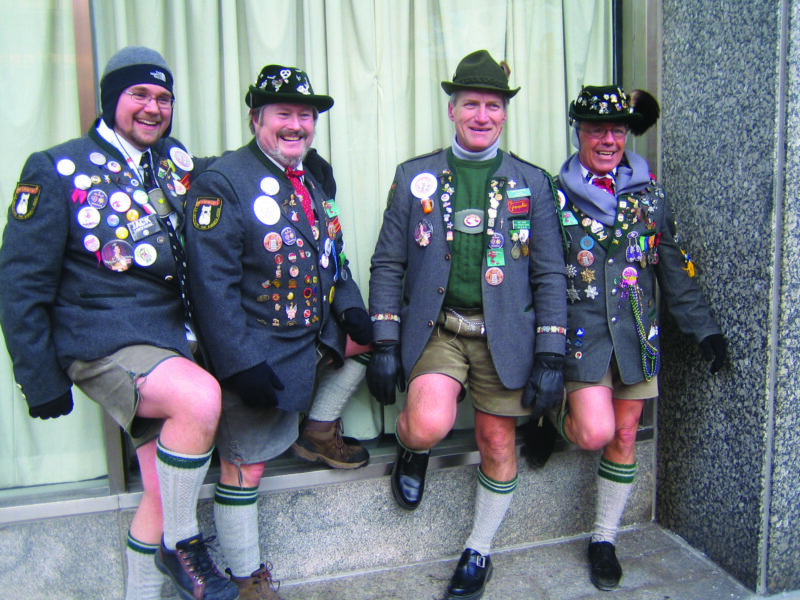 The cold weather at St. Paul Winter Carnival doesn't stop the Grenadiers from wearing their shorts. From left: Keith Ryan, Dan Gundlach, Artie Schock, and Robert Richardson. 
Each year, a Grenadier general is elected by members of the Grenadier Corps and can be identified by the gold chord on his uniform shoulder. Meet our current Grenadier Generals, Justin & Katie Drury pictured below.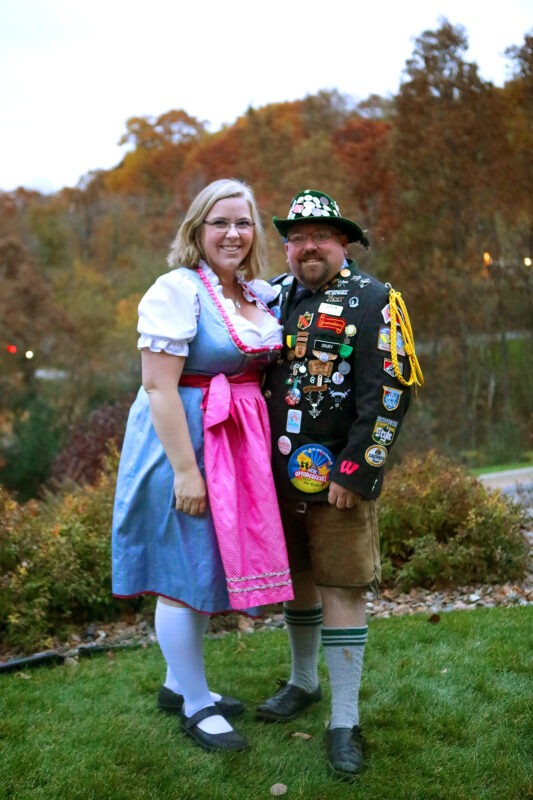 The Oktoberfest Grenadier Corps is always interested in fabulous couples to fill their roster by submitting an application found here. Couples must be married and willing to commit to at least three years. Their election to the Corps is then voted upon by the current members and then presented to the Board of Trustees for final acceptance. Approved couples are required to attend at least nine parades from a total schedule of 16-25 parades annually. The Grenadiers are incredibly generous volunteers of their time, effort, and money. They are involved not only with Oktoberfest events but also numerous community charities and causes.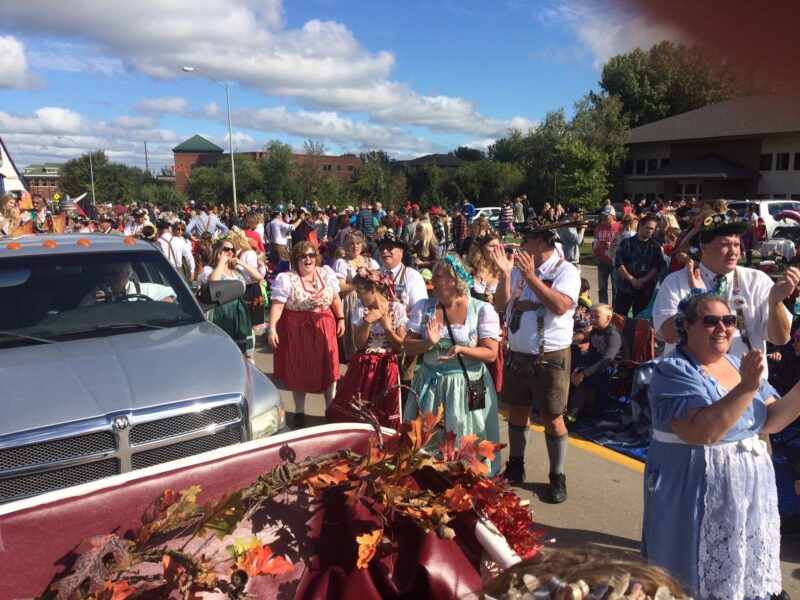 The Grenadiers thrive on fun, family, and friendships and are always there to extend a helping hand where and when needed. The Grenadiers have an unwritten vow: "Once a Grenadier, always a Grenadier." Below is the current roster that makes up Oktoberfest USA Grenadier Corps:
Adam & Stephanie Stevens
Bernie & Susan Lucey
Bill & Danielle Baxter
Brian & Karena Amundson
Chad & Angi Tamke
Christopher & Susan Hoghaug
Christopher & Stacie Stauffer
Dave & Laura Noelke
Eran and Alexis Marsh
James & Melissa Matile
James Richgels & Katie Wilhelm
Jed & Michelle Johnson
Jeff & Amanda Jackson
Jeff & Terri Hankey
Justin & Katie Drury
Marc & Kathy Snodgrass
Marty & Jane Frank
Matt & Jacqueline Hernandez
Reegan & Nick Jensen-Shafer
Tom & Denise Smith
Travis & Mandi Horstman
Vince & Kristie Ristow
Wade & Julie Rudloph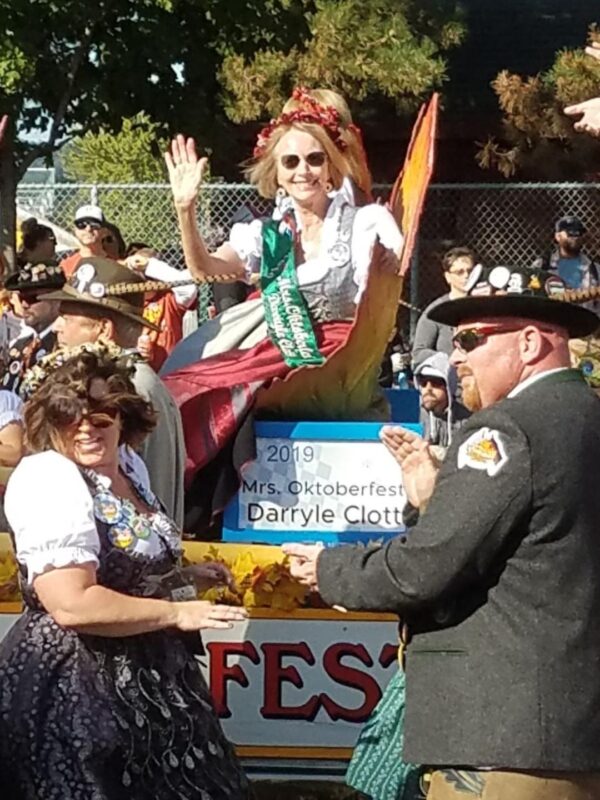 Mrs. Oktoberfest, Darryle Clott's Letter To The Editor On How Oktoberfest Makes Our Community Stronger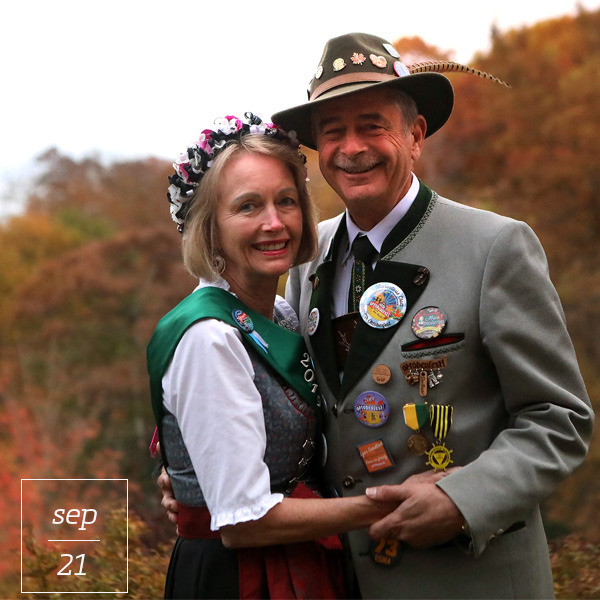 Our beloved 2019 Mrs. Oktoberfest, Darryle Clott shares her letter to the editor of the La Crosse Tribune on how Oktoberfest makes our community stronger. And with this week being what would have been the week of Oktoberfest, we thought this would be a perfect time to share this and how Fest touches so many lives and hearts within our incredible La Crosse community.
"I have loved Oktoberfest since coming to La Crosse State, now UW-L, as a freshman in 1962 when Oktoberfest was only two years old, and I have experienced 57 of 59 fests. I have enjoyed them as a college student marching in the Maple leaf Parade with the Marching Chiefs as a pom pon girl and enjoying visits to the fest grounds and the beer tents.
As I outgrew my college fun fest times, I became a parade spectator and enjoyed the camaraderie of locals and having family and friends flock to La Crosse for the fest with only an occasional visit to the tents. When I became a young mother, my interests switched to taking Hans and Aimee to the carnival to enjoy the rides and watch the parades. I had a three-year stint as a grenadier and really began to see the work of hundreds of volunteers behind the scenes. Throughout the years as my interests changed, I found there is something for people of all ages and interests to enjoy at the fest.
Ten years ago, I returned to the Maple leaf parade with the Alumni Pom Pons marching with the UW-L Alumni Band. Every time I marched down the parade route, I felt like I was 20 years old again. It was a family affair as my husband Marv was a Pom Daddy marching alongside the poms in case any frisky festgoers caused problems which, by the way, they never did.
Flash forward to the present. I now have the honor of being Mrs. Oktoberfest 2019 helping our community to celebrate "Fest with das Beste". All those years ago when I was a grenadier, I was in awe of the Royal Fest Families, never daring to dream that one day I would be part of one. Throughout the short time since becoming Mrs. O, it is impossible to truly put into words the respect I have for the thousands of unpaid volunteers it takes to plan and orchestrate Oktoberfest. It is over in a week, but it takes a year of preparation and tens of thousands of hours.
Our Royal Family consists of festmaster Terry Cowgill and frau Shelly, my husband and me Mr. & Mrs. Oktoberfest, Miss La Crosse Oktoberfest Jordenne Butler, our Special Fester Danielle Lass, Torchlight Parade Marshall Scott Skogan and his wife Debby and Maple leaf Parade Marshal Joe Heim and his wife Pat. Twenty-three grenadier couples, led by Generals Justin and Katie Drury, escort the royal family to all fest events and to the 22 parades and other occasions they attend throughout the year. They are excellent ambassadors for our community and the only payment grenadiers receive is gratitude from the Royal Family.
The grenadiers and the Royal Family are the people the public sees. Unseen are those who work behind the scenes to make the fest run seamlessly. Seven hundred volunteers from 80 non-profit volunteer organizations get paid to work at the fest, and $84,451.00 was given to these organization by the fest last week. These non-profits re-invest their share in charities in the community. A Board of Directors, Trustees made up of past festmasters, the past Mrs. Oktoberfests and the past parade marshals all work tirelessly to continue the proud traditions that began in 1960.
Fest has a significant positive impact on our community with an influx of approximately 50,000 visitors. Riding the Royal Family Float surrounded by singing, dancing grenadiers interacting with children along the route at the Torchlight Parade was pure magic. Riding the float in the Maple Leaf Parade with 100,000 people in attendance was a mountain-top experience.
Often all the public hears about are stories about beer drinking, and granted that takes place, but that is a minor part of the fest. For example, during fest week our Royal Family took part in two activities most people do not even know about. We went to the La Crosse Public Library to award prizes for the Photo Contest. I was amazed at the quality of photos submitted by people from teens to elders in their 80's. We went back to the library a different day to judge the needlework contest. Again, the contest is entered by people of all ages. I could not believe the works of art that residents spend untold hours creating, and I came away with a whole new respect for those artists.
The Royal Family had a splendid time during fest week as we spent anywhere from eight to ten hours a day attending a myriad of functions. An especially heartwarming visit was made to the Northside Carnival which that afternoon was reserved for children with special needs. As great as fest week was, by far the greatest part of the fest happened the following week when we visited schools and rest homes. This was truly "the giving back" part for us. Seeing the excitement by students when our polka band, for the past 26 years led by Crazy George, leads us out onto the floor is something I wish everyone could experience.
As wonderful as those visits were, the best of all takes place at rest homes where we take the fest to those who can no longer attend but have vivid memories of festing when they were young. We heard stories from residents about how they wait all year for the visit by the Royal Family. Once our polka band strikes up, we engage the residents in dances, wheelchairs and all. Seeing faces lit with joy is our reward. We always paid a special salute to veterans present and there were tears all around.
George Bernard Shaw in his book Man and Superman wrote these words which I love and strongly relate to, "I am of the opinion that my life belongs to the community and as long as I live, it is my privilege to do for it whatever I can. I want to be thoroughly used up when I die, for the harder I work, the more I live."
I hope to use Shaw's words this coming year as I serve as a representative for the La Crosse area and the Oktoberfest Royal Family in my role as Mrs. Oktoberfest."
Darryle Clott
5 Seasonal Beers Served Up At Oktoberfest La Crosse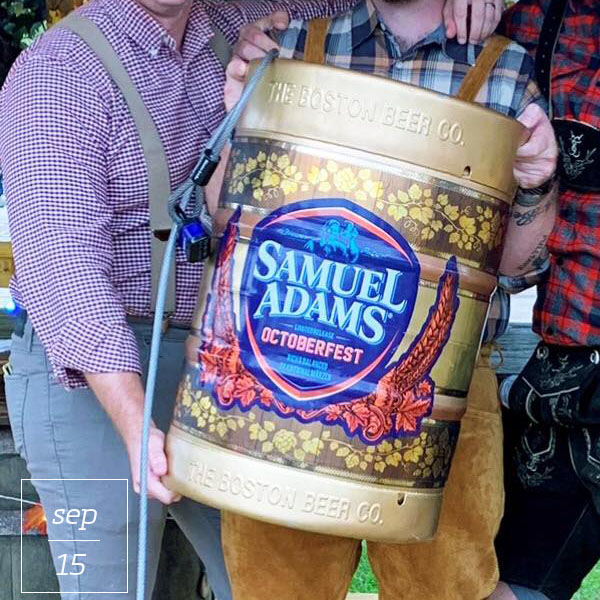 Some fest-goers come for the epic parades, others for the biergarten. If you're German or just looking for an excuse to try some tasty seasonal beers this Fall, here are 5 beers served up at Oktoberfest La Crosse that you can find at your local beverage depot. And while you're enjoying one of your favorite German beers, maybe even dressed up in your lederhosen, dirndl or dancing to a little polka – we'd LOVE to see how you're Festing at Home this year.
Send us your photos or videos of your Oktoberfest USA Fest At Home Celebration to [email protected] for a chance to win 4-Day Admission passes to Fest 2021 in La Crosse! Entries can be submitted Thursday, September 2, 2020, through Sunday, September 27, 2020. Prost!
1.  SAMUEL ADAMS OKTOBERFEST – Fest isn't Fest without the infamous tapping of the golden keg with Samuel Adams Oktoberfest beer. This is one of Sam Adam's oldest and most beloved seasonal beers, and with good reason. Brewed with five types of malt, including their proprietary Samuel Adams OctoberFest malt, this classic märzen's caramel malt character is perfectly balanced by German Hallertau Mittelfrueh and Tettnang Tettnanger Noble hops. It has a smooth, roasty, and slightly sweet flavor. Below is our current Festmaster, Terry Cowgill tapping the golden keg at last year's Fest!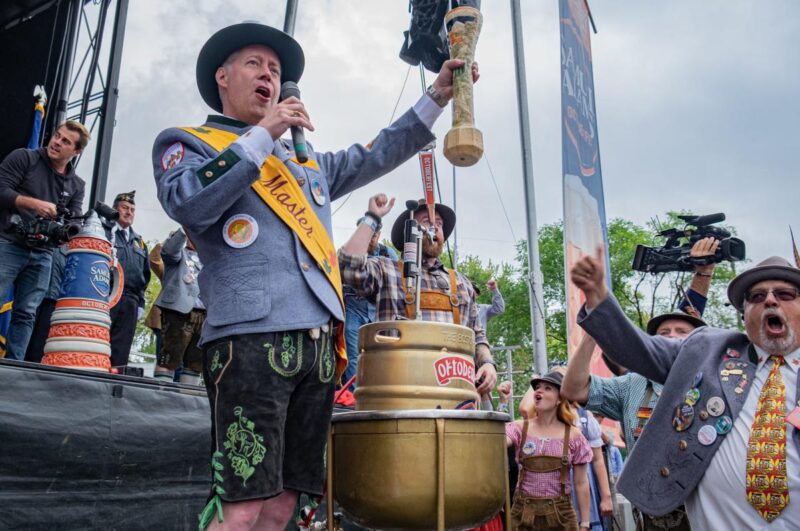 2. LEINENKUGEL'S OKTOBERFEST – provided by La Crosse Beverage; is a Märzen style beer. It has a toasted malt flavor and subtle, spicy hop notes that make it perfect for celebrating fall in true German fashion. So let your steins runneth over. La Crosse Beverage also serves up everyone's favorite White Claw, Miller, Coors, & New Glarus Spotted Cow.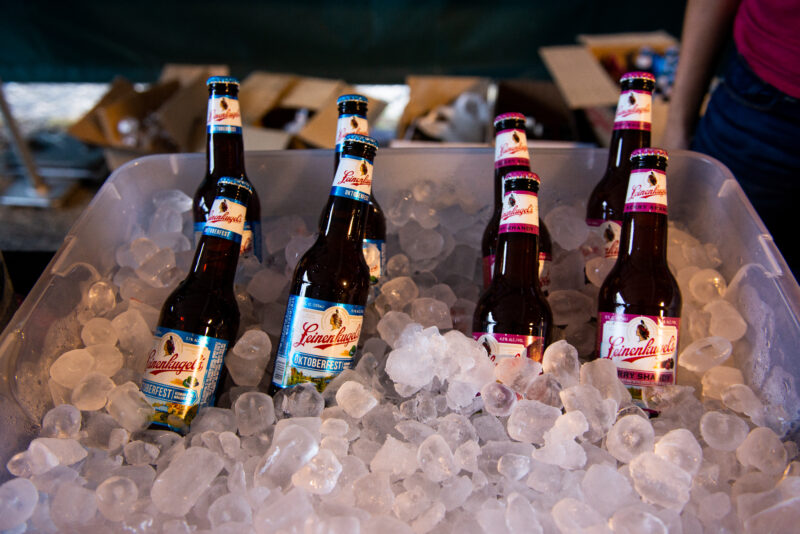 3. SURLY BREWING COMPANY FEST – distributed by Beechwood; is a dry-hopped rye lager with an earthy, biscuity flavor profile.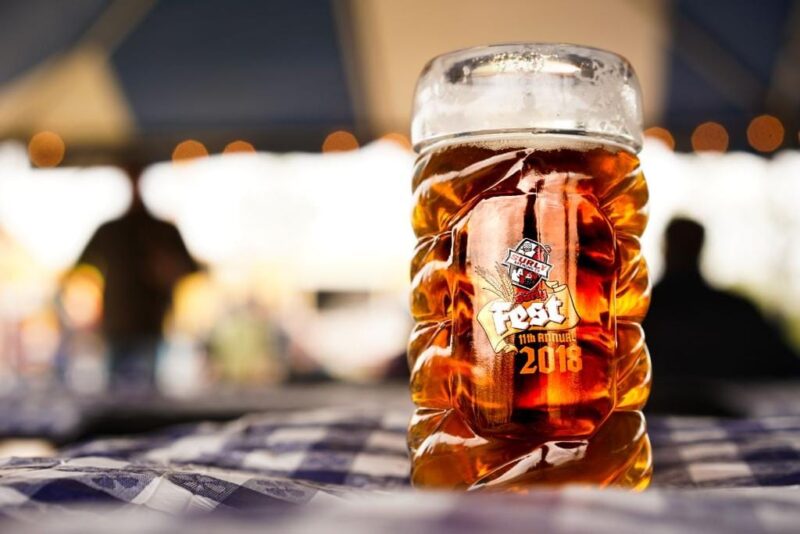 Photo by Surly Brewing Company
4. NEW BELGIUM BREWERY PUMKICK – distributed by S & S  Distributing; adds the unexpected kick of cranberry juice to brighten this traditionally spiced seasonal ale. Pumpkick is brewed with plenty of pumpkin juice, cinnamon, nutmeg, and allspice, but it's the cranberries and touch of lemongrass that send your taste buds sailing. S & S distributing also provides Bud & Capital Brewery Oktoberfest for fellow Fest-goers.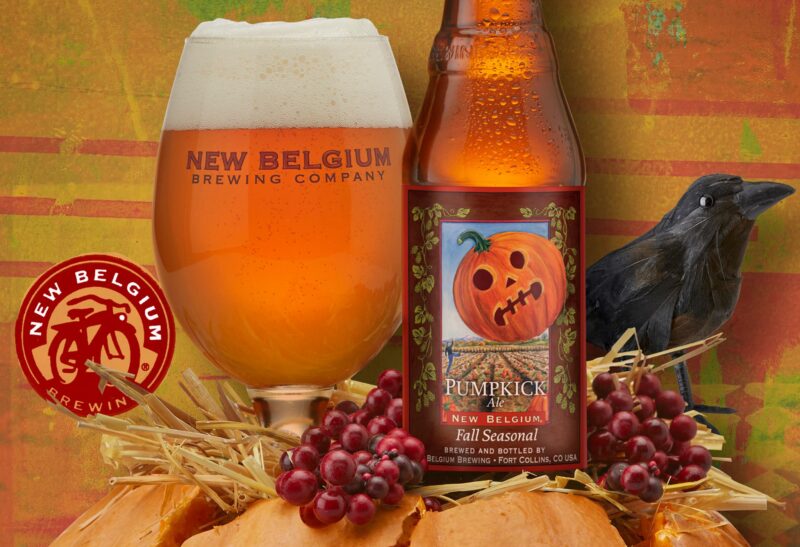 Photo by New Belgium Brewery
5. PEARL STREET BREWERY LEDERHOSEN LAGER FEST BIER – Come late September each year, Pearl Street Brewery along with the rest of us start feeling the Gemütlichkeit. It's time to dust off our lederhosen and drink beer. Lederhosen Lager is Pearl Street's Brewery salute to La Crosse's great German heritage and over 150 years of brewing tradition. Brewed with Pilsen and Vienna malts, true German lager yeast, and spiced with paired hops grown in Hallertau. You'll find this amber beer to be smooth, malty, and easy drinking. Ein Prosit!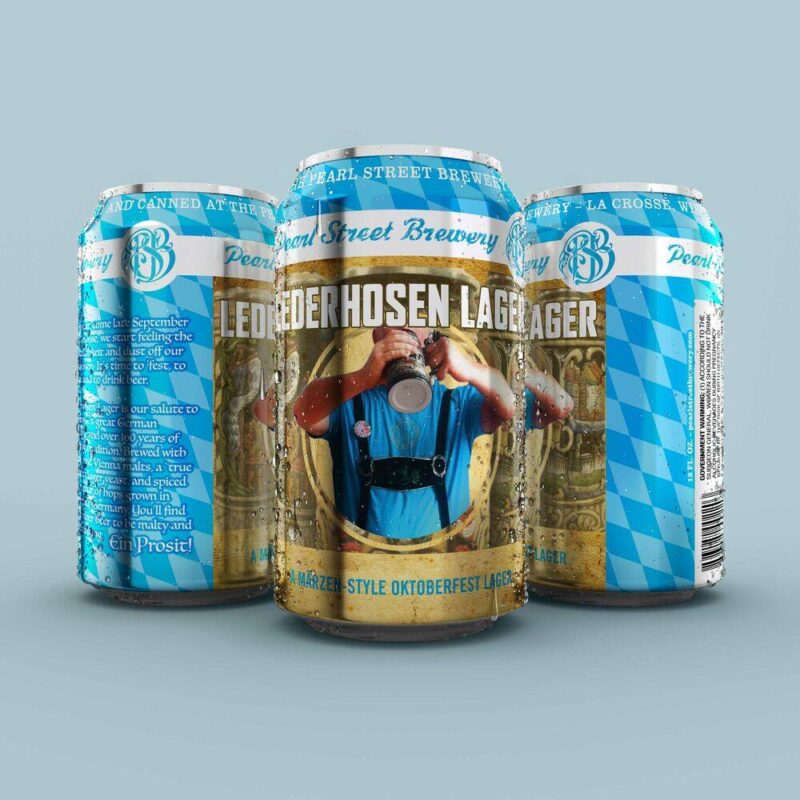 Photo by Pearl Street Brewery 
The History Of Oktoberfest's Torchlight & Maple Leaf Parade Marshals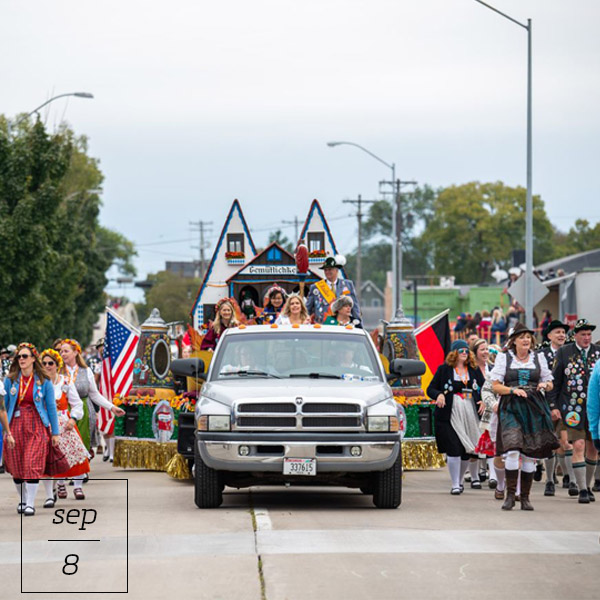 Our Royal Family Torchlight & Maple Leaf Parade Marshals embody the spirit of Oktoberfest and lead our parades that Fest-goers line the streets each year to anxiously see. The Maple Leaf Parade kicked off Oktoberfest's first year in 1961, while the Torchlight Parade was first held in 1971.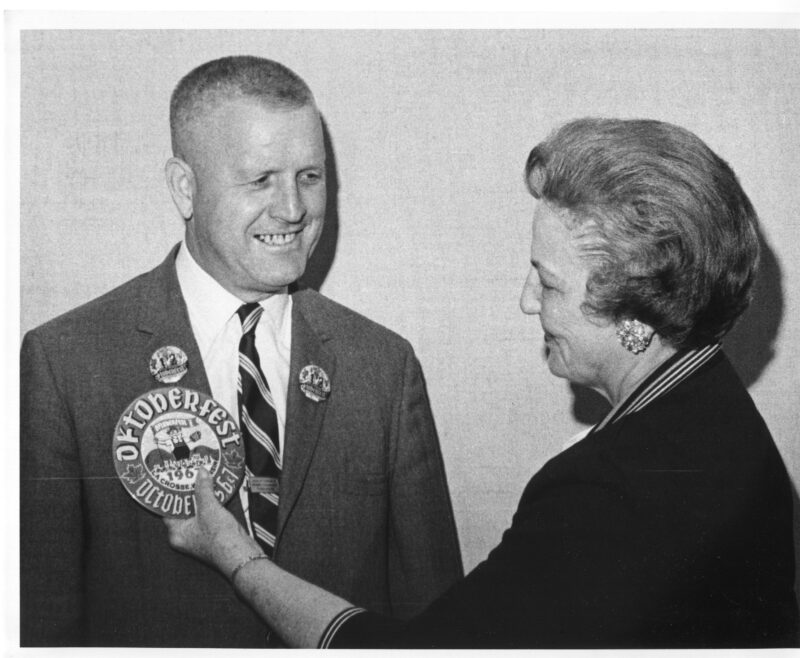 Pictured above is 1961 Parade Marshal Esther Domke awarding a special button to 1969 Maple Leaf Parade Marshal Kootch Carroll.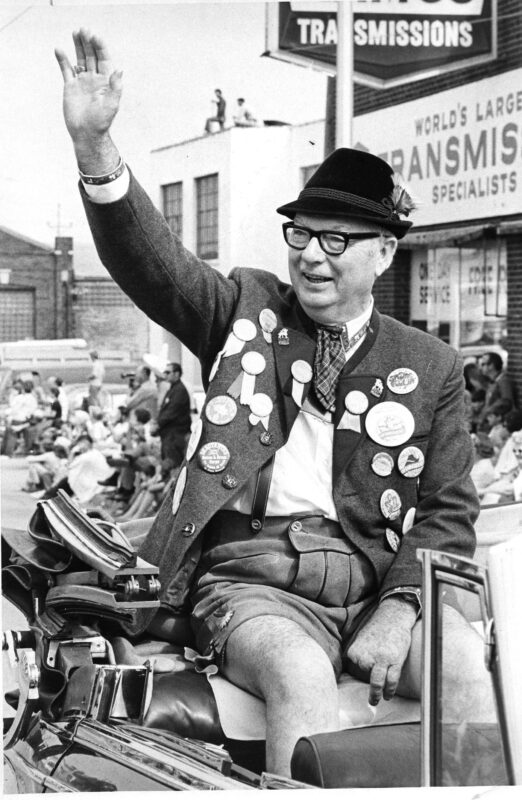 Pictured above is Marshal Ed Quillin in the 1971 Maple Leaf Parade
La Crosse Festivals Inc. (d/b/a Oktoberfest USA) accepts nominations for Parade Marshals through February for the current calendar year.
A nominee should be a person who:
• has contributed positively to the good of the community through leadership and outstanding accomplishments
• is someone of good character that is well-respected
• is a resident for at least 10 years within a 20-mile radius of La Crosse
• is actively involved and well-known in the La Crosse community
• is well-known, well-liked, friendly, and outgoing
• has the time to devote to Oktoberfest activities
All entries must be received no later than the third Monday of March, annually. to be considered for the current year. The new Parade Marshals are announced at the Kick-Off Party in September each year.
Eligible nominations shall remain active for three years from the date of the original nomination.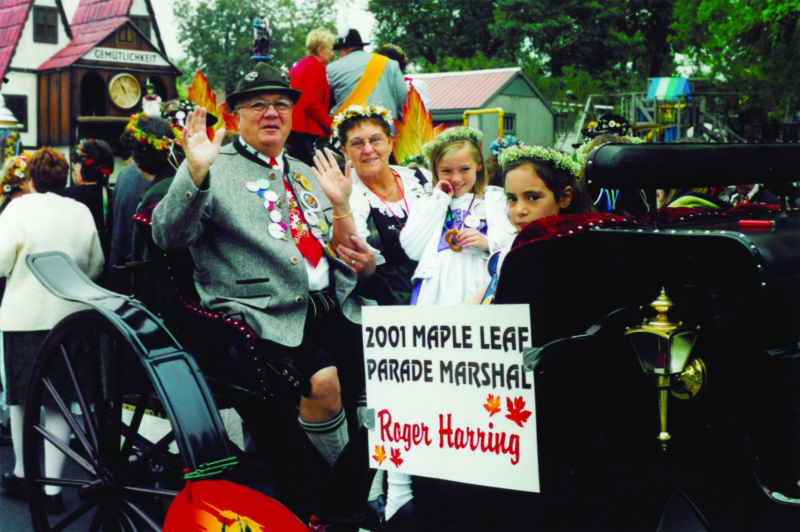 Pictured above is 2001 Maple Leaf Parade Marshal Roger Harring, his frau, Mary, and granddaughters, Allysa & Michaela.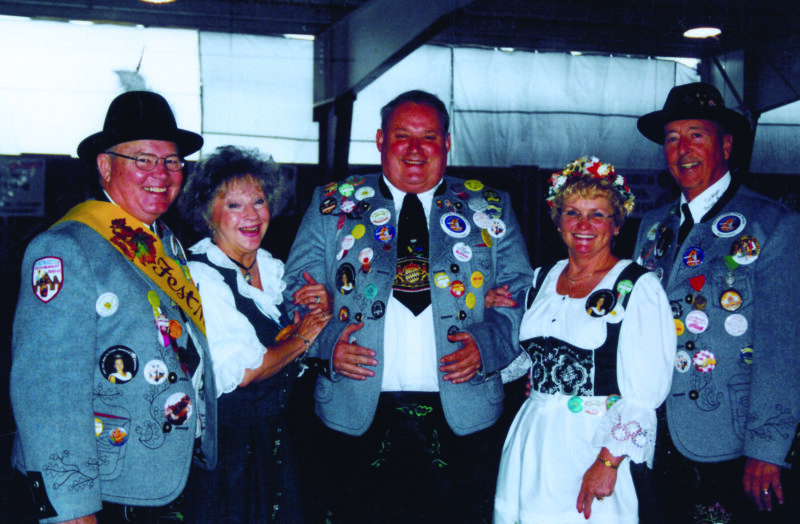 Pictured above are 2000 Torchlight Parade Marshals Dave Loomis, Sharon & Bud Loomis with Festmaster Lyle Quillin & frau, Sandy.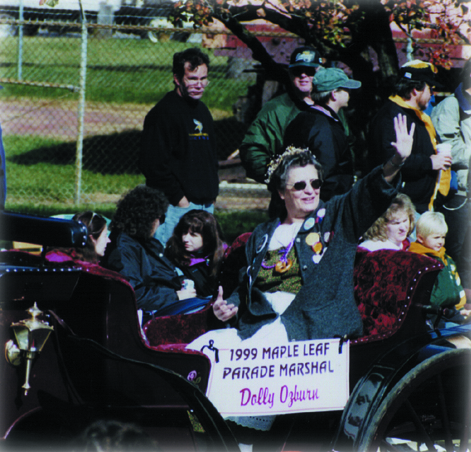 Pictured above is 1999 Maple Leaf Parade Marshal Dolly Ozburn.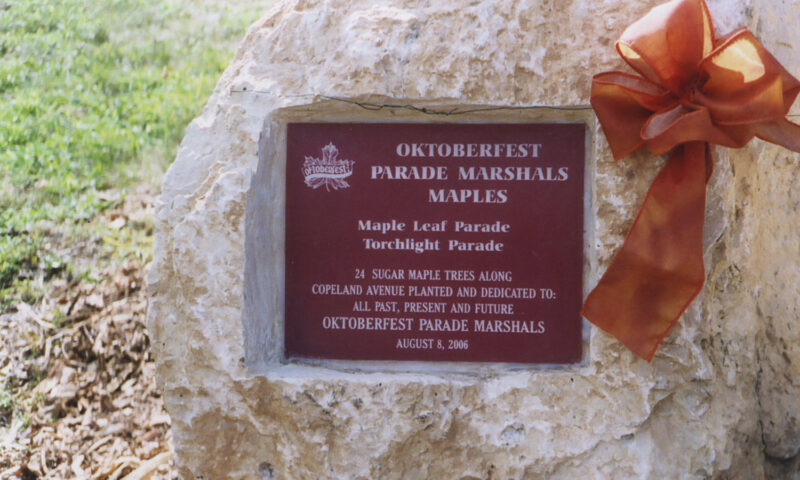 Parade Marshals give an "Ein Prosit" at the dedication of a marker in Copeland Park in 2006. They planted and dedicated 24 sugar maple trees along Copeland Avenue in honor of all past, present, and future Oktoberfest Parade Marshals.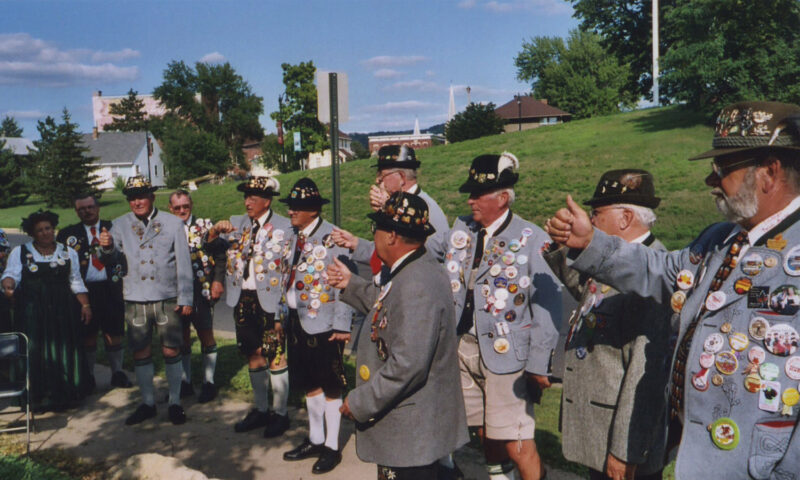 Meet Joe Heim, our 2019 Maple Leaf Parade Marshal here!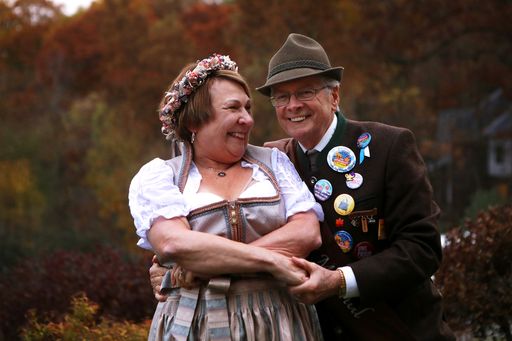 Meet Scott Skogen, our 2019 Torchlight Parade Marshal here who is front and center of our kick-off parade.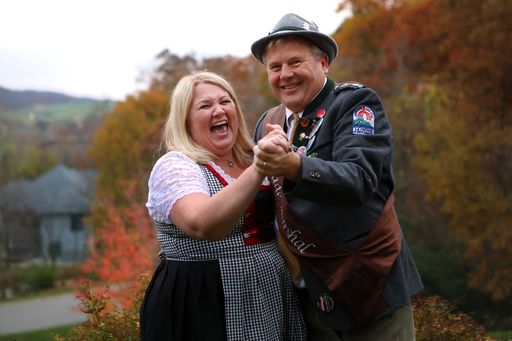 The Maple Leaf Parade takes place the Saturday during Oktoberfest weekend at 10 am with the route below.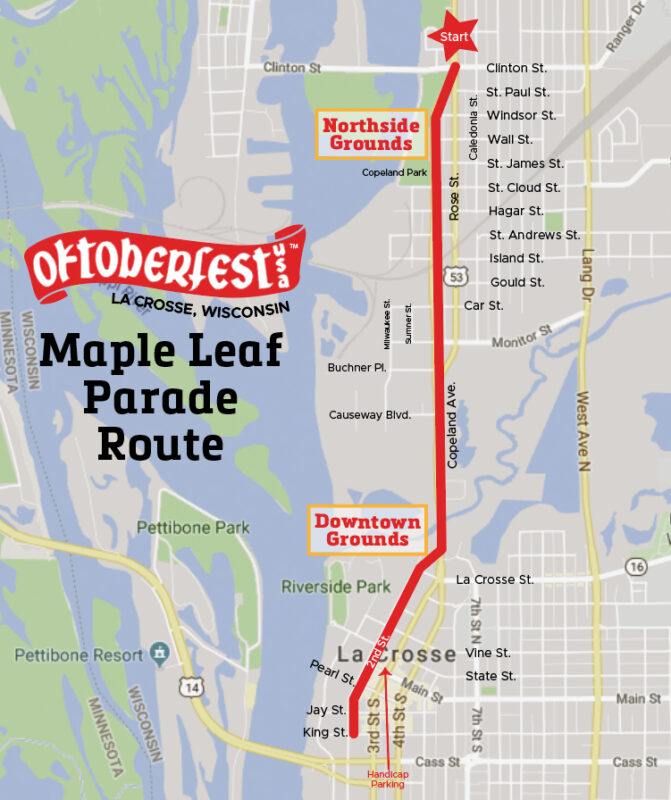 The Torchlight Parade kicks off Oktoberfest on Thursday evening at 7 pm with the route below.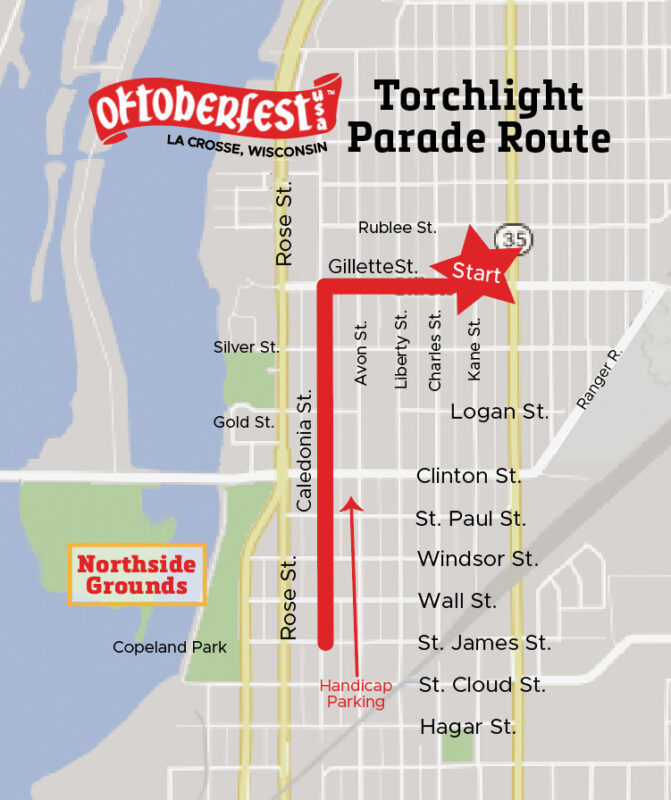 Several 2020 Oktoberfest Events Still Plan To Go On This Fall To Help Spread Gemütlichkeit
While Oktoberfest 2020 has been canceled, the annual Oktoberfest USA Medallion Hunt, Photography Contest, and Motorrad will still go on in addition to official 2020 merchandise to help spread gemütlichkeit, the feeling of comfort/coziness, throughout the Coulee Region.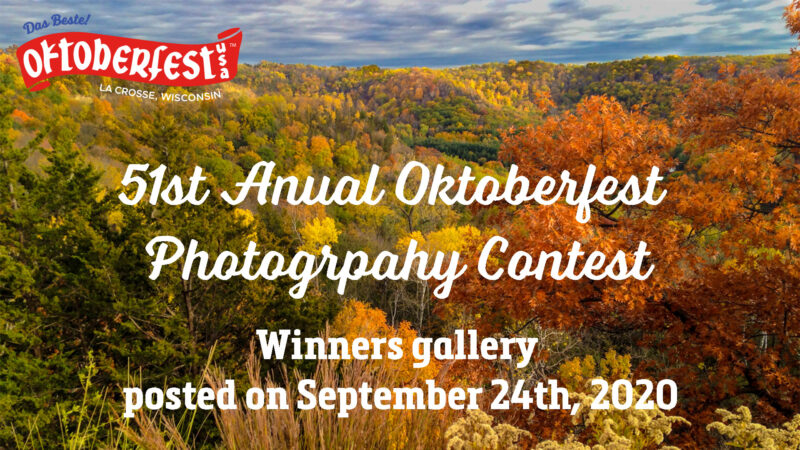 Starting September 1st, the 51st Annual Oktoberfest Photography Contest beings, showcasing gemütlichkeit and nature's beauty from around the region. The Photography Contest is open to adults and students alike through 12 pm on September 18, 2020. Contest rules and entry information are available online here. NEW FOR 2020: People's Choice Award where you will be able to vote online, Thursday, September 24th through Sunday, September 27th, 2020. Winners & Honorable Mentions will be displayed in an online format at oktoberfestusa.com/photo-contest-winners beginning September 24th.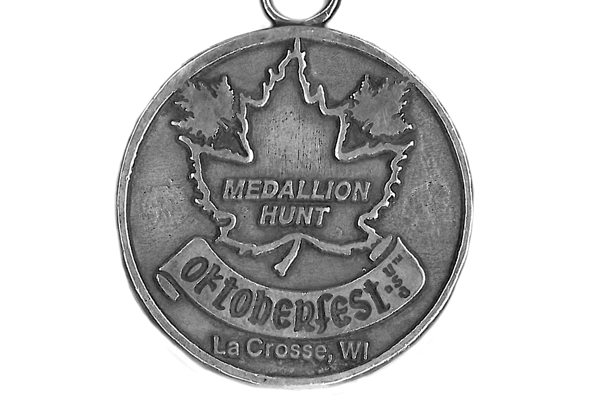 Coulee region "sleuths" will have their opportunity to match wits with the "clue master" as the 2020 Oktoberfest USA Medallion Hunt begins Monday, September 14. The Oktoberfest USA Medallion Hunt is sponsored by Altra Federal Credit Union.
One clue per day will be issued starting September 14. Clues and rules will be posted on Oktoberfest USA's Facebook, Instagram, and website (www.oktoberfestusa.com/participate/medallion-hunt) at approximately 7 am each day. Ten clues have been prepared and will be shared in order until the medallion is found or all ten are used (whichever comes first).
Prizes awaiting the person finding the medallion include: $500 cash, and a swag basket full of Oktoberfest goods. The back side of the medallion includes a contact name and number to report that it has been found.
Oktoberfest USA requests that all medallion hunters respect public and private property (as well as their fellow hunters) while trying to locate the medallion. In addition to not damaging foliage while searching for the medallion, we ask that all medallion hunters follow local and national guidance regarding COVID-19 precautions.

You will also be able to help spread gemütlichkeit on two wheels with the 2020 Motorrad, Saturday, October 10, 2020. Take in a scenic tour of some of the best, little-known, paved roads in the Coulee Region among the beautiful Fall colors. Your support helps provide a $1,000 scholarship to nine area high schools, awarded yearly through the Gemütlichkeit Foundation. Registration is open online here for $25 per person and includes a commemorative Motorrad pin.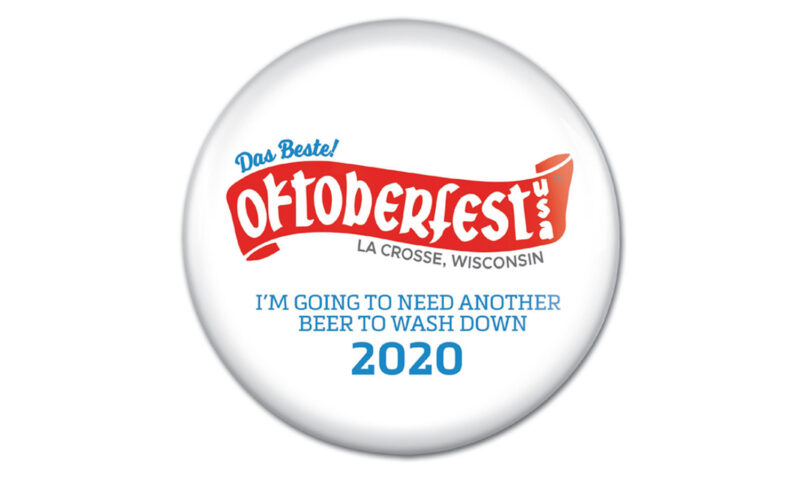 Partnering with the Monogram Company, official 2020 Oktoberfest USA merchandise is still available for pre-order purchases only in our online shop here through September 30th. To guarantee delivery by the week of September 21st; what would have been Oktoberfest; orders must be in by September 6th. Merchandise available is a 2020 button, t-shirts, sweatshirts, hats, koozies, and face mask buffs.
5 Oktoberfest Foods To Make At Home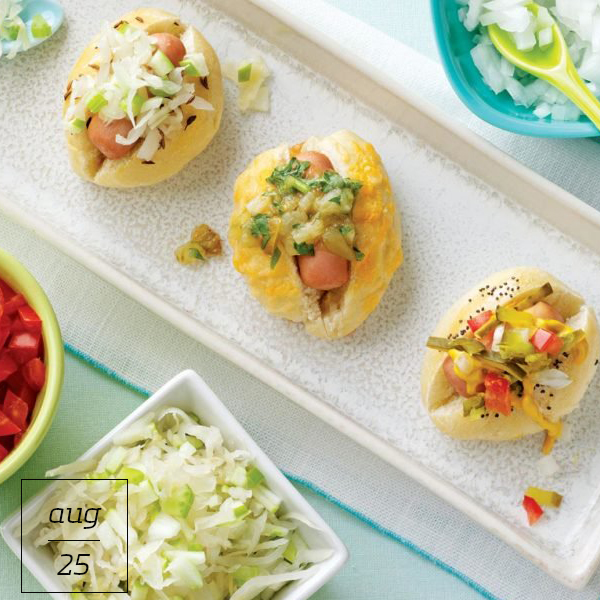 While we're all stuck at home, this is a great time to master your chef skills and try some new recipes. We've gathered up 5 Oktoberfest foods to make at home in case you're itching for some good, savory German bites. Guten Appetit!
1. Chicken or Pork Schnitzel with Quick Sweet 'n' Sauerkraut & Apple, Onion Potato Salad
Photography by Joesph De Leo / Recipe by Rachael Ray
A schnitzel is a thin slice of meat, typically pork, chicken, or veal that is breaded and fried in fat. How can you really go wrong with anything deep-fried and paired with potato salad AND sauerkraut? Find the full recipe here.
2. Sweet Mustard Brats & Cabbage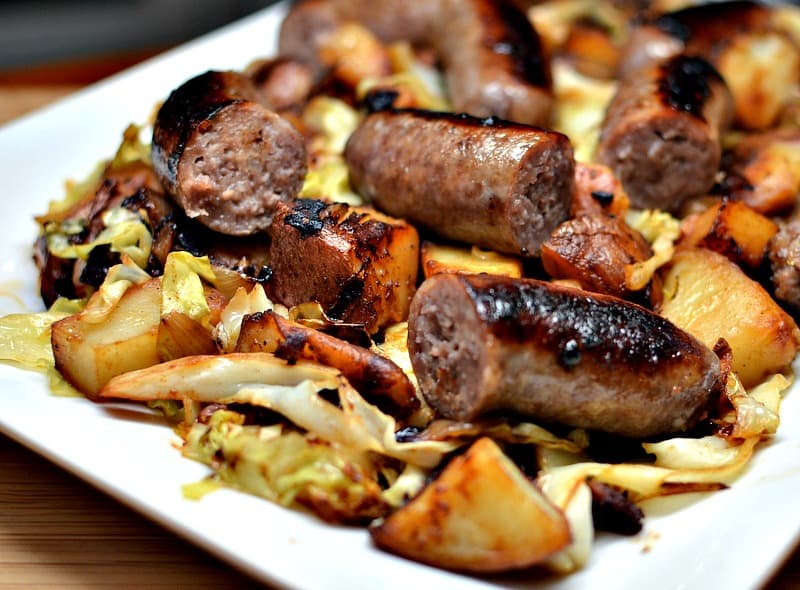 Photograph & recipe by Small Town Woman
This recipe combines beer brats, crispy cooked potatoes, onions, and sauteed cabbage in a lightly sweetened mustard sauce – yum!
3. Soft Pretzels
Video by Tasty
You can't forget about this Oktoberfest staple, a soft, warm pretzel dipped in mustard.
4. Bavarian Hot Dog Sliders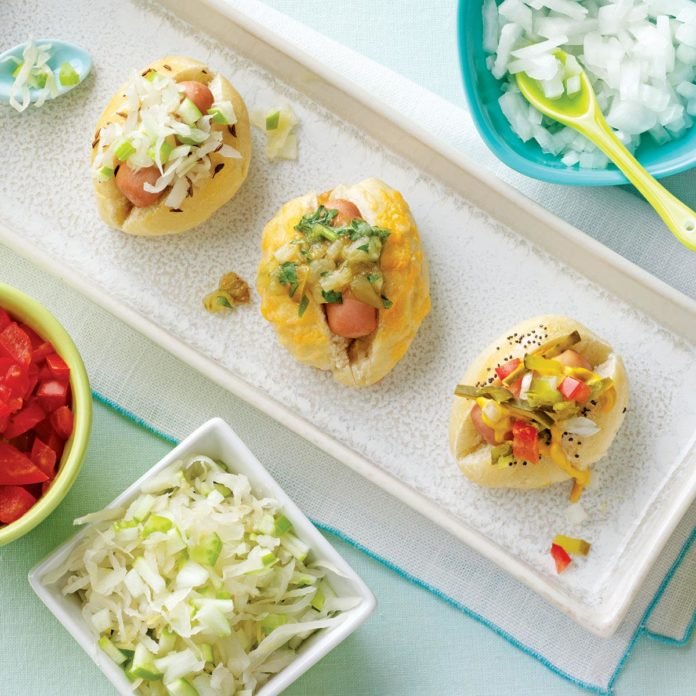 Photograph & recipe by Taste of Home
This recipe is a great play off the traditional size hot dog but makes for a great appetizer before the main dinner entree.
5. Wisconsin Beer Cheese Soup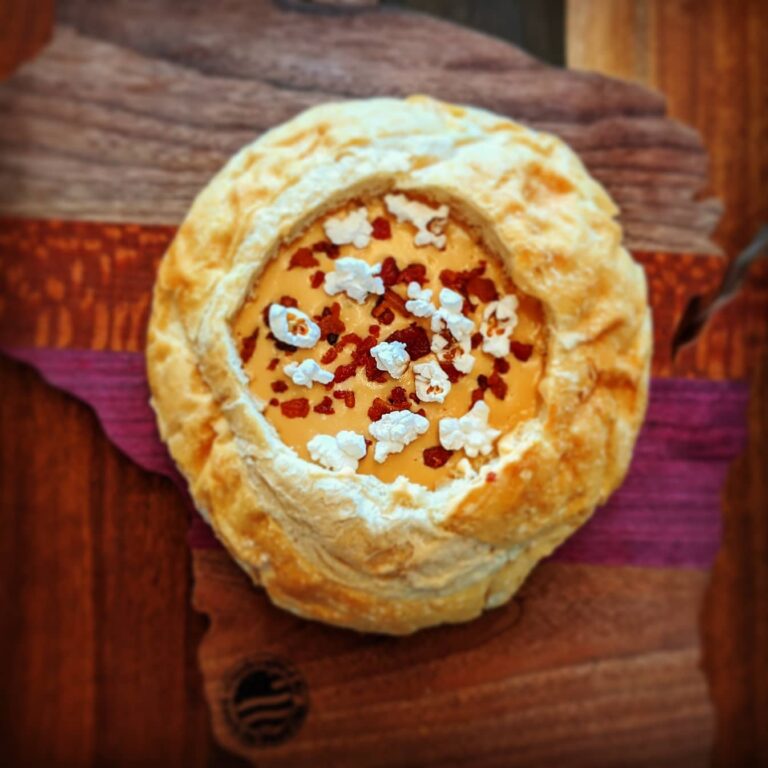 Photograph & recipe by Making Calories Great Again
Famous for our cheese and beer, this soup is a staple found in so many local restaurants throughout our Dairyland state. And let us not forget this other note-worthy Wisconsin tradition of garnishing it with some popcorn.
How Miss La Crosse Oktoberfest Became An Area Ambassador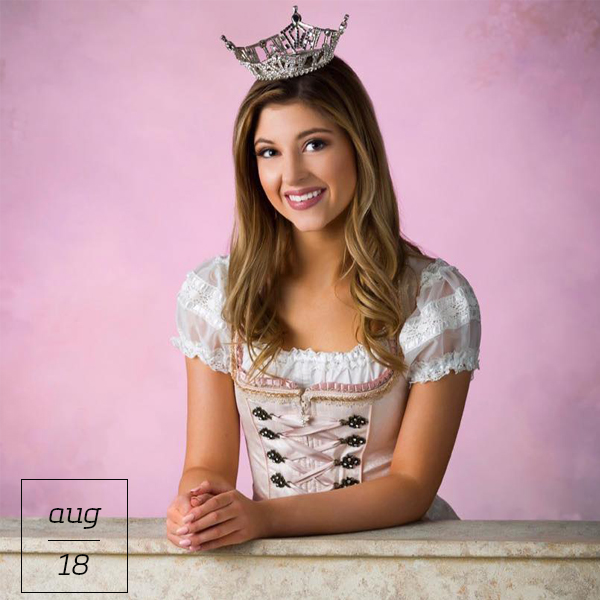 The belle of the ball, Miss La Crosse Oktoberfest is a role model, an ambassador, and public representative for the La Crosse community and our Oktoberfest Royal Family in the Miss Wisconsin and Miss America organization. She is confident, poised, talented, intelligent, an activist on issues, an eloquent communicator and takes personal pride in physical fitness.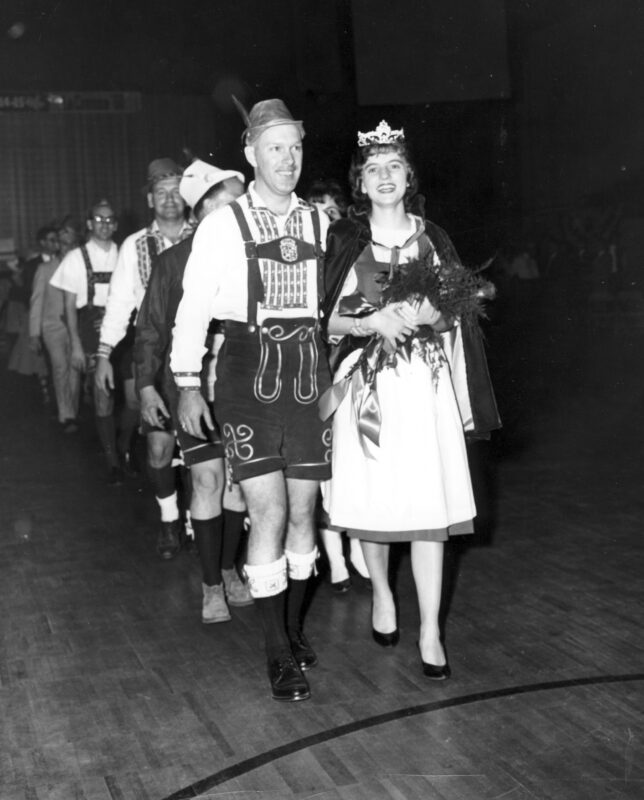 In 1961, Marlene Schultz (pictured above) was crowned the first Miss Oktoberfest, but halfway through the year, she got married and Diane Morgan stepped in and finished out the year as Miss Oktoberfest. In 1962, Bob Larson; the first pageant director; planned a Friday night program at the Mary E. Sawyer Auditorium that drew in a huge crowd. 29 women competed in the pageant and were judged based on these categories: informal dress, evening gown, Oktoberfest costume, and oral competition.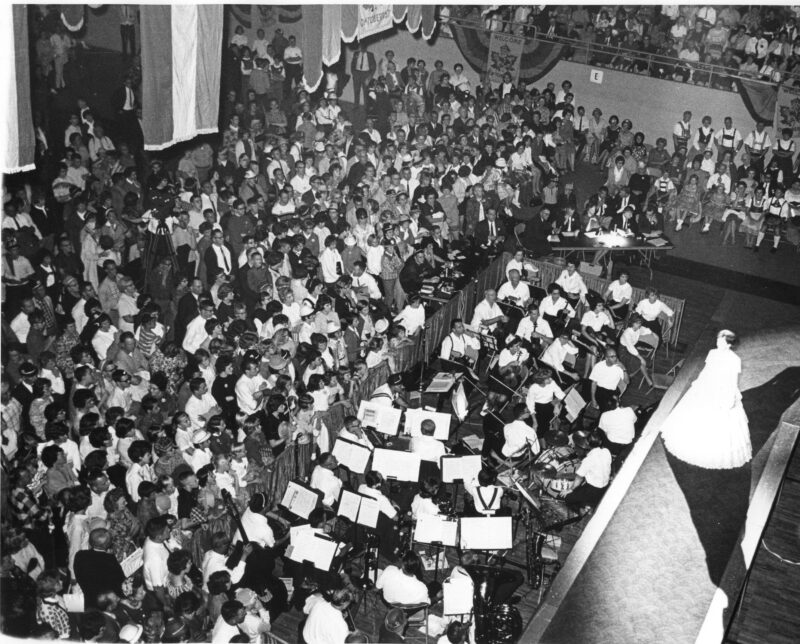 Pictured above is an overhead view from the Mary E. Sawyer Auditorium showing a candidate in front of the orchestra, judges, and audience.
Over the years, this pageant became known as the Miss La Crosse Oktoberfest Scholarship Program, an official preliminary to both the Miss Wisconsin and Miss America Organizations. Miss La Crosse Oktoberfest Scholarship Program awards thousands of dollars in cash and in-kind scholarships plus many gifts and benefits every year. Miss La Crosse Oktoberfest also travels to many festivals and appearances each year with the Oktoberfest Royal Family.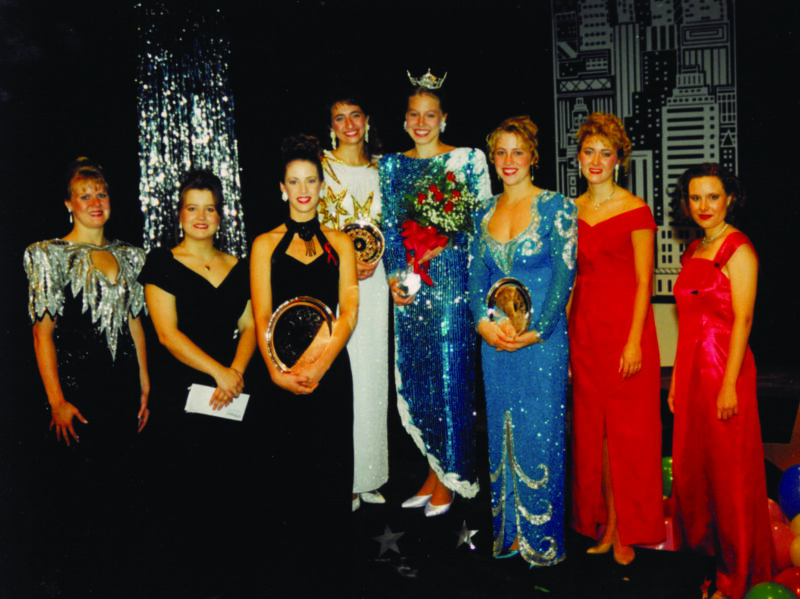 Pictured above in 1994 from left, Pam Hagen, Katherine Theisen, Abigail Meisch, Jeanie Hankey, Jaine Jessesski, Kristina Kruse, and Krista Clements.
Miss La Crosse Oktoberfest's Marilyn Brahmsteadt (1967), Gail Soller (1981), Barabra Mullally (1983), and Kristina Smaby (2006) have all become Miss Wisconsin during their reign. Kristina Smaby was also awarded over $30,000 in scholarships and headed West to compete at Miss America in 2010.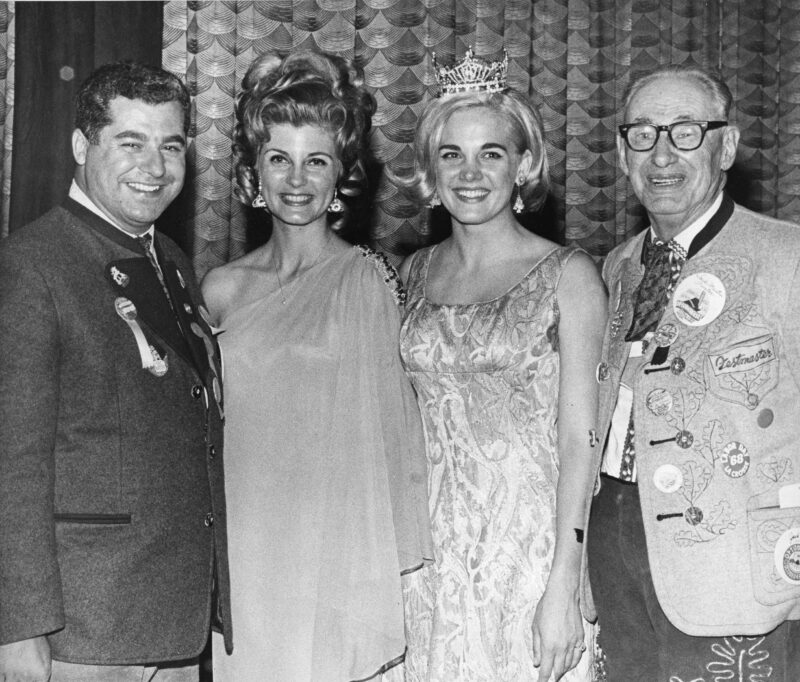 Pictured above from left, Jim Garvalia (1968 Fest president), Joan Mary Engh Gillete (1962 Miss La Crosse Oktoberfest and first runner-up in Miss Ameria pageant), Marilyn Brahmsteadt (1962 Miss La Crosse Oktoberfest and Miss Wisconsin), and Jack Martin (1967 Festmaster).
In order to be eligible to become Miss La Crosse Oktoberfest, you must:
be a young woman between the ages of 17 – 25
be 18 years of age by July 31st of Miss Wisconsin competition and no older than 25 by December 31st of Miss America competition
be a high school graduate at the time of the Miss Wisconsin competition
live, work, or go to school in La Crosse County
never have been married or pregnant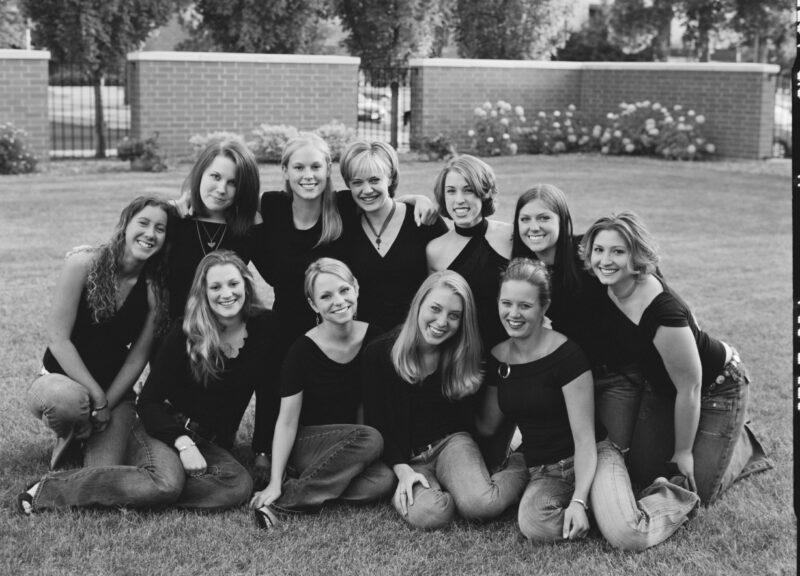 Pictured above are Miss La Crosse Oktoberfest contestants in 2004 from front row left, Amber Brand, Beth Bruzek, Kristina Gross, and Katie Rick. Back row from left, Erin Peterson, Lauren Buelow, Katie Ekern, Ashley Salzmann, Maggie Lee, Rachel Collins, and Trisha Zweig.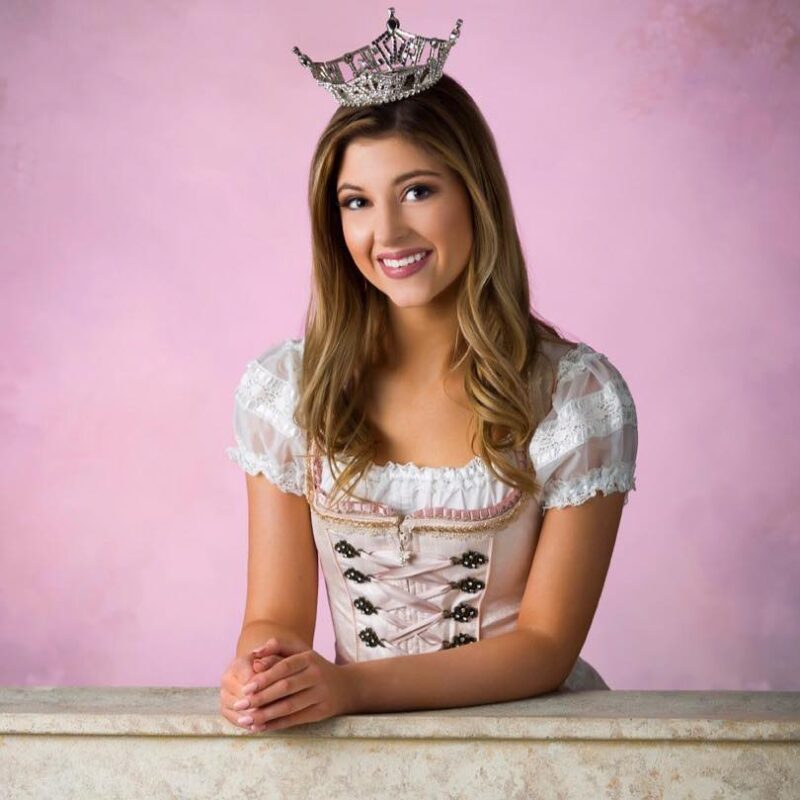 Meet our 2019 Miss La Crosse Oktoberfest here, Jordenne Butler (pictured above) and see the full list of former titleholders.