Oktoberfest Admission Pass – New in 2018!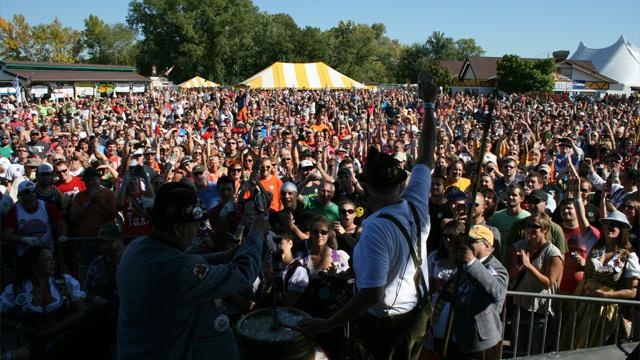 PRESS RELEASE:
Monday, May 1,  2018
 Oktoberfest USA is excited to announce that we are moving to a printed pass for admission to the 2018 Oktoberfest Southside Grounds. (Northside grounds offer free admission). 
 Each 4-day pass has a unique entry barcode, which  prominently features the 2018 winning button design.  The bar code will be scanned at the entrance gates and will allow Oktoberfest to keep track of the number of fest goers on the grounds at any time. 
 Advance price for the  4-day pass will be $10.  Single day admission passes will be $10 for Thursday, Friday and Saturday and $5 for Sunday. 
 A commemorative button will be available at no additional cost for all guests who purchase a 4-day pass.  Regular buttons for collectors will also be available, but will not be accepted for admission.
 4-Day Passes will be available for purchase on our website, www.OktoberfestUSA.com, at the Oktoberfest office, or at local Festival Foods and Kwik Trip locations beginning in July.
 For more information, contact Courtney Daniels at 608-784-3378 or [email protected]
Parade Applications Now Available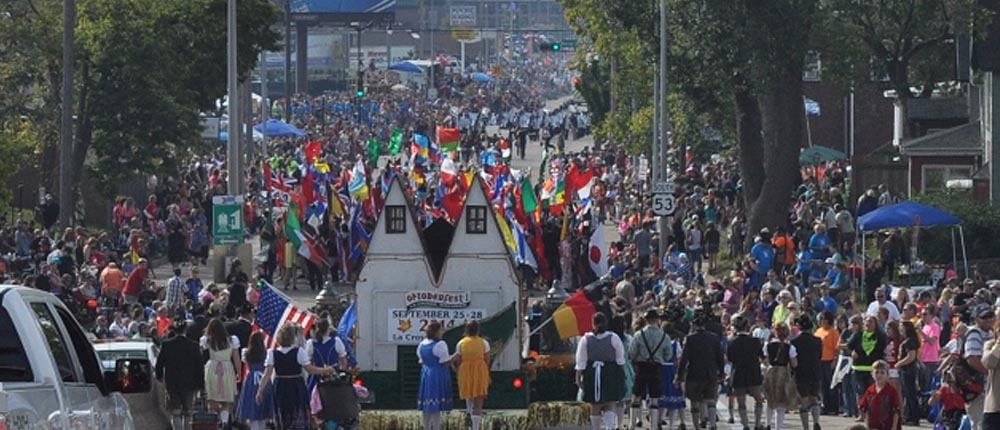 On behalf of the Board of Directors and the Oktoberfest Parade Committee we would like to invite you to participate in the 2018 Oktoberfest Parades!
PARADE APPLICATION FOR COMMERCIAL & NON-COMMERCIAL UNITS
Torchlight Parade
Thursday, September 27th, 2018
Starts at 7pm
Maple Leaf Parade
Saturday, September 29th, 2018
Starts at 10am
We look forward to your participation in our 58th Oktoberfest celebration…Gemütlichkeit!
58th Oktoberfest Commemorative Button Design

2018 Oktoberfest Button Designer: Kyle Breunig
The 2018 Oktoberfest Button was unveiled at the 5th annual Forks and Corks fundraiser on Thursday, March 8 at the La Crosse Center. The La Crosse community and fans of Oktoberfest will be getting a "two for one" special with the unveiling of this year's winning design. The extra add-on is that this will be the first time winning designer Kyle Breunig will have his work shared publicly in the community.
Every button for the city's favorite Autumn festival is based on that year's theme. The 2018 theme – "Polka, Pretzels & Prost," helped develop the design for Kyle's whimsical approach. "My design reflects what Oktoberfest makes me think of, lederhosen, pretzels and the round shape of the button lent well to the lederhosen shape."
This is Kyle's first Oktoberfest button design submission. After some prompting from a friend to enter he was very surprised to have been selected as the winning designer. "I am very excited to see my design as a part of the whole event. Having attended Viterbo University and living in La Crosse for the last ten years I enjoy celebrating Oktoberfest with friends and it will be great to see my design as a part of Fest."
Kyle has been a La Crosse resident for over 10 years. He holds a Bachelor of Science in Visual Communication – Emphasis in Graphic Design , and is currently working as the Lead Designer for Mobilessentials.
Congratulations, Kyle Breunig!
Nominations Are Open!
Nominations are now open for the 2018 Oktoberfest Parade Marshals and Mrs. Oktoberfest. If you know a deserving individual, please consider nominating them today, but make sure to let them know you are nominating them first!
Click the appropriate links below to complete your nomination today.
Congratulations Festmaster Sturm!
Recipient of the 2018 Iverson-Freking Ecumenical Recognition Award! Ein Prosit!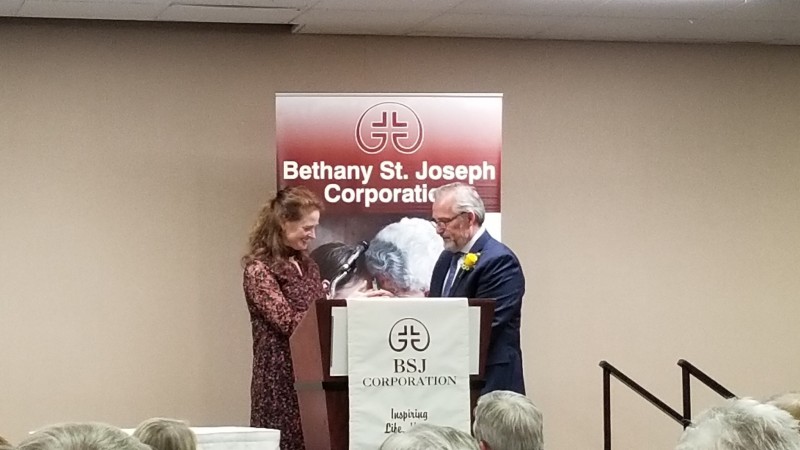 Nominations Open for 2018 Festmaster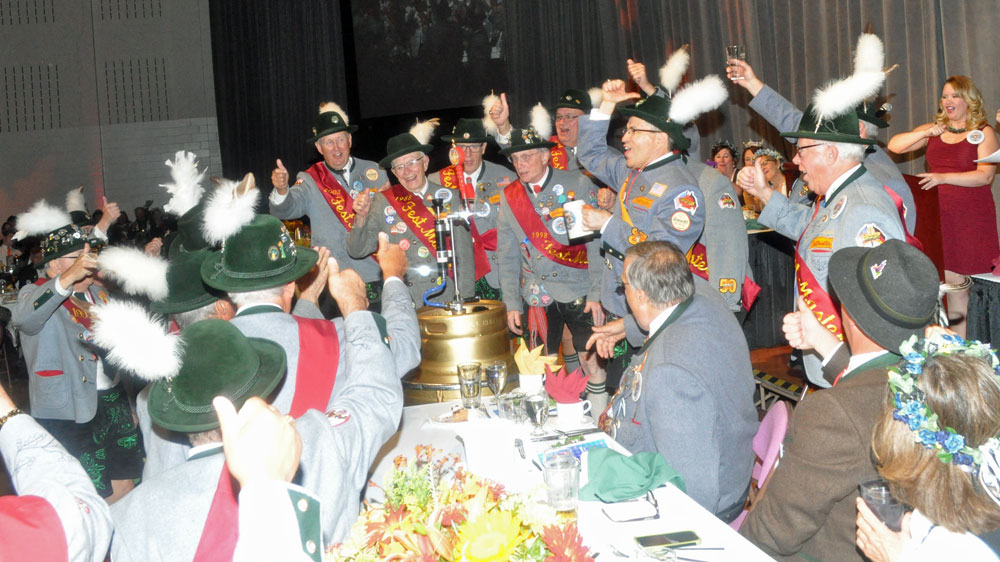 It just seemed like yesterday that Brian Rude was rolled out as the Oktoberfest Festmaster. However, selection (and training) is a lengthy process so the past Festmasters (trustees) are now taking nominations for the "next man in" in the long line of those charged with leading the annual fall festival. Deadline for nominations is January 9, 2018. See the information in this page to submit your nomination.
2018 Oktoberfest Theme and Button Design Contest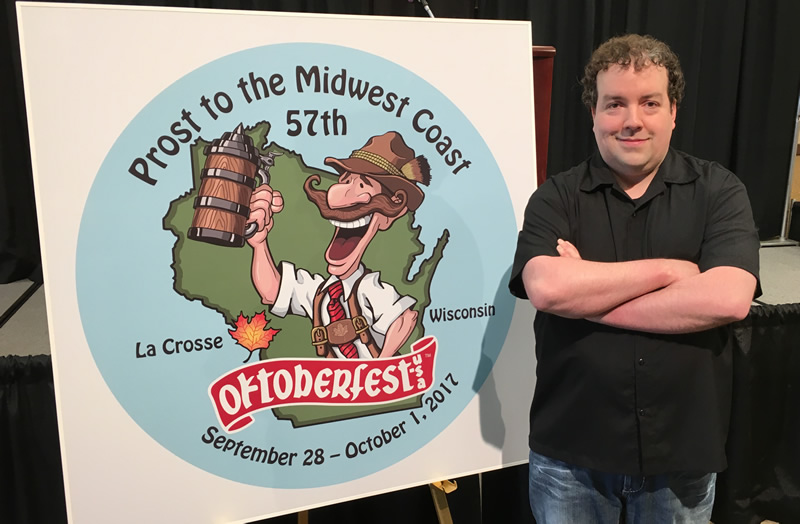 "Polkas, Preztels and Prost" will be seen far and wide as the official theme for the 58th edition of La Crosse's annual fall celebration.
With the new theme selected, the contest to design the 2018 Oktoberfest Button is now open and will run through Wednesday, January 24, 2018. Complete rules on the contest are available here.
Each year the contest draws an estimated 60 or more entries. The winner is selected by the La Crosse Festivals, Inc. Board of Directors and will be unveiled on March 8, 2018 at the Fifth Annual Forks and Corks fundraiser for the Gemütlichkeit Foundation.
Over the years the buttons have become collector's items and the designs have become part of the history and lore of Oktoberfest.
Oktoberfest 2018 will be held Thursday to Sunday, September 27 to September 30.
(Pictured above is 2017 button designer Dave Riel.)
Lynn Gundlach named Mrs. Oktoberfest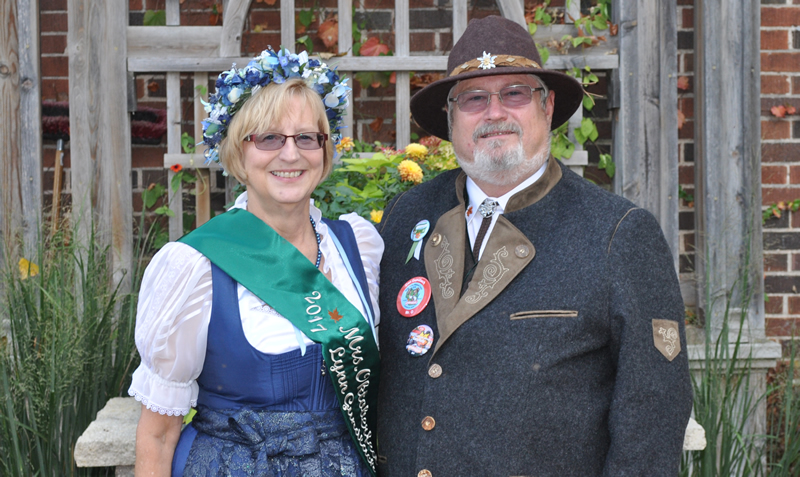 Lynn Gundlach, an active member of the Oktoberfest organization since 1999, was named 2017 Mrs. Oktoberfest at UW-La Crosse on Wednesday night.
Rudy and Colgan named 2017 Parade Marshals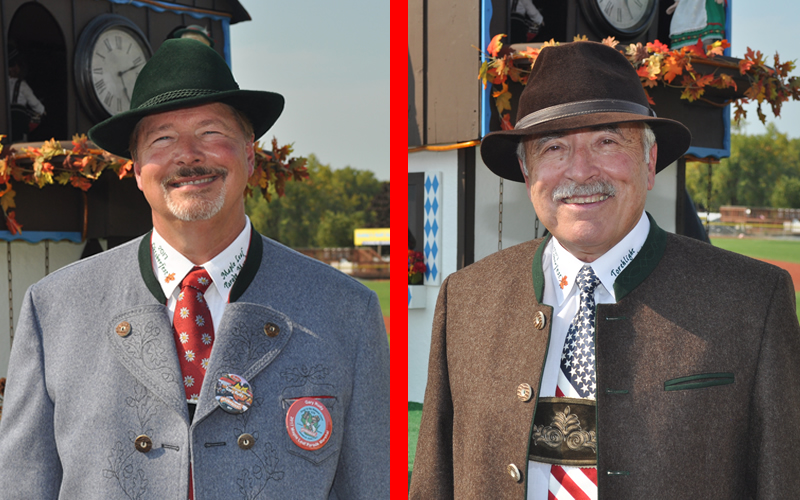 Two long-time and highly-recognized La Crosse businessmen have been selected as parade marshals for Oktoberfest 2017. (more…)
Keaton Hall named 2017 Special Fester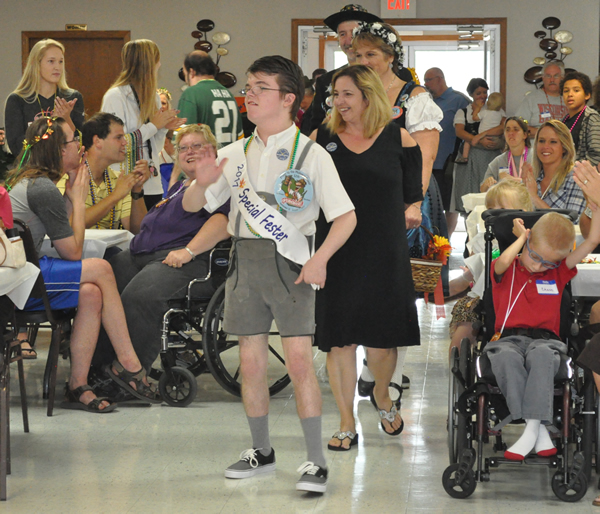 Keaton Hall was named the 2017 Oktoberfest Special Fester at the "Tanz fur Alle" (Dance for All) at All Star Banquet Hall on Sunday, September 10.
Read more about Keaton and his selection as the 2017 Special Fester.