Craft Beer Night
A signature event at Oktoberfest USA bringing craft breweries together to share samples of the best beer they have to offer! Sample your new favorite brew and get to know the brewers themselves. General admission begins at 5 pm, VIP admission begins at 4 pm. Located on the Downtown Oktoberfest grounds near the Garden Stage.
General Admission and VIP include a Craft Beer Night commemorative glassware, a 3-day pass to Oktoberfest USA, and unlimited access to your favorite Craft Breweries at the event.
VIP tickets to Craft Beer Night are $90 (purchase tickets here) and include early access at 4 pm on Thursday, 9/30, the chance to sample a wider variety of beverages, enjoy pizza from Big Al's in the Sam Adams VIP lounge…Plus private bathrooms and free bottled water. Did we mention private bathrooms? Danke! to our Craft Beer Night sponsors: Samuel Adams, Altra Federal Credit Union, The Remainders, Festival Foods, Inland Packaging, Big Al's Pizza, Mid-West Family.
Coming to the VIP 2021 Oktoberfest Craft Beer Night is the Samuel Adams Beer Garden Dunkel! It will be the first of only two kegs that will be tapped in all of Wisconsin this year.
Beer Garden Dunkel is a German-style dunkel that rests over cocoa nibs for a slightly chocolatey twist on this traditional lager. Rich bready malt notes that are balanced by a crisp body and dry finish form the noble hops. 5.47% ABV
Also coming to the VIP Oktoberfest Craft Beer Night is the Samuel Adams Breiss Bock – this will be the first keg of Breiss Bock poured in the state of Wisconsin! Briess Bock is a super malt forward bock beer perfect for fall days. Brewed with three different kinds of Munich malts, bringing nutty and toffee notes balanced with herbal spice from noble hops. 6% ABV

Boston Beer Company
VIP OFFERING
Beer Garden Dunkel | Dunkel | 5.50%
German-style dunkel rests over cocoa nibs for a slightly chocolatey twist on this traditional lager. Rich bready malt notes that are balanced by a crisp body and dry finish form the noble hops.
VIP OFFERING
Breiss Bock | Bock | 6%
This will be the first keg of Breiss Bock poured in the state of Wisconsin! Briess Bock is a super malt forward bock beer perfect for fall days. Brewed with three different kinds of Munich malts, bringing nutty and toffee notes balanced with herbal spice from noble hops.
Sam Adams Oktoberfest | Marzen | 5.30%
Our take on the style blends hearty malts for a deep, smooth flavor with notes of caramel that's perfect for the season, or whatever you're celebrating.
Sam Adams Wicked Hazy | Hazy IPA | 6.80%
Wicked Hazy IPA features an explosive hop aroma of citrus, red, tropical, and stone fruits. Oats and wheat give this beer a medium body and smooth mouthfeel that perfectly balance a moderate bitterness and huge juicy fruit flavors.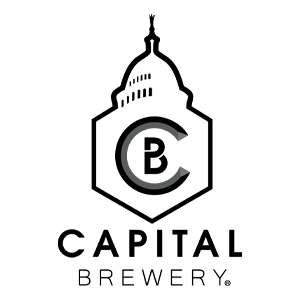 Capital Brewery
VIP OFFERING
Autumnal Fire | Doppelbock | 7.80%
Autumnal Fire's fiery red hues are a visual cue of the deep dark fruit flavors that are about to impart on your taste buds. Caramel and toffee accompany a rich, smooth finish that warms you to the core.
Wisconsin Amber | American Lager | 5.20%
This rich, amber lager is the perfect balance of roasted caramel malts and clean hop flavors, making it a staple for any tap lineup and beer cooler.
Oktoberfest | Marzen Lager | 5.60%
Capital Oktoberfest signals Summer's end with a deep amber hue and rich toasty malts. Oktoberfest's true-to-tradition flavor has earned 11 gold and 8 silver medals since it was first brewed in 1989. Once you try this award winner, you'll see why.
Mutiny IPA | American Pale Ale | 6.20%
Mutiny IPA is an approachable IPA leaving you ready to have another instead of wincing at the bitterness. The nose flaunts a fresh breath of pine and citrus hop aroma that refreshes you before you even take a sip and a soft touch of caramel malt provides a tasty backbone to this brew.

Eagle Park Brewing Company
VIP OFFERING
Demon Haze | NEIPA | 7%
A hazy New England style IPA brewed with Mosaic, Idaho 7, and El Dorado hops. Strong aromas of pineapple, citrus, and pine complemented by subtle bitterness and a clean finish.
MC Hammerschlagen | Oktoberfest | 5.9%
A 5.9% Fest Bier made with all imported German Malt, German hops, and a German Yeast strain. Lagered for over 30 days finishing with a deep gold color, and subtle maltiness that finishes crisp. A representation of the modern German Oktoberfest that's lighter than a traditional Marzen. Crisp and drinkable for warm September days and enough malt to stand up to cool October nights. A great paring to the changing seasons here in Wisconsin.
Pina Colada Hard Smoothie | Hard Smoothie | 5%
A Hard Smoothie with Pineapple and Coconut
Strawberry Banana Hard Smoothie | Hard Smoothie | 6.20%
A Hard Smoothie with Strawberry and Banana.
DDH Set List | Hazy IPA | 6.5%
Double Dry Hopped Hazy IPA with Citra and Mosaic hops.

Go Craft Bier Inc.
Bavarian Wit | Belgian Style Wheat | 4.80%
Awarded the "Best Belgian Style Wit" at the 2020 European Beer Star awards. It has all of the flavor that you expect, but is brewed according to the Bavarian Purity Laws which allow only 4 ingredients. An outstanding example of the style.
Black Shark | Imperial Double Black IPA | 8.5%
Dark roasted malt flavor that is evenly balanced to give you a slight taste of coffee and chocolate with a slight fruit aroma. Awarded the Gold Medal in 2019 and Silver Medal in 2021 at the World Beer Awards for Black IPA's.
Die Therese | Fest Beer / Heller Bock | 6.2%
Traditional "Fest Beer" from Germany. It will give you fruit, honey and caramel flavors with a pleasing malty sweetness.

Great Lakes Brewing Company
Crushworthy Lo Cal Citrus Wheat | Wheat Ale | 4.00%
Get smitten with a totally crushable Lo-Cal Wheat Ale, gushing with dreamy doses of real citrus.
Hazecraft IPA | IPA | 6.70%
Blast into orbit through a hazy galaxy of otherworldly tropical fruit aromas.
Dortmunder Gold Lager | Lager | 5.80%
A humble hometown hero, draped in a people-pleasing blend of smooth malt and crisp hop flavors.
Oktoberfest | Marzen | 6.50%
Uber smooth with vibrant malt flavors and festive flourish of noble hops.

Hillsboro Brewing Company
Blonde Walks Into Bar | Blonde Ale | 4.6%
We'll you know how the rest goes. Light, crisp & easy drinking. Our blonde ale doesn't take itself too seriously & neither should you. Lighten up and get yourself a blonde.
Badger Sweat | Milk Stout | 6%
Lactose gives a subtle sweetness that balanced with the 5 roasted malts we use. We then age on vanilla beans to provide a harmonious blend of cream & roast.
Snappy IPA | India Pale Ale | 7.50%
Citra hops provide the aroma & flavor for this super drinkable ipa.
Friday Night Lights | Oktoberfest | 5.5%
Bright, crisp & clear amber, our Oktoberfest is the hallmark of the Fall, just like Friday night lights, here in Wisconsin.

Iowa Brewing Company
VIP OFFERING
Super Pastry Boy | Porter | 7.25%
Cocoa, caramel, and coconut pastry beer.
Iowa Eagle | American Lager | 4.2%
Light, crisp, and refreshing Lager
Bohemian Rapids | Czech Pilsner | 5.2%
Bright, crisp and hop forward.
Surf Zombies | IPA | 6.9%
West Coast Style IPA with Simcoe, Columbus, Centennial and Cascade hops.
ZOINKS! | Festbier | 5.8%
Juicy Session IPA with loads of Mosaic and Citra hops.
Iowa Fest | Session IPA | 4.5%
Bavarian inspired bier with big bready flavor, a touch of sweetness and traditional spice character.

Lift Bridge Brewing Company
VIP OFFERING
Oktoberfest | Marzen | 6%
Brewed in the style of the modern day Oktoberfest, this beer is on the lighter side of the traditional Marzen making it the perfect beer for the later days of summer and the welcoming of fall. Back after a several year hibernation!
Farm Girl | Belgian Golden Ale | 5.50%
Our flagship beer has a slightly sweet and smooth body with Golden Malts, Wheat, and Oats, perfectly balanced with a hint of Citrus and Melon Hop profile. Taste what makes Farm Girl a Midwest favorite!
Juice-Z IPA | Juicy IPA | 5%
A monstrous blend of fruit-forward Hops is balanced out with Golden Malt, Wheat and Oats. Forget the bitter aftertaste, this Juicy IPA is a smooth, citrusy ray of tropical sunshine in an otherwise chaotic world.
Mango Blonde | Fruited Blonde Ale | 4.70%
The aroma of a tropical breeze from a fresh Mango grove leads into a light bodied Blonde Ale, finishing with a subtle Mango sweetness that does not overpower the golden malt.
Fireside Flannel | Brown Ale | 4.70%
Crafted with roasted Malts and Yakima Hops, with notes of roasted Hazelnuts, Coffee and light Chocolate that combine as the beer warms; and on a crisp Fall day, there is just enough alcohol to keep you warm as well.

Lupulin Brewing
VIP OFFERING
Butterfinger CPG | Porter | 5.25%
We took our fan-favorite chocolate peanut butter porter and smashed it full of Butterfinger bars… Layers of decadent chocolate and peanut butter built into a rich oatmeal porter make this beer impossible to have just one. We're not sorry.
Doppelbock | German Lager | 8%
Our award-winning German Doppelbock. This traditional, malty brew is caramel brown in appearance and flavor, and won Gold at US Beer Open, and Bronze at GABF.
Hooey | NE IPA | 6.2%
This IPA is hopped with a ridiculous amount of the juiciest hops available. In order to bring you the most hop flavor possible, we intentionally leave yeast and hop oils in the beer by not filtering them out. Some say that's a lot of Hooey! What the hell do they know anyway…Crazy, Juicy, Hazy, Hooey!
Fashion Mullet | American IPA | 6.5%
Business in the front, party in the rear. This hop bomb is one part East Coast haze-bro (Citra), and one part old school West Coast (Simcoe). Don't pick a side in this fight — you won't win.

PEARL STREET BREWERY
VIP OFFERING

Lederhosen Lager Fest Bier | Oktoberfest Bier | 5%
Come late September each year, we start feeling the Gemütlichkeit. It's time to dust off our lederhosen and drink beer. Lederhosen Lager is our salute to La Crosse's great German heritage and over 150 years of brewing tradition. Brewed with Pilsen and Vienna malts, true German lager yeast, and spiced with paired hops grown in Hallertau. You'll find this amber beer to be smooth, malty, and easy drinking. Ein Prosit! (Seasonal Fall Release – 5% ABV 11 IBUs)
Supreme Fatty Hazy IPA | Hazy IPA | 7%
Supreme Fatty has a big malt flavor with oats, honey, malt, and milk sugar, utilizing Amarillo/Mosaic hops combination for a juicy flavor. (7% ABV – 25 IBUs).
Gosecopia | Sour Gose | 5%
This sour fall ale has undergone spontaneous primary fermentation with native microbes found in the air in La Crosse, Wisconsin. This natural, terroir fermentation doesn't just create an inviting sourness, but also connects this beer to our land and our community. Fourth in our seasonal sour series, this Gose is flavored with natural guava, mango, and locally sourced cranberry for a bountiful experience. (Seasonal Fall Release – 5.3% ABV 3.5 IBUs).
Shitty Lyte Beer | American Light Lager | 4.2%
How did we take the traditional American Light Mega-Lager and make it better? Easy. We made it fresher. For starters, we use fresh local ingredients. Unlike the others, this isn't pasteurized either. This allows the pure clean flavor to shine through. We use a single strain of clean lager yeast and cold ferment it. Good water helps too, and La Crosse has some of the best water in the best beer state in the country. This is Craft American Lager. 4.2% ABV – 5 IBUs – 112 Calories – 8 Carbs.

Potosi Brewing Company
VIP OFFERING
Potosi Barrel-Aged Beer | Barrel-Aged Beer | ABV
Potosi Barrel-Aged Beer.
Potosi Oktoberfest | Marzen-Style Lager | 5.50%
Raise your glass to the harvest moon & hills adorned in radiant hues. This reddish orange lager celebrates the season w/rich caramel malt flavor, moderate hop bitterness & a frothy head. You don't have to wear lederhosen to drink it, but you might want to.
Potosi Cave Ale | Amber Ale | 5.50%
Caves carved in the hills of Potosi were once used to age and store beer. Named in that tradition, our smooth English Style Amber Ale boasts the complex flavors of roasted caramel malts perfectly balanced with Golding Hops.
Potosi River Rocker IPA | Funday IPA | 4.50%
Fresh, Citrusy notes & crushable. Crafted w/3 varieties of hops (El Dorado, Citra & Mosaic) setting the tone for a stunningly smooth easy-drinking IPA. Soft mouthfeel w/hints of melon, juicy pear & perfectly ripened grapefruit w/citrus finish.
Potosi Craft Seltzer | Craft Seltzer | 5%
Potosi Craft Seltzer – Local Wisconsin Craft Seltzer. 100 Calories, 5% ABV. Passionfruit Orange Guava, Raspberry Lemonade, Cherry & Grapefruit. Refreshing, flavorful, fun & easy drinking.
Potosi Stingy Jack Pumpkin Ale | Pumpkin Ale | 6.50%
A seasonal favorite! Stingy Jack Pumpkin Ale has fragrant aromas of pumpkin pie spices with a malty sweetness. Caramelized baked pumpkins add the perfect touch of pumpkin flavor.

Sand Creek Brewing
Oscar's Chocolate Oatmeal Stout | Oatmeal Stout | 5.50%
Exceptional in appearance, flavor, and taste with a complex nutty finish.
Bugler Brown Ale | Brown Ale | 4.80%
Flavorful and very drinkable with a pleasant mild hop finish.
Woody's Easy Ale | Golden Ale | 4.00%
An easy drinking ale. Light yellow in color, it has a clean, refreshing taste and a pleasantly clean finish.
Hard Lemonade | Flavored Beer | 5.50%
A great mix of beer and lemonade!!! Give it a try!!
Wild Ride IPA | IPA | 6%
A classic "west coast" IPA!!! Starts strong but ends smooth!!

Shiner Beers (Spoetzl Brewery)
VIP OFFERING
Shiner S'More | Brown Ale | 5%
Using Texas made chocolate, S'more is a flavorful yet easy-drinking treat. Balanced and approachable with dark roasted malts and notes of graham cracker, vanilla, and chocolate.
Shiner Bock | American Dark Lager | 4.4%
Lightly hopped American style dark lager. Brewed with rich roasted barley malt & German specialty hops. European Beer Star 2020 Gold Medal winner Session Beer Category.
Shiner Trail Ale | Trail Mix Inspired Ale | 6%
NEW! A substantial ale with flavors of nuts, dried fruit and chocolate in a full bodied brew. This beer is salty and sweet with the perfect amount of drinkability.
Shiner Toasted Amber | Amber Lager | 4.5%
This new beer from Shiner uses specialty toasted malts for a brilliant copper color and delightful toasty aroma. Full-flavored, yet refreshing, this amber lager has a slightly sweet, crisp finish.
Shiner Oktoberfest | Marzen | 5.7%
This festive Märzen-style seasonal has a deep amber color and slightly toasted flavor. The initial rich malty aroma and sweetness fades to a moderately dry, hoppy finish. 2012 Gold Medal Winner at GABF for German Style Marzen.

Sierra Nevada Brewing Company
Sierra Nevada Pale Ale | Pale Ale | 5.6%
Heavy on hops, that was always the brewery plan. So in 1980, we loaded Pale Ale up with Cascade—a new hop at the time named after the mountain range—and the intense aromas of pine and citrus sparked the American craft beer revolution.
Sierra Nevada Hazy Little Thing IPA | Hazy IPA | 6.7%
Hazy IPA Aggressively dry-hopped and less filtered because the haze is where the flavor is. We skip the filter to package all the hazy flavor in its prime—straight from the tanks and into the can.
Wild Little Thing | Light Strawberry Sour | 5.5%
This slightly sour Wild Little Thing has just the right smack of tartness for serious refreshment, while guava, hibiscus and strawberry lend fruity-sweet depth and a bright pop of color.
Sierra Nevada Oktoberfest | Amber Marzen | 5.5%
This rich Märzen lager features German malts for inviting aromas of honey and biscuity bread, flavors of caramel and graham cracker, and visions of sprawling beer tents. Smooth and balanced, Oktoberfest is here to celebrate.
Strainge Beast Ginger, Lemon, Hibiscus Hard Kombucha | Hard Kombucha | 7%
Organic Fermented Hard Tea, Gluten Free & Non GMO. Fermentation is a frenzy, a mad science that taunts its maker.
It's a challenge we love at Sierra Nevada Brewing Co., one that's fueled our 40+ years at the forefront of craft brewing. And hard kombucha, well, it's a Strainge Beast. Making fruits, botanicals, bacteria, and yeast all play nice together? Plenty can go wrong. But done right, you've got yourself a delicious love triangle of flavors. It's tricky—just as our brewers like it. Sip what we've brought to life: Let's Get Strainge.

Skeleton Crew Brew
VIP OFFERING
Chasing the Booty | New England DIPA | 9%
This beer is high in gravity, low in bitterness, very hazy, citrusy and mildly danky.
Me Hearties | Mango Milkshake IPA | 7%
A juicy, tropical, citrusy, and creamy, New England style IPA.
Stern Chaser Sour | Fruited Berliner Weisse | 5%
Delicious easy drinking strawberry rhubarb sour!
Powder Monkey | Spiced Red Ale | 7%
It's a red ale with spicy flavor, velvety-smooth body, all fired up with a firm bitterness!
Mudder Load | Milk Stout | 6.5%
Mississippi Mud Pie Milk Stout.

Sparkling Ice Spiked Hard Seltzer
Sparkling Ice Spiked Hard Seltzer | Seltzer | 4%
Introducing Sparkling Ice Spiked, the zero sugar hard seltzer that delivers the full flavor you've been thirsting for.
Sparkling Ice Spiked will shatter expectations of what you've come to expect from a hard seltzer.

Summit Brewing Company
Oktoberfest | Oktoberfest | 6.5%
Inspired by the ultimate beer celebration and crafted in the classic Märzen style, Summit Oktoberfest is the perfect fall beer. Full in body thanks to a blend of European hops and Moravian 37 malts, it starts rich with toffee flavors and finishes clean and crisp like the autumn air.
Slugfest Juicy IPA | Juicy IPA | 4.7%
Summit Slugfest Juicy IPA is an unfiltered IPA with an orange appearance, low in alcohol and bitterness but big in citrus hop flavors and aromas. Seeking to connect new American IPA trends with our classical European approach to brewing, Slugfest offers aggressive and powerful citrus hop flavors and aromas of tangerine, melon and lemon, thanks to hop varieties Huell Melon, Azacca and Mandarina Bavaria. Malt notes of toast, English biscuits and breadcrust provide this session-style ale with balanced drinkability.
Oatmeal Stout | Stout | 5%
After 17 years of Summit Oatmeal Stout only being offered on nitro draught, it will now also be available in a bottle. Our Oatmeal Stout recipe remains the same and is a deliciously balanced dark beer. Fans of our nitro draught stout can expect the same notes of hazelnut, caramel and chocolate; however, this bottled stout is crisper and sharper in flavor while finishing full, smooth and slightly sweet. Summit Oatmeal Stout in a bottle will give you a wonderfully different experience from nitro draught and is a great extension of this beloved brew!

Surly Brewing
VIP OFFERING
Darkness 2020 | Barrel Aged Russian Imperial Stout | 12%
Our massive Russian Imperial Stout contains waves of chocolate, coffee, cherry, raisin, and toffee, plus a non-traditional dose of aromatic hops.
Furious | IPA | 6.66%
The beer that built Surly. Aggressively hopped and citrusy, but with a chewy, caramel backbone.
Supreme Variety | Tarte Ale | 4.5%
Braced by bright fruit flavor and gentle tartness, this beer reigns supreme. Finishing crisp and citrussy, it sets a new standard for crushable. Enjoy grapefruit, mango, black cherry or keylime.
Invisible Rays | Tropical IPA | 6.8%
The summer sun hits different where we're from. The warm rays are the hard-earned reward for our brutal winters, and we cherish them just a little bit more. Surly salutes those Invisible Rays with this tropical IPA full of pineapple and guava notes and just a kiss of lactose. Summer isn't endless here, but you'll wish this beer was.
Note: Brewed with lactose.
Surly Oktoberfest | Oktoberfest | 6%
Brewed for embracing tradition in your own way.
Oktoberfest lagers are the ultimate party beer. Up front, they're rich, sweet, and malty, but they finish dry and clean with an ever-so-slight touch of hops. Prost!

Third Space Brewing
Happy Place Midwest Pale Ale | Pale Ale | 5.30%
Bright hoppy aromas meet notes of citrus and tropical fruits in this supremely balanced hoppy pale ale.
Heavenly Haze | Hazy IPA | 6.20%
We packed this Hazy IPA with loads of Citra Cryo, Idaho 7 Cryo, and Sabro Cryo hops for intense juicy fruit and tropical hop flavors and low bitterness.
Oktoberfest | Marzen-Style Lager | 6%
This Marzen-Style Lager was inspired by the original Oktoberfest beers of Munich, with big malt notes including toffee, brown sugar, graham cracker.

Titletown Brewery
VIP OFFERING
BA Procrastinator | Dopplebock | 8%
Well, we sat. We waited. We put it off. We let it sit in barrels for almost three years, and it paid off. This beer opens with a full aroma of dark caramel and red grapes. The assertive dark fruit notes then leaps onto your palate coated in a complex oaky funk and rich Munich Malt. You're not going to want to put off trying this one.
Bent Tuba | Oktoberfest | 6%
Want a beer that kicks some serious brass? Bent Tuba is a smooth German-style amber lager,loaded with rich, toasty malt flavor, and complemented by a touch of crisp Bavarian hops. It's playing your song.
Johnny Blood Red | Irish Red | 4.50%
Rich caramel malts and a touch of roasted barley create the distinctive flavor of this Irish Style Red Ale. Silver medalist, Irish-Style Red Ale, 2015 Great American Beer Festival®
400 Honey Ale | Blonde Ale | 6%
Local wildflower honey adds sweet floral notes to the lightly-toasted Wisconsin malt character of this golden ale. Brewed since 1996, this beer is named after the famous C&NW '400' passenger train that kept our Green Bay depot buzzing for decades.
Green 19 | IPA | 6.50%
This hop-forward ale showcases a complex blend of citrus-like American hop varieties, their bitterness well-balanced by complex malt for exceptional drinkability.

Turtle Stack Brewery
Hefeweizen | Weissbier | 4.50%
The Gold Standard of German Wheat Beer Sweet, tart, and bready malt flavors with aromas of peach, banana, and clove, and a complex peppery hop finish.
Festbier | Marzen | 5.00%
A deep gold/light amber colored German style lager. A soft, elegant, and complex malt impression highlighted by rich bready and light toasty flavors.
Black Lager | Schwarzbier | 4.90%
German-Style Black Beer. An extremely drinkable light bodied dark beer that still expresses the chocolate, coffee, and slightly smoky characteristics of the dark roasted malts.

Wild State Cider
VIP OFFERING
Apple Pie | Cider | 5.80%
Fall spiced blend perfect for pie lovers. Cinnamon, Cloves, Nutmeg.
Classic Dry | Cider | 6.90%
The champagne of ciders: perfectly dry with 0g of sugar. Bone Dry, Light Fruitiness, Slightly Tart.
Raspberry Hibiscus | Cider | 6.50%
Fresh raspberries and hibiscus tea perfectly balance fruit and tart.
Tart, Fruity, Bright.
Semi Dry | Cider | 6.40%
This is where it all started – a crisp cider with champagne vibes.
Hint of Spice, Light Floral, Crisp.
Pear | Cider | 5.60%
Washington pear juice makes this semi-sweet cider an easy sipper.
Juicy, Sweet, Balanced, Refreshing.

3 Sheeps Brewing
Chaos Pattern | Hazy IPA | 6.50%
Chaos Pattern Hazy IPA is an artfully crafted blend of Citra, Ekuanot, Cascade, and Centennial hops. Expect bright, familiar flavors and unexpected hop notes to mingle and intertwine, exposing intricate layers with each sip.
Fresh Coast | Juicy Pale Ale | 4.80%
Fresh Coast is an East Coast-style pale ale brewed for the Midwest. Like most beers of the style, it pours cloudy…and that's on purpose. The haze lets hop oils linger on the palate, enhancing their naturally citrusy and tropical fruit notes. To get that haze, we cultivate a special Vermont yeast strain that's only used for Fresh Coast. It's a pain to manage for just one beer, but it's worth it. It's the kind of beer you can drink all day, with your feet dangling in the lake. Because we live on the "Fresh Coast" and that's worth celebrating, right?
Armchair Quarterback | Copper Lager | 5%
We've been there. A Sunday spent yelling at the TV. What was that coach thinking? Why aren't they listening to us? Of course, we scored – we called that play. Sound familiar? We brewed Armchair Quarterback just for you. An easy-drinking lager that pours a rich copper color and has a delicious, malty backbone. It's a beer brewed with sports fans in mind. Grab an Armchair Quarterback. Whether you're celebrating a victory or washing the taste of defeat from your mouth – you'll have the perfect beer for telling everyone how you would have done it.
3 Sheeps Oktoberfest | Marzen | 5.50%
We have a deep appreciation for the traditional German beers that laid the groundwork for what we brew and drink today. Our Oktoberfest is an ode to that tradition. It's a light-bodied and easy-drinking lager with pleasant caramel notes, making it the perfect beer to ring in the changing of seasons. We spent years laboring over this beer, endlessly tweaking recipes to find just the right malts and just the right yeast strain. We weren't happy until it was perfect. Wisconsin is proud of its Oktoberfests, and we're proud of this one. Prost!
Cloudless Mango Lychee | Hard Seltzer | 5%
100 Calories, 2g of carbs, gluten free